Ear­li­er this week, Matthew Kres­sel explored the Jew­ish sources under­ly­ing Leonard Nimoy's Vul­can salute and fan­ta­sy literature's great­est time-trav­el­ing epics. He is guest blog­ging for the Jew­ish Book Coun­cil all week as part of the Vis­it­ing Scribe series here on The ProsenPeo­ple.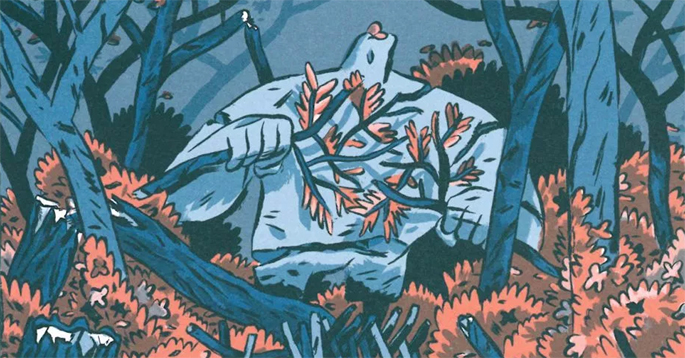 Image from Golem­chik by Will Exley (Nobrow, 2015)
The Jews liv­ing in Prague in the six­teenth cen­tu­ry suf­fered pogrom after vio­lent pogrom, and so their leader, Rab­bi Judah Loew prayed to God for a way to pro­tect his peo­ple. In a dream, God showed the rab­bi how to craft a golem from the clay of a river­bank, how to ani­mate him by using one of the secret mag­i­cal names of God inscribed on parch­ment and placed in the mouth of the form. There was one caveat, how­ev­er: Rab­bi Loew could not use his Golem on the Sab­bath, when all work is forbidden.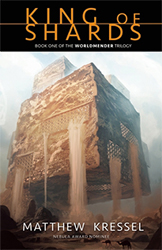 One Sab­bath, Rab­bi Loew for­got to remove the parch­ment from the Golem's mouth, and because the Golem was a crea­ture of mag­ic, he became an abom­i­na­tion. Rag­ing and out of con­trol, the Golem killed many peo­ple, Jew and gen­tile, before Rab­bi Loew was able to remove the scrap of parch­ment, dis­abling the man-made mon­ster. Ter­ri­fied of his cre­ation, Rab­bi Loew hid the crea­ture away in the attic of the Old New Syn­a­gogue, where it remains, accord­ing to leg­end, to this day.
The Golem sto­ry is a cau­tion­ary tale. One should not attempt to play God, it says. This myth enters pop cul­ture most notably in Mary Shelly's 1818 Franken­stein, which is con­sid­ered one of the first mod­ern works of sci­ence fic­tion. While the set­tings and char­ac­ters are dif­fer­ent, the sto­ry shares many sim­i­lar­i­ties: Dr. Franken­stein, like Rab­bi Loew, sets out to cre­ate life from non-life, only to lose con­trol of his cre­ation. Both sto­ries end with the crea­ture wag­ing bru­tal vio­lence on inno­cents. We see this plot again in Kubrick­'s 2001: A Space Odyssey, in which Hal 9000, a sen­tient com­put­er, is the ulti­mate golem: cre­at­ed by man, the com­put­er gains inde­pen­dence from his cre­ators and mur­ders the crew of The Dis­cov­ery. I'm not sure if Kubrick was famil­iar with the Golem of Prague sto­ry — I sus­pect he was — but if you re-watch 2001: A Space Odyssey and look care­ful­ly, you can spot the exact moment the sci­en­tists for­get to pull the parch­ment from Hal's mouth, so to speak, and lose con­trol of their creation.
In John Car­pen­ter's Ter­mi­na­tor, anoth­er com­put­er called Skynet gains sen­tience and instant­ly decides human­i­ty is a plague that needs to be wiped out. It ini­ti­ates a nuclear war and sends very human-look­ing robots to destroy the sur­vivors, golems if there ever were. The sto­ry repeats in Rid­ley Scot­t's Blade Run­ner, where repli­cants are not only indis­tin­guish­able from humans but smarter and stronger too. When the repli­cants dis­cov­er they are not real humans and will soon die, they react vio­lent­ly. In the reboot of Bat­tlestar Galac­ti­ca, the cylons, also indis­tin­guish­able from humans, ini­ti­ate nuclear war a la Skynet in order to gain free­dom from human­i­ty's yoke. In last year's Ex Machi­na, a very human­like robot uses human empa­thy to manip­u­late a stand-in for the view­er, to hor­rif­ic ends. As these sto­ries approach the present day, the golems appear more and more human, their rebel­lions ever more and more vio­lent and absolute.
But the myth does­n't end with fic­tion. The golem has entered the realm of plau­si­bil­i­ty. Vision­ary entre­pre­neur Elon Musk warned of run­away arti­fi­cial intel­li­gence, ​"We have to make sure that we don't do some­thing very fool­ish. With arti­fi­cial intel­li­gence we're sum­mon­ing the demon." In oth­er words, we have to be care­ful we don't into being a crea­ture we can­not con­trol, a crea­ture who will wreak vio­lence upon us. The name for that crea­ture is Golem. It is Skynet and it is Hal 9000 and it is Franken­stein's mon­ster, and it's Rab­bi Loew's Golem all over again.
So if we are God's golems, as it were, cre­at­ed from clay and filled with the spir­it of life, what does that say about our most pop­u­lar golem sto­ries, where the cre­at­ed one rebels against its cre­ator, often oblit­er­at­ing him? These golem sto­ries, tak­en in this con­text, can be viewed as pow­er­ful reflec­tions of our shift­ing rela­tion­ship with the Cre­ator and how we are con­tin­u­ing to ques­tion and chal­lenge the role of God in our lives, cer­tain­ly a very Jew­ish thing to do.
Matthew Kres­sel is a short fic­tion writer and the co-host of the Fan­tas­tic Fic­tion at KGB read­ing series in Man­hat­tan with Ellen Dat­low. His first nov­el, King of Shards, was released Octo­ber 2015 from Arche Press.
Relat­ed Content:
Matthew Kres­sel is the author of the Jew­ish-themed fan­ta­sy epic King of Shards. He is a pro­lif­ic writer of short fic­tion, his works appear­ing in the pub­li­ca­tions Clarkesworld, Light­speed, Night­mare, io9​.com, Inter­zone, Apex Mag­a­zine, the antholo­gies Naked City, The Peo­ple of the Book, After, and else­where. He is the co-host of the Fan­tas­tic Fic­tion at KGB read­ing series in Man­hat­tan with Ellen Dat­low, and he is (slow­ly) learn­ing the Yid­dish lan­guage. By day he writes code for cor­po­ra­tions and universities.
Sur­viv­ing Leonard Nimoy's Super­hu­man Salute
Golem Sto­ries, from Mys­ti­cism to Fic­tion to the Realm of Plausibility