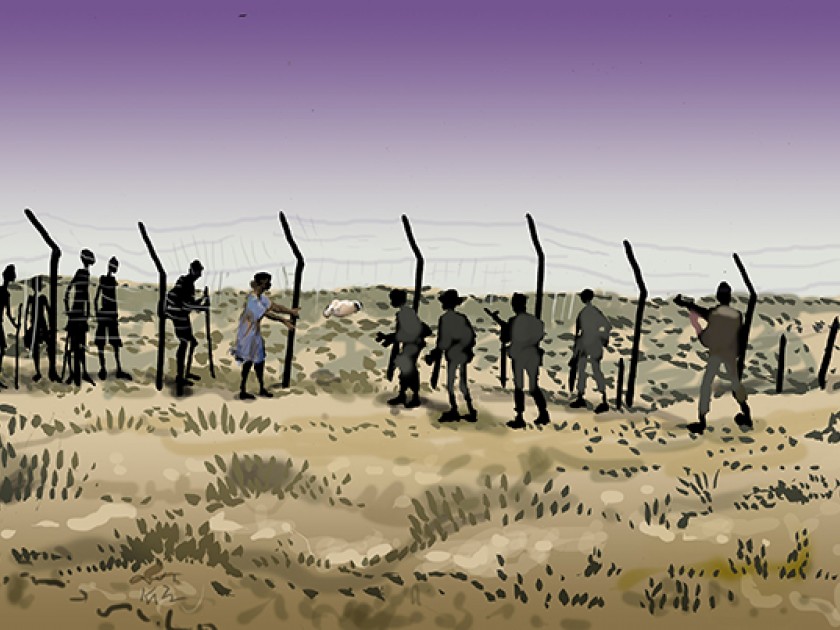 Ear­li­er this week, Haim Watz­man wrote about pro­duc­ing new sto­ries on a month­ly dead­line for The Jerusalem Report. With the release of his new book, Nec­es­sary Sto­ries, Haim is guest blog­ging for the Jew­ish Book Coun­cil all week as part of the Vis­it­ing Scribe series here on The ProsenPeo­ple.
Two of the tales that appear in Nec­es­sary Sto­ries, my new col­lec­tion, close­ly fol­low pas­sages in the Baby­lon­ian Tal­mud. If you've ever stud­ied or tried to read this cen­tral Jew­ish text, you might find that puz­zling. The Gemara, the largest part of the Baby­lon­ian Tal­mud, records the dis­cus­sions and argu­ments that sev­er­al gen­er­a­tions of rab­bis liv­ing in what is now Iraq engaged in between the third and fifth cen­turies of the Com­mon Era.
To the untrained eye — indeed, even to the well-versed one — the dis­cus­sions can be vex­ing­ly cryp­tic, arcane, and dif­fi­cult to under­stand. In fact, it is that dif­fi­cul­ty that has made min­ing its wis­dom and inter­pret­ing its dis­pu­ta­tions the cen­tral occu­pa­tion of tra­di­tion­al Jew­ish schol­ar­ship ever since.
"In Exile, at Home" recasts a debate that appears on page 25b of the trac­tate Sukkah. The trac­tate focus­es, as one might expect, on the laws and obser­vances incum­bent on Jews dur­ing the week-long hol­i­day of Sukkot, the Fes­ti­val of Booths, which occurs in the ear­ly fall, just after Yom Kip­pur. One of those laws is the require­ment dur­ing that week to live — in par­tic­u­lar, to have one's meals and to sleep — in a sukkah,a ram­shackle tem­po­rary home rather than in one's apart­ment or house. This com­mand­ment is accom­pa­nied by anoth­er — a com­mand­ment to be joy­ous dur­ing the holiday.
The sugiya (a pas­sage of Tal­mud devot­ed to dis­cussing a spe­cif­ic issue) brings up a prob­lem pre­sent­ed by some class­es of peo­ple who might have trou­ble being joy­ous in a sukkah. Specif­i­cal­ly, it asks about peo­ple who are mourn­ing for a loved one and a bride and groom just after their wed­ding. Instead of a dia­logue between rab­bis, ​"In Exile, at Home" presents a dia­logue between me and one of the par­tic­i­pants in the Tal­mu­dic dis­cus­sion, Abba Bar Zab­da. Bar Zab­da encoun­ters me sit­ting beside the grave of my younger son in the Mt. Her­zl Mil­i­tary Ceme­tery in Jerusalem. Our dis­cus­sion repro­duces the Tal­mu­dic dialec­tic and Bar Zab­da leads me to an insight: ​"A bride and groom do not need to be com­mand­ed to rejoice … A mourn­er needs the com­mand­ment. Oth­er­wise he will stay for­ev­er in exile and nev­er be open to redemption."
"Sin Offer­ing" (the illus­tra­tion for which, by Avi Katz, accom­pa­nies this post) com­bines anoth­er sugiya, from trac­tate Baba Batra, page 10b, with a har­row­ing sto­ry about African refugees try­ing to cross the bor­der from Egypt into Israel. The lat­ter sto­ry was told to me by my youngest daugh­ter, Mis­gav, when she was a sol­dier in the Cara­cal Brigade, a mixed-sex infantry unit that patrols the Egypt­ian-Israeli bor­der. In ​"Sin Offer­ing," a squad of sol­diers reports to their com­mand­ing offi­cer at dawn about a bor­der inci­dent that took place an hour or so ear­li­er. The inci­dent end­ed with one man wound­ed and the refugees sent back into the Sinai Desert to almost cer­tain death. The sol­diers have fol­lowed their orders, but some of them are uneasy. Each sol­dier presents his own per­spec­tive, but most of them are eager to jus­ti­fy what they have done.
Their report to their offi­cer is inter­wo­ven with a debate over the mean­ing of a verse from the Bible's Book of Proverbs (14:34). It is this debate over the verse that is the sub­ject of the sugiya. It is led by Rab­ban Yohanan Ben Zakkai, who led the rem­nant of the Jew­ish com­mu­ni­ty in Israel after the Roman destruc­tion of Jerusalem in 70 CE and remold­ed the Jew­ish faith so that it was cen­tered on study and char­i­ty instead of on the Temple's sac­ri­fi­cial ser­vice. Ben Zakkai asks his stu­dents the mean­ing of the verse in Proverbs and they all try to inter­pret it in a way that reflects well on the char­i­ta­ble actions of Jews and bad­ly on those of non-Jews. At the end, Ben Zakkai clev­er­ly recasts the inter­pre­ta­tion of the last of them to say exact­ly the oppo­site — that non-Jews and Jews have equal access to God's mer­cy when they give charity.
Per­haps, then, it should not be sur­pris­ing that Tal­mu­dic dis­pu­ta­tions can be the basis of good fic­tion. They have sharply drawn char­ac­ters, sus­pense, and even that final twist that so many good sto­ries have. You just know have to read them prop­er­ly, and imag­ine them in a mod­ern context.
Haim Watz­man is a Jerusalem-based writer and trans­la­tor. He has worked with many of Israel's lead­ing authors and schol­ars, includ­ing Shlo­mo Avineri, David Gross­man, Hil­lel Cohen, Amos Oz, Tom Segev, and Yuval Noah Harari. His new book, Nec­es­sary Sto­ries, is a col­lec­tion of twen­ty-four of the best of the more than 140 short sto­ries he has writ­ten over the last eleven years for his month­ly col­umn of that name, first in the biweek­ly mag­a­zine The Jerusalem Report and now in The Times of Israel. Haim Watz­man is avail­able to be booked for speak­ing engage­ments through Read On. Click here for more information.