Ani­ta Dia­mant, author of Day After Night
, is guest-blog­ging for MyJew­ish­Learn­ing and the Jew­ish Book Coun­cil.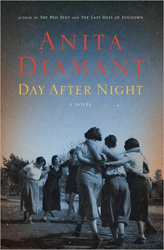 My new nov­el, Day After Night
, is based on the true sto­ry of the Octo­ber 1945 res­cue of more than 200 pris­on­ers from the Atlit intern­ment camp, a prison for ​"ille­gal" immi­grants run by the British mil­i­tary near the Mediter­ranean coast south of Haifa. The sto­ry is told through the eyes of four young women at the camp who sur­vived the Holo­caust with pro­found­ly dif­fer­ent sto­ries: Shayn­del, a Pol­ish Zion­ist; Leonie, a Parisian beau­ty; Tedi, a hid­den Dutch Jew; and Sorah, a con­cen­tra­tion camp sur­vivor. Haunt­ed by the past, the four of them find sal­va­tion in the bonds of friend­ship and shared expe­ri­ence even as they con­front the chal­lenge of recre­at­ing them­selves in a strange new country.
I love the cov­er. I can't say that about all the books that bear my name, but I think this one is perfect.
The pho­to­graph was found by the per­sis­tent, patient, and tal­ent­ed art direc­tor Rex Bonomel­li at Scrib­n­er. Because there are four main pro­tag­o­nists in the book, the search focused on an image of four girls. Some love­ly shots were prof­fered, but because the four main char­ac­ters – Tedi, Leonie, Zorah, and Shayn­del – are described so ful­ly in the nov­el, the pic­tures all seemed wrong for one rea­son or anoth­er: clothes, hair col­or, set­ting. Many emails were exchanged; many pic­tures were rejected.
This image arrived via email under the sub­ject line ​"I think this is it." Every­one agreed.
The pho­to comes from the archive of Her­bert and Leni Son­nen­feld, who were well known in Israel as pho­tog­ra­phers of Jew­ish set­tlers in Pales­tine in the mid-1940s. Indeed, the Son­nen­felds are said to have helped shape the image -– and self-image -– of the state.
The pic­ture was not tak­en in Pales­tine at all; it comes from Ger­many in 1935 at the Rued­nitz youth aliyah (Aliy­at Hanoar) camp. This pre-immi­gra­tion train­ing cen­ter allowed young peo­ple to test their abil­i­ty to live col­lec­tive­ly and try out the demand­ing agri­cul­tur­al work of kib­butz life in the land of Israel.
Her­bert Son­nen­feld (1906−1972) was a Berlin-born pho­to­jour­nal­ist who, with his wife, Leni (1907−2004) chron­i­cled Jew­ish life in Ger­many until they fled the Nazis in 1939. At that point, they tried to immi­grate to Pales­tine, then under British Manda­to­ry rule, but were denied entry. Instead, they set­tled in the Unit­ed States and trav­eled wide­ly, pho­tograph­ing Jew­ish com­mu­ni­ties in Iran, Moroc­co, Spain, and ulti­mate­ly Israel.
The image on the book cov­er haunts me. They look so joy­ful in their dance, in their shorts. There is no record, how­ev­er, of their names. Did some of these kids make it to Israel? Did any of them?
Ani­ta Diamant's newest book, Day After Night
, is now avail­able. Vis­it www​.ani​ta​dia​mant​.com, her offi­cial web­site, and come back right here, where she'll be blog­ging all week.