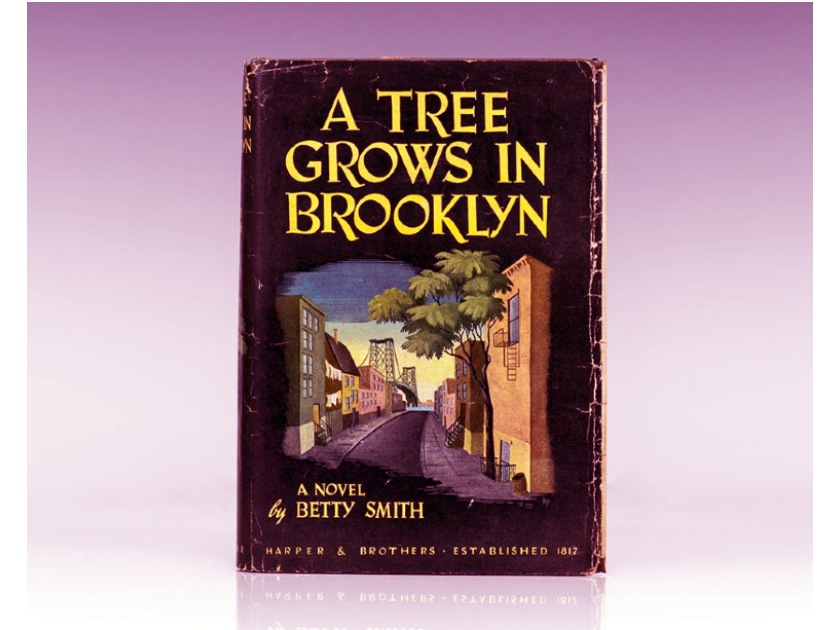 Like Scout Finch in To Kill a Mock­ing­bird and Matil­da Worm­wood in Matil­da, Fran­cie Nolan — the pro­tag­o­nist of Bet­ty Smith's A Tree Grows in Brook­lyn—is an inspi­ra­tion to book­ish young girls every­where, and a tes­ta­ment to the way read­ing can mag­ni­fy one's life. A Tree Grows in Brook­lyn is an Amer­i­can clas­sic I missed grow­ing up, but one I'm hap­py to have read recent­ly. While the nov­el fea­tures a young pro­tag­o­nist in the char­ac­ter of Fran­cie (who is eleven at the begin­ning of the nov­el and almost sev­en­teen at its end), it explores themes and issues well suit­ed to an adult readership.
Since A Tree Grows in Brook­lyn focus­es on the tri­als and joys of a Ger­man-Irish Amer­i­can fam­i­ly in the 1910s, I did not expect it to also high­light Jews and Jew­ish cul­ture. But, inevitably (and it's clear that Smith knew this), a sto­ry about Brook­lyn is also a sto­ry about its Jew­ish com­mu­ni­ty. Although the nov­el depicts anti­semitism, includ­ing the prej­u­dices of the Nolan fam­i­ly, the nov­el itself is far from anti­se­mit­ic. Instead, Smith choos­es to explore why it is that the une­d­u­cat­ed peo­ple of ear­ly twen­ti­eth cen­tu­ry Brook­lyn feel the way they do about Jews. Con­sid­er­ing the fact that the nov­el was pub­lished in 1943, this approach is significant.
The first instance of anti­semitism occurs ear­ly on in the book when friends of Francie's younger broth­er, Nee­ley, ​"took time out to bedev­il a lit­tle Jew boy on his way to tem­ple." The Jew­ish boy, evi­dent­ly used to such taunt­ings, is play­ful with the oth­er chil­dren and not too affect­ed by their bad­ger­ing. Nee­ley says, ​"I know that kid. He's a white Jew," quot­ing some­thing he has heard his father say in the past, a pos­i­tive inter­pre­ta­tion. His friend replies, ​"There could nev­er be a white Jew."
When I first read this pas­sage, I winced. Why was Smith dwelling on her char­ac­ters' feel­ings toward Jews in par­tic­u­lar? Was she falling into the trap of anti­semitism, or mere­ly depict­ing it? The more I read on, how­ev­er, the more Smith's inten­tion revealed itself in the care­ful con­struc­tion of her novel.
When Fran­cie goes to a pick­le store and asks the Jew­ish own­er for ​"a pen­ny shee­ny pick­le" , the man spits the words ​"Goyem! Goyem!" at her, hat­ing the word ​"shee­ny." Fran­cie is tak­en aback, as she ​"meant no harm. She didn't know what the word meant real­ly. It was a term applied to some­thing alien, yet beloved."
Smith choos­es to explore why it is that the une­d­u­cat­ed peo­ple of ear­ly twen­ti­eth cen­tu­ry Brook­lyn feel the way they do about Jews.
Smith uses this moment to delve into the root of not only anti­semitism, but all child­hood prej­u­dices. Fran­cie has no mal­ice; these thoughts and words were ingrained in her before she could real­ize what they mean. This uncom­fort­able notion speaks to how anti­semitism can flour­ish in peo­ple who don't even con­scious­ly dis­like Jew­ish peo­ple, who might live among them and yet still see them as alien. Such sen­ti­ments are so casu­al­ly a part of Francie's life and upbring­ing that she active­ly needs to parse them to see the harm. As she notes, for exam­ple, ​"Most Brook­lyn Ger­mans had a habit of call­ing every­one who annoyed them a Jew." Francie's inter­ac­tions with Jews are often­times uncom­fort­able for a rea­son; it is only through engag­ing with them as fel­low beings that she is able to tran­scend her pre­con­cep­tions and see them as some­thing oth­er than ​"oth­er."
Near the end of the nov­el, Smith reveals how the char­ac­ters' stance toward Jews has shift­ed, a sub­plot in its own right. When Francie's aunt Sis­sy, who is preg­nant for the eleventh time after her pre­vi­ous ten chil­dren were all still­born, insists on get­ting a Jew­ish doc­tor to per­form the labor rather than the tra­di­tion­al mid­wife, Francie's moth­er is aghast. Their oth­er sis­ter says, ​"Like should stick to like. You don't see Jews call­ing in Chris­t­ian doc­tors." Sis­sy replies, ​"Why should they … when they and every­body else knows that Jew­ish doc­tors are smarter."
When the baby is born, Sis­sy ini­tial­ly thinks from the blue of his skin that he, like all the oth­ers, is dead, before the doc­tor gives him oxy­gen. ​"Sis­sy took [the doctor's] hands and cov­ered them with kiss­es. And Dr. Aaron Aaron­stein was not embar­rassed about her emo­tion­al­ism the way a Gen­tile doc­tor would have been." In return, she gives her son the doctor's name as a mid­dle name. This pos­i­tive depic­tion of Jew­ish peo­ple is also root­ed in stereo­types. But it is still a depar­ture from many insen­si­tive por­tray­als of the time period.
While A Tree Grows in Brook­lyn takes place years before World War II, it was writ­ten at a time when Jews were being mur­dered in Europe. Smith is too sharp a writer for her con­tem­pla­tions on anti­semitism to be coin­ci­den­tal. She por­trays a world where peo­ple of all dif­fer­ent back­grounds live among each oth­er — if not quite in har­mo­ny, still as neigh­bors. With grace and under­stand­ing, Smith seems to be say­ing, per­haps this kind of world is once more with­in our reach. Immersed in the nov­el, I found myself wish­ing more con­tem­po­rary authors would embrace this heady mix of real­ism and optimism.
Ariel­la Carmell is a Brook­lyn-based writer of plays and prose. She grad­u­at­ed from the Uni­ver­si­ty of Chica­go, where she stud­ied lit­er­a­ture and phi­los­o­phy. Her work has appeared in Alma, the Sier­ra Neva­da Review, the Brook­lyn review, and elsewhere.