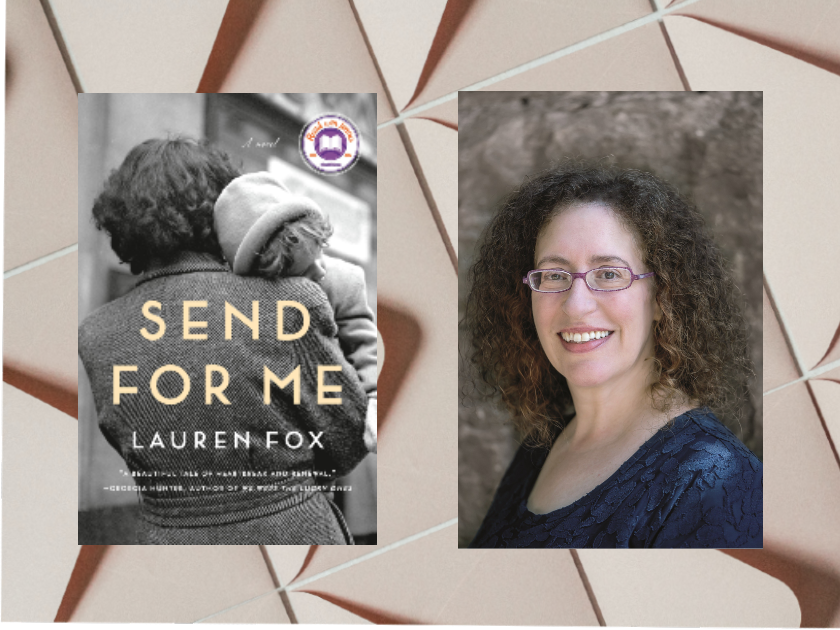 With The Diary of Anne Frank as a prime exam­ple, read­ers look to the writ­ten traces — jour­nal entries, let­ters, sto­ries — left behind by vic­tims of the Holo­caust in order to piece togeth­er who they were and what occurred. In Send For Me, Lau­ren Fox uses the let­ters of her grand­moth­er, who per­ished in the camps, as a start­ing point in a fic­tion­al­ized sto­ry of her own fam­i­ly his­to­ry. JBC's Edi­to­r­i­al Fel­low Ariel­la Carmell and Fox dis­cuss the writ­ing of this nov­el and what she learned in the process.
Ariel­la Carmell: This book draws from your own fam­i­ly his­to­ry. Why did you decide to write it as a nov­el instead of a memoir?
Lau­ren Fox: I start­ed work­ing on this project many years ago, when I was in grad­u­ate school. Orig­i­nal­ly, it was a mem­oir, but some­thing about it just didn't work. Part­ly it was that I was too young at the time to have enough mate­r­i­al for a mem­oir, but even more than that, I just got kind of par­a­lyzed by the genre, because in mem­oir, every­thing has to be from the author's per­spec­tive. When I final­ly real­ized that I could shape this mate­r­i­al into a work of fic­tion, it blew every­thing wide open for me. I could imag­ine the points of view of so many oth­er char­ac­ters and I could invent dia­logue and scenes — all based on the let­ters and on my fam­i­ly mem­bers, all remain­ing true to the actu­al sto­ry, but with­out the sti­fling oblig­a­tion to keep it lim­it­ed to my point of view.
AC: What inspired the idea for Send for Me, and how does the final prod­uct dif­fer from your orig­i­nal conception?
LF: I think maybe I answered the sec­ond part of that ques­tion in my first answer; my orig­i­nal con­cep­tion of this was that it would be non-fic­tion! The sto­ry is inspired by my family's his­to­ry. My grand­par­ents and moth­er emi­grat­ed from Ger­many to the Unit­ed States in 1938, when my mom was a tod­dler. My fam­i­ly was very close, but I grew up with only a vague under­stand­ing of where they came from and what had hap­pened to them. As I got old­er, I became very inter­est­ed in try­ing to under­stand the psy­cho­log­i­cal under­pin­nings of my fam­i­ly, the close­ness and the love mixed with so much wor­ry and fear.
When I was in my twen­ties, not long after my grand­par­ents had died, I stum­bled upon a box of let­ters in my par­ents' base­ment. They were dat­ed from 1938 to 1941 and were writ­ten by my great-grand­moth­er, in Ger­many, to my grand­moth­er, who had just set­tled in Mil­wau­kee. I had those let­ters trans­lat­ed, and they became the real, con­crete basis for this nov­el. They are full of all of the love and long­ing and fear that suf­fused my upbringing.
AC: What was the research process for this nov­el like?
LF: The research process for the book was tru­ly fas­ci­nat­ing. I mean, besides get­ting the let­ters trans­lat­ed, which was pret­ty labo­ri­ous, I read a ton about the time peri­od. And although of course it was a dif­fi­cult era to explore, I just loved doing the research — I felt like with each detail I uncov­ered, I was learn­ing more and more about my own family's sto­ry. It was also real­ly fun to do a deep dive into the phys­i­cal details of the time; for exam­ple, if I won­dered what kind of shoes a char­ac­ter would be wear­ing in 1937, or what style of dress, I was able to find out the specifics of the fash­ion of the time. For the sec­tion of the book that takes place on the ship, I found brochures adver­tis­ing trans-Atlantic cross­ings in 1938. I loved all of that.
When I was in my twen­ties, not long after my grand­par­ents had died, I stum­bled upon a box of let­ters in my par­ents' basement.
AC: Did Klara's let­ters resem­ble your own fam­i­ly let­ters, or were they com­plete­ly fictionalized?
LF: The book is fic­tion, but, aside from the names, I didn't change a word of my great-grandmother's let­ters; they appear in the book exact­ly as she wrote them. That was real­ly impor­tant to me. I felt like I had a respon­si­bil­i­ty to stay true to her words.
AC: In writ­ing fic­tion­al ver­sions of your grand­moth­er and moth­er, did you find your­self gain­ing a new per­spec­tive on your rela­tion­ship with them? If so, how did this process affect your rela­tion­ships with them?
LF: You know, it didn't change my rela­tion­ship with them — I feel lucky that our rela­tion­ships were and are very lov­ing and uncom­pli­cat­ed. But it did kind of give me access to a piece of my grand­ma that I've missed for thir­ty years, and that was real­ly love­ly. It made me feel very con­nect­ed with her again, almost like when you dream about some­body you loved who is gone.
AC: The char­ac­ter of Clare most close­ly resem­bles you in terms of auto­bi­og­ra­phy, but is she the char­ac­ter you feel the clos­est to?
LF: Clare is the char­ac­ter I most des­per­ate­ly did not want to write! My first draft of the nov­el was only the his­tor­i­cal part, only the sec­tions that take place in Ger­many, on the ship, and then the ear­ly years in Mil­wau­kee. But on read­ing that draft, my edi­tor real­ly felt like a piece of the sto­ry was miss­ing, and she encour­aged me to write a con­tem­po­rary sec­tion. She under­stood before I did that this book was about what is hand­ed down to us. I was reluc­tant — but when I sat down to do it, Clare's sec­tion came pret­ty eas­i­ly to me. I don't think I feel the clos­est to her, but she was rev­e­la­to­ry in some ways — writ­ing about her rela­tion­ship to the past def­i­nite­ly illu­mi­nat­ed my own experience.
AC: How does being the descen­dant of Holo­caust sur­vivors affect your out­look on the world and how you approach your writing?
LF: That's a big ques­tion! I think I share this guid­ing prin­ci­ple with many Jews and oth­ers whose fam­i­lies have faced per­se­cu­tion: that we don't exist only for our­selves, that we owe some­thing to the rest of the world, that it's our oblig­a­tion to speak and act against suf­fer­ing and injus­tice. That sen­ti­ment reflects my sense of who I am, so nat­u­ral­ly it makes its way into my writ­ing, even when I'm not writ­ing explic­it­ly about the Holocaust.
AC: What is some­thing you learned dur­ing this project that sur­prised you?
LF: I was quite sur­prised to learn how dif­fer­ent the expe­ri­ence of Ger­man Jews was to the real­i­ty of East­ern Euro­pean Jews and, to some extent, Jews in oth­er West­ern Euro­pean coun­tries in the lead-up to World War II. In ret­ro­spect it seems obvi­ous, but of course Ger­man Jews lived with increas­ing oppres­sion through­out the 1930s, where­as for East­ern Euro­pean Jews, things hap­pened much faster. More Ger­man Jews than Jews from oth­er coun­tries were able to leave because they were con­front­ed with these increas­ing­ly dehu­man­iz­ing and humil­i­at­ing restric­tions on a dai­ly basis. When I real­ized this, it felt simul­ta­ne­ous­ly shock­ing and clar­i­fy­ing to me.
AC: Which nov­els or oth­er works of art influ­enced the cre­ative process of Send for Me?
LF: It's not a nov­el, but I was most influ­enced by a book called Between Dig­ni­ty and Despair: Jew­ish Life in Nazi Ger­many, by Mar­i­on A. Kaplan. In it she focus­es specif­i­cal­ly on the expe­ri­ence of Jew­ish women dur­ing the run-up to the war. This book filled in so many his­tor­i­cal details for me, and it gave me a real­ly rich sense of the macro-lev­el sit­u­a­tion in Germany.
AC: What are you work­ing on and read­ing now?
LF: I'm just at the very begin­ning stages of my next project — too soon to talk about, but I'm excit­ed to start some­thing new. I just start­ed read­ing The Remains of the Day, which has been in my to-read pile for ages.
Ariel­la Carmell is a Brook­lyn-based writer of plays and prose. She grad­u­at­ed from the Uni­ver­si­ty of Chica­go, where she stud­ied lit­er­a­ture and phi­los­o­phy. Her work has appeared in Alma, the Sier­ra Neva­da Review, the Brook­lyn review, and elsewhere.