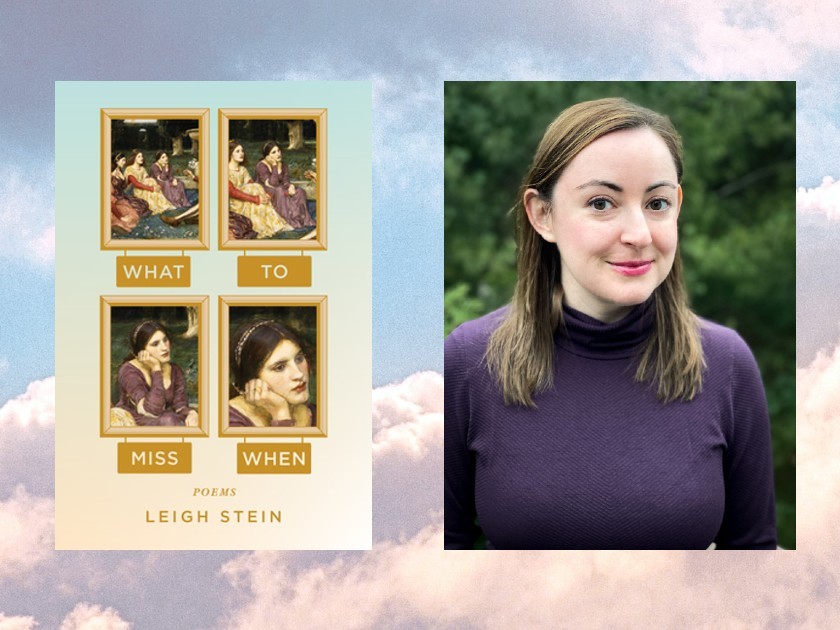 Nov­el­ist, mem­oirist, and poet Leigh Stein is a writer whose work evinces the feel­ing of hav­ing cof­fee with a fun­ny, with-it friend who knows more about pop cul­ture than you do. Her lat­est book of poet­ry, What to Miss When, cap­tures the essence of liv­ing dur­ing the pan­dem­ic — not just the painful aspects, but also the moments of clar­i­ty and redemp­tion, often sparked by clas­sic eight­ies movies, snacks, and the internet.
Stitched into these pan­dem­ic sta­ples is Stein's rela­tion­ship to Judaism, which her recent mar­riage reboot­ed. What to Miss When explores the essence of liv­ing a paired-down life of the mind in 2021. What does it mean to be a mil­len­ni­al with an old soul? How can we car­ry on, know­ing what we know? Will poet­ry save us from Tik­Tok? And, final­ly, what would Anne Frank do?
Emi­ly Stone: Could you tell me about your upbring­ing and how you first became inter­est­ed in writing?
Leigh Stein: I grew up going to Uni­tar­i­an Uni­ver­sal­ist church with my mom. My dad is a non-obser­vant Jew (his ances­tors were Ger­man Jews, mer­chants, who immi­grat­ed to Wis­con­sin in the 1800s). I always felt drawn to my Jew­ish her­itage, and want­ed to learn more about it, but I didn't have many oppor­tu­ni­ties to get clos­er to those tra­di­tions (I was one of two Jew­ish girls in my mid­dle school). I read every book on the Holo­caust I could get my hands on; I read Nazi Doc­tors in eighth grade. I dropped out of high school due to depres­sion and anx­i­ety, and start­ed tak­ing class­es at the com­mu­ni­ty col­lege, where I was much hap­pi­er. I took a Holo­caust lit­er­a­ture course, which exposed me to Maus for the first time. A cou­ple years lat­er, I got a job work­ing for Françoise Mouly, cov­er edi­tor of the New York­er and Art Spiegelman's wife. When no pub­lish­er knew what to do with Maus, Françoise pub­lished it her­self, seri­al­ized, in their comics jour­nal RAW. I was hired to work on their com­ic book easy read­ers, TOON Books, pub­lished under the umbrel­la RAW Junior. Work­ing for Françoise for five years taught me a lot about how to make a career as an artist — she is some­one who makes things hap­pen, who doesn't take no for an answer.
ES: Your work spans a tra­jec­to­ry from mem­oir to fic­tion to poet­ry. How do these writ­ing expe­ri­ences dif­fer emo­tion­al­ly? (I recent­ly heard Amy Jo Burns say that mem­oir was the most gut-wrench­ing.) Do any of these cat­e­gories hit clos­er to home? What made you want to write this book of poet­ry as opposed to, say, anoth­er novel?
LS: Mem­oir was the hard­est, emo­tion­al­ly, to write because I had to put myself back into the scenes with my ex-boyfriend in order to tell the sto­ry of what hap­pened to him, to me. All of my books begin with an obses­sion — with my mem­oir Land of Enchant­ment, I found myself obses­sive­ly telling peo­ple about my ex-boyfriend's motor­cy­cle acci­dent, and how we'd once lived togeth­er in New Mex­i­co, but every time I told the sto­ry, I walked away think­ing, I didn't get it right this time, either. Writ­ing the book was the only way I could tell the full sto­ry, and I wrote against his voice in my head, what he used to say to me: ​"You only tell peo­ple the bad parts."
After that expe­ri­ence, I need­ed a good time. My nov­el, Self Care, was prob­a­bly the most fun I've ever had writ­ing a book. All my friends knew I was writ­ing a satire of the well­ness indus­try and they would send me insane prod­ucts they found online (cannabis-infused cel­lulite cream). About a year into writ­ing the nov­el, I real­ized what I was doing: build­ing a Tro­jan horse. On the out­side, it was this fluffy mil­len­ni­al pink satire of the well­ness indus­tri­al com­plex, but inside I was writ­ing some­thing much dark­er, about the way social media rewards con­fes­sion and victimhood.
My new poet­ry col­lec­tion, What to Miss When, would not exist had I not stopped drink­ing alco­hol two weeks before my state went into lock­down in 2020. When I stopped drink­ing, the light in the poet­ry room of my brain turned on and I wrote the whole book in six months. It was a com­bi­na­tion of the iso­la­tion of lock­down and the pres­sure to doc­u­ment the sur­re­al ear­ly stage of the pan­dem­ic. Writ­ing poet­ry is a very intu­itive, spir­i­tu­al expe­ri­ence for me.
ES: You recent­ly got mar­ried — mazel tov! I noticed on Insta­gram that one of the source­books you used in plan­ning your cer­e­mo­ny was Ani­ta Diamant's The Jew­ish Wed­ding Now. What led you toward Jew­ish rit­u­als dur­ing the pan­dem­ic? Was it writ­ing these poems, or had your inter­est been bub­bling to the sur­face for a while?
LS: Our rab­bi rec­om­mend­ed that book to us! Dur­ing the pan­dem­ic, I found myself crav­ing tra­di­tion and rit­u­al, and I loved learn­ing the his­to­ry behind Jew­ish wed­ding tra­di­tions. At our wed­ding, I invit­ed all our guests to recite the sev­en bless­ings in uni­son. We got mar­ried in June of this year, right before the Delta vari­ant surge. We were unbe­liev­ably lucky with our date (an Israeli friend of mine kept telling me not to change the date — it's bad luck!). To be out­doors under the chup­pah, and to hear our friends and fam­i­ly bless­ing our mar­riage, was incred­i­bly moving.
Also, my hus­band is Jew­ish, and his grand­par­ents are sur­vivors. His grand­moth­er, who just turned nine­ty, was at the wed­ding. As a child, while rid­ing a trol­ley, she saw Hitler. Bri­an want­ed to put that in the wed­ding pro­gram under ​"fun facts" but I vetoed that …
Instead of vows, we took turns read­ing our ketubah pas­sage aloud. When I got to my final line, ​"We will remem­ber why we fell in love," I start­ed to cry, and Bri­an leaned into the micro­phone and said, ​"This is what she's like when she watch­es The Bach­e­lor." A true bash­ert.
All of my books begin with an obses­sion — with my mem­oir Land of Enchant­ment, I found myself obses­sive­ly telling peo­ple about my ex-boyfriend's motor­cy­cle acci­dent, and how we'd once lived togeth­er in New Mexico.
ES: In your recent New York Times opin­ion piece, ​"The Emp­ty Reli­gions of Insta­gram," you write: ​"Twen­ty-two per­cent of mil­len­ni­als are not affil­i­at­ed with a spe­cif­ic reli­gion. We are known as reli­gious ​'nones.' … Our new belief sys­tem is a blend of left-wing polit­i­cal ortho­doxy, inter­sec­tion­al fem­i­nism, self-opti­miza­tion, ther­a­py, well­ness, astrol­o­gy and Dol­ly Par­ton. And we've found a dif­fer­ent kind of cler­gy: per­son­al growth influ­encers." Where does Judaism fit into this whole cri­sis of faith for millennials?
LS: ​"Jew­ish iden­ti­ty" is unique because it's eth­nic, cul­tur­al, and reli­gious. No one is eth­ni­cal­ly Chris­t­ian — Chris­tian­i­ty is pred­i­cat­ed on faith. Most of the mil­len­ni­al Jew­ish women I know are cul­tur­al­ly Jew­ish but fall under the ​"new belief sys­tem" I out­line in my opin­ion piece: they're into fem­i­nism, ther­a­py, well­ness, and astrol­o­gy. Reli­gious obser­vance is occa­sion­al, for High Holidays.
After that opin­ion piece ran, I received a few invi­ta­tions from Chris­tians to attend church. Some of these invi­ta­tions were very kind; oth­ers were extreme­ly aggres­sive and dog­mat­ic, exact­ly the kind of approach that has alien­at­ed so many peo­ple from the church. But no invi­ta­tions from Jews! That made me love Jews even more. They're not seek­ing con­verts. I did make some new friends, includ­ing Tiffany Shlain, who mailed me a copy of her book 24/6, which has helped me keep up my new habit of Tech Shabbat.
ES: Do you fol­low any Jew­ish influ­encers and if so, are any of them Orthodox?
LS: I would love to fol­low more Ortho­dox influ­encers! Give me names. On Insta­gram, I fol­low @modern_ritual ("two rab­bis bring­ing you fresh, beau­ti­ful, fem­i­nist Jew­ish liv­ing") and @thefrocknyc, a mod­est fash­ion brand cre­at­ed by two Jew­ish sis­ters — I inter­viewed them for a piece on mod­est fash­ion I wrote for Elle. My friend @gilapfeffer is a Jew­ish influ­encer — she lives in Lon­don and every Fri­day she DMs me Shab­bat Shalom, and that's my reminder to turn off my phone.☺
On Twit­ter, I fol­low Avi­tal Chizhik-Gold­schmidt—she has done great report­ing on the move­ment to raise aware­ness of the Ortho­dox women who are denied gets by their hus­bands. Dur­ing the pan­dem­ic, I've become friends with Batya Ungar-Sar­gon, the deputy opin­ion edi­tor of Newsweek and the author of Bad News, a book about how main­stream media has aban­doned the work­ing class.
I didn't know a lot of oth­er Jews when I was grow­ing up. I didn't live in a Jew­ish com­mu­ni­ty. All I had were books. Anne's diary, and the play adap­ta­tion, made a huge impact on me.
ES: We are com­ing up on two years of the Covid era — about which my moth­er, when­ev­er I com­plain about it, always says, ​"It's not the Holo­caust!" Tell me about your Anne Frank poems. Start with your child­hood Anne Frank fan­ta­sy and poems such as ​"Incur­able Chat­ter­box" or ​"Cat­a­stro­phe Tourism." Was the fan­ta­sy exac­er­bat­ed dur­ing quar­an­tine? What about her death by typhus?
LS: I agree with your moth­er: it's not the Holo­caust! And the Amer­i­cans who are adopt­ing the lan­guage and the imagery of the Shoah to describe their per­se­cu­tion as anti-vaxxers and anti-maskers is hyper­bol­ic, sur­re­al, igno­rant, and deplorable.
As I men­tioned, I didn't know a lot of oth­er Jews when I was grow­ing up. I didn't live in a Jew­ish com­mu­ni­ty. All I had were books. Anne's diary, and the play adap­ta­tion, made a huge impact on me. Like mil­lions of oth­er peo­ple around the world, I felt close to Anne through her voice on the page. This is what all great mem­oirs do: make us feel we inti­mate­ly know the narrator.)
When I was twelve years old, I looked a lot like her. I audi­tioned for two com­mu­ni­ty the­ater pro­duc­tions of the play. Both times I made it to call­backs, and they cast oth­er girls, who weren't Jew­ish. One direc­tor called me on the phone to let me know I was too seri­ous. Not fun enough to play Anne.
Years lat­er, when I read Francine Prose's Anne Frank: The Book, The Life, The After­life, and learned the his­to­ry of the play, I under­stood that it had been adapt­ed for the vibe of post­war Amer­i­ca. Opti­mism! Chutz­pah! Look on the bright side!
Most peo­ple don't know that Anne wrote her diary for an audi­ence. After hear­ing a radio broad­cast by the Dutch min­is­ter of edu­ca­tion ask­ing Dutch cit­i­zens to keep the ​"dai­ly mate­r­i­al" of the war, Anne rewrote the diary she'd been keep­ing for a year and a half, while at the same time pro­duc­ing new entries. She fin­ished her revi­sion three days before the Gestapo found them.
I reread the diary dur­ing the first phase of the pan­dem­ic. I was struck by how dis­ori­ent­ed Anne was by the pas­sage of time, just as we were in lock­down. I wouldn't com­pare my expe­ri­ence in lock­down to Anne's in the annex. I will say I was inspired by her instinct to keep a record, to doc­u­ment every­thing — down to the details of bath­room rou­tines and the tedious ration diet — and by her hope that one day, her pages would become part of history.
ES: Your poem ​"Heretic" is a paean to the mean­ing (and empti­ness) of prayer in our cur­rent Amer­i­can moment. Is this more of the syn­cretiz­ing of spir­i­tu­al­i­ty prac­tices you talked about before, or is it some­thing more vis­cer­al? Why do we cry when we hear peo­ple singing Amaz­ing Grace? Does God live there?
LS: This poem was the warm-up act for my Times opin­ion piece. I found myself cry­ing dur­ing the tele­vised funer­als in the sum­mer of 2020 when­ev­er I heard cler­gy speak or a cho­rus sing. The pan­dem­ic fur­ther splin­tered an already divid­ed coun­try. So much of the mono­logu­ing on social media is intend­ed to sig­nal which side you're on — iden­ti­ty formed around who your ene­my is. Influ­encers often rein­force this mind­set of war (us vs. them) because it's good for engage­ment. The con­tent that per­forms online is fueled by out­rage and I've become numb, desen­si­tized to it.
Reli­gious lead­ers, peo­ple of faith and integri­ty, have shown me an alter­na­tive, when they speak and write of what we have in com­mon, instead of what makes us spe­cial snowflakes. I cried at the inau­gu­ra­tion when Garth Brooks sang Amaz­ing Grace — I wasn't cry­ing at him singing, I was cry­ing at every­one singing along with him. My copy of Rab­bi Jonathan Sacks's Moral­i­ty: Restor­ing the Com­mon Good in Divid­ed Times is cov­ered in sticky notes.
ES: Did your con­cept of God shift over quar­an­tine? Did you find your­self want­i­ng to par­tic­i­pate in Jew­ish reli­gious rit­u­al prac­tices — Shab­bat, the high hol­i­days — after your wed­ding? Why? How do these rit­u­als con­tribute to our lives?
LS: I've always believed in God, but prayer has become a big­ger part of my life. I pray more often, but I also wel­come the prayers of oth­ers. I used to rebel against peo­ple pray­ing for me — maybe it's because I'm so resis­tant to ask­ing for help! But the pan­dem­ic has hum­bled me. It's a relief to admit to God how weak, help­less I am. My ego is like, Don't tell them that in the interview!!!
ES: Shtisel or The Sopra­nos?
LS: The Sopra­nos.
ES: What's next for you?
LS: I'm work­ing on a goth­ic nov­el and prac­tic­ing my chal­lah baking.
Born in New Orleans and raised in Brook­lyn, Emi­ly Stone is the author of Did Jew Know? (Chron­i­cle Books).