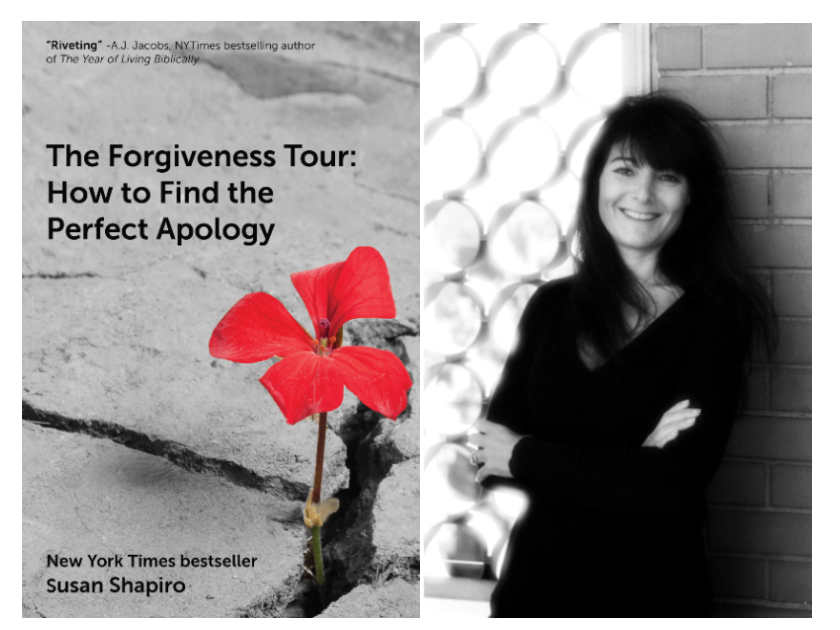 Best-sell­ing author and award-win­ning writ­ing pro­fes­sor Susan Shapiro chron­i­cles her jour­ney of betray­al, obses­sion, and grace in her dark and cap­ti­vat­ing new mem­oir, The For­give­ness Tour.
Shapiro has writ­ten thir­teen books includ­ing Five Men Who Broke My Heart, Light­ing Up, Unhooked, The Bosnia List and the writ­ing guide The Byline Bible. In the fol­low­ing con­ver­sa­tion, she dis­cuss­es her ear­ly influ­ences, cul­pa­bil­i­ty, and the Jew­ish psyche.
Emi­ly Stone: In The For­give­ness Tour, you men­tion your child­hood rab­bi talk­ing about atone­ment on Yom Kip­pur. Tell me more about your upbring­ing in Michigan.
Susan Shapiro: I grew up in a con­ser­v­a­tive Jew­ish home in West Bloom­field. I loved my par­ents, three broth­ers, and friends. Yet like many cre­ative types, I nev­er real­ly fit into nor­mal fam­i­ly life. I was an artis­tic, over­ly sen­si­tive black sheep lefty whose essen­tial tenets in life were culled from con­fes­sion­al poet­ry and Bob Dylan lyrics. Inter­est­ing­ly, my par­ents were both from the Low­er East Side of New York, so I sort of felt switched at birth. The day I moved to Green­wich Vil­lage to go to NYU grad school at twen­ty, I sat in Wash­ing­ton Square Park watch­ing all the weirdos in black clothes chain-smok­ing and quot­ing their bad poet­ry, and I thought: Oh, this is what was wrong with the first twen­ty years of my life. I was sup­posed to be here.
ES: What about your spir­i­tu­al life in New York?
SS: My child­hood rab­bi, Irwin Groner, used to say that Judaism is a reli­gion, a nation­al­i­ty, and a cul­ture, and that you can embrace only one aspect and still be a good Jew. I'd say I felt very cul­tur­al­ly con­nect­ed. I loved Israel — where I have many beloved rel­a­tives. And I grav­i­tat­ed towards Jew­ish fem­i­nists like Glo­ria Steinem and Ruth Bad­er Gins­burg; to jour­nal­ists like Janet Mal­colm and Ruth Gru­ber (who was in my writ­ing group); to fic­tion lumi­nar­ies like Isaac Bashe­vis Singer, Saul Bel­low, Philip Roth, Amy Bloom, and Etgar Keret; and to poets like Philip Levine, Adri­enne Rich, Louise Glück, and Yehu­da Amichai, as well as Joseph Brod­sky (born Jew­ish), with whom I stud­ied poet­ry with at NYU.
ES: Is the con­cept of for­give­ness some­thing ingrained in the Jew­ish religion?
SS: I think all reli­gions grap­ple with big uni­ver­sal ques­tions. Based on the wis­dom of the spir­i­tu­al lead­ers I inter­viewed, Judaism and Islam seem to con­sid­er for­give­ness con­tin­gent on atone­ment and repen­tance more than Chris­tian­i­ty, Hin­duism, and Bud­dhism. I'm very lit­er­al-mind­ed and odd­ly moral­is­tic for a left­wing failed poet, so the Jew­ish empha­sis on ask­ing for for­give­ness and grant­i­ng it made sense to me. As Mahat­ma Gand­hi once said, ​"An eye for an eye and the whole would be blind."
ES: In your mem­oir you seem to ques­tion whether for­give­ness is relat­ed to one's own culpability?
SS: Most of the reli­gious lead­ers I spoke with felt that no sin was unpar­don­able. My fam­i­ly rab­bi, Joseph Krakoff, con­sid­ered a true Jew­ish apol­o­gy to be when the per­son who screwed up finds them­self in the same sit­u­a­tion again but deals with it dif­fer­ent­ly. That spoke to me, since my whole mem­oir cen­ters on the ques­tions: Can you for­give some­one who does­n't apol­o­gize? Should you? I can for­give any­one any­thing — if they apol­o­gize and stop the hurt­ful behavior.
My fam­i­ly rab­bi, Joseph Krakoff, con­sid­ered a true Jew­ish apol­o­gy to be when the per­son who screwed up finds them­self in the same sit­u­a­tion again but deals with it differently.
ES: In your book, you dis­cuss Simon Wiesenthal's mem­oir The Sun­flower, which famous­ly tack­les the ques­tion of which sins are unpar­don­able—it recounts Wiesenthal's expe­ri­ence as a for­mer con­cen­tra­tion camp pris­on­er who vis­its a dying Nazi offi­cer and refus­es to grant him abso­lu­tion. When do you think one should not forgive?
SS: In The For­give­ness Tour, I inter­view a woman who was raped by her father as a teenag­er. Her mis­guid­ed coun­selor pushed her to for­give her father, but then he tried to do it again. I also spoke with Man­ny Man­del, a close fam­i­ly friend who is a Holo­caust sur­vivor who nev­er for­gave the Ger­mans and thrived in life out of spite. Cyn­thia Ozick came out strong­ly against for­giv­ing the Holo­caust, and the Jun­gian astrologer I quote says that hold­ing a grudge can be smarter and more self-pro­tec­tive. If for­giv­ing some­one could put you in dan­ger, I'd say: don't. Pro­tect your­self and your fam­i­ly first and foremost.
ES: I had a bril­liant psy­chi­a­trist once who, unbe­knownst to me, had Alzheimer's. Look­ing back, I can see how some of the things he said and did while treat­ing me were high­ly sus­pect. You call your for­mer ther­a­pist ​"the WASP rab­bi you con­fessed to with reli­gious devo­tion." Do you regret trust­ing him?
SS: No, he pret­ty much saved my life. Because of him I'm a hap­pi­ly mar­ried, well pub­lished author who has been smoke-free and sober for almost twen­ty years. Part of the con­clu­sion I came to while writ­ing my mem­oir was that I could for­give him based on his past help and kind­ness alone, which I was about to do before he apol­o­gized. He has actu­al­ly inspired four books now, includ­ing a New York Times best­seller we coauthored.
ES: Has your rela­tion­ship to ther­a­py changed?
SS: I don't see any­one week­ly any­more. But I stay open-mind­ed, know­ing sit­u­a­tions will arise where I'll need advice or a tune-up. Luck­i­ly, I have an amaz­ing hus­band, astute close friends (some of whom are shrinks!), and loy­al writ­ing work­shop mem­bers on whom I rely for hon­est feed­back and wis­dom. When peo­ple ask the secret of my sobri­ety, suc­cess, or how I can be such a pro­lif­ic writer, I always say it's the abil­i­ty to seek out and lis­ten care­ful­ly to crit­i­cism from smart peo­ple I trust, and then revise accordingly.
ES: Why do you think so many Jews are in therapy?
SS: Well, Sig­mund Freud, the father of psy­cho­analy­sis, was a Vien­nese Jew. Max Wertheimer, Erik Erik­son, Wil­helm Reich, Melanie Klein, Bruno Bet­tel­heim, and Alice Miller were Jew­ish, too. So was Dr. Joyce Broth­ers and so is Dr. Ruth. Rab­bi Pin­drus told me, ​"The func­tion of the Jew­ish peo­ple is to be a light unto nations. We exist to serve as inspi­ra­tion, as men­tors, guides and edu­ca­tors. God desires that every per­son max­i­mize their unique poten­tial to reach excel­lence. But you can't self-actu­al­ize unless your goal is to enable oth­ers to." As I write in the mem­oir, that sound­ed sur­pris­ing­ly mod­ern and shrinkadel­ic for an Ortho­dox grandfather.
ES: Was Dr. Win­ters the worst breakup you ever had?
SS: Well, we didn't real­ly split. We had a six-month con­flict that actu­al­ly had a mirac­u­lous end­ing. I always tell my stu­dents that writ­ing is a way to turn your worst expe­ri­ence into the most beau­ti­ful. I chron­i­cled my worst breakups in my first mem­oir, Five Men Who Broke My Heart, which inter­est­ing­ly Dr. Win­ters helped me pub­lish. So, I'd say it was the best, most pro­duc­tive breakup ever.
Born in New Orleans and raised in Brook­lyn, Emi­ly Stone is the author of Did Jew Know? (Chron­i­cle Books).