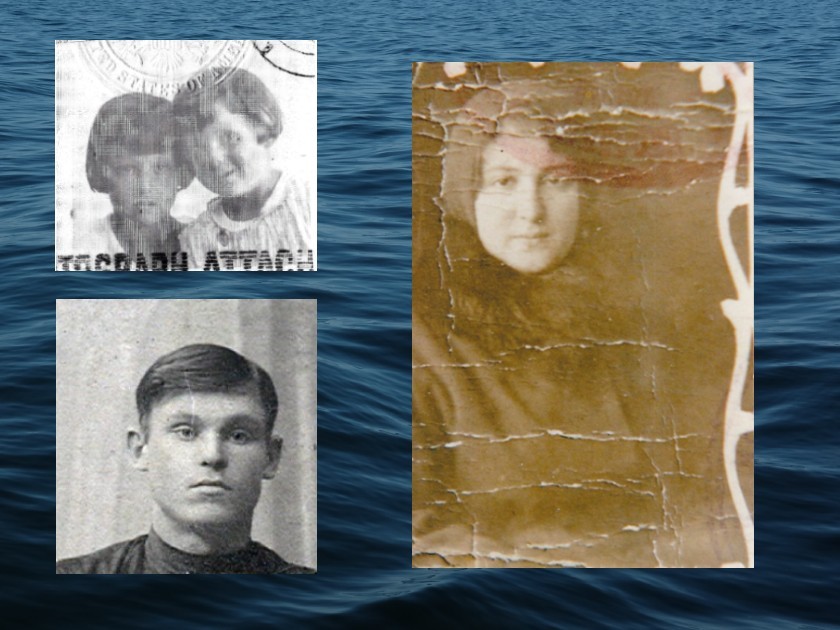 My grand­fa­ther Bar­ney — or Boris in Russ­ian — came to this coun­try in 1908. His father, a tav­ern own­er in Min­sk, had been mur­dered and robbed, in what would today be con­sid­ered an anti­se­mit­ic hate crime. Bar­ney was a mas­ter car­pen­ter, who under­went a rig­or­ous appren­tice­ship in Min­sk. As a car­pen­ter and union mem­ber in Rox­bury, Mass­a­chu­setts, he became rad­i­cal­ized and sym­pa­thized with the grow­ing social­ist move­ment in the US. He dreamt of return­ing to his home­land to build the rev­o­lu­tion. In 1931, in the height of the Depres­sion, my grand­fa­ther and grand­moth­er sold every­thing and bor­rowed mon­ey from Barney's broth­er to make the jour­ney with their chil­dren back to Leningrad. They board­ed a ship from Boston, with their two daugh­ters — my moth­er and aunt, ages five and three — for the long voy­age across the ocean.
I have spent a great deal of time imag­in­ing that jour­ney — the chill autumn air on the ship, the crowd­ed berth, the sea­sick­ness that must have ensued. I have won­dered what my grand­moth­er Sarah must have felt dur­ing those two weeks; she suf­fered ter­ri­bly from depres­sion. Her own moth­er was raped and mur­dered in a pogrom in the Ukrain­ian shtetl of Gornos­tay­pol. The Ukraine, where Sarah lived with her moth­er, was an unsta­ble place after the 1917 Bol­she­vik rev­o­lu­tion. The civ­il war was fought in the Ukraine, and for a while the White army and Ukrain­ian nation­al­ists were able to dri­ve the Red army out. Ulti­mate­ly, the Bol­she­viks took con­trol of the Ukraine, and the retreat­ing and defeat­ed White and Ukrain­ian nation­al­ists pil­laged the Jew­ish shtetls, equat­ing Jews with Bol­she­viks. It was dur­ing this vio­lence that my great-grand­moth­er lost her life. My grand­moth­er Sarah — now moth­er­less — came to the Unit­ed States in 1921 to join her father, who had desert­ed her years before. It is no won­der my grand­moth­er suf­fered from depres­sion, which only wors­ened when it com­pound­ed with the post-par­tum expe­ri­ence of hav­ing her first child. My grand­fa­ther brought his fam­i­ly back to the USSR, con­vinced that this move would heal his wife and give all of them a new begin­ning in the land where the first social­ist rev­o­lu­tion had occurred. I imag­ine he was excit­ed that his beloved Rus­sia had become, as of 1922, the USSR (the Union of Sovi­et Social­ist Republics).
My fam­i­ly his­to­ry is filled with wan­der­ings back and forth from Russia/​the USSR and the US dur­ing the twen­ti­eth-cen­tu­ry; it became the back­drop for my his­tor­i­cal nov­el, For­get Rus­sia. While a great deal has been writ­ten about the East­ern Euro­pean Jews who had immi­grat­ed to the US, far less exists about those Russ­ian Jews who returned to the USSR, excit­ed to be part of the Rev­o­lu­tion. As I researched what life was like in Leningrad in 1931, I could imag­ine them in the com­mu­nal apart­ment they would like­ly have lived in; shared with per­haps ten oth­er fam­i­lies, each fam­i­ly rel­e­gat­ed to one, per­haps two rooms, and a sin­gle bath­room and kitchen for all of them. Bed Bugs were com­mon and filth in the bath­room was expect­ed. Yet, ini­tial­ly these Russ­ian Jews felt hope­ful and wel­come in the USSR; they had returned to their home­land look­ing for jobs that elud­ed them in depres­sion-era US. Base­ball teams were formed, and the Amer­i­cans had the oppor­tu­ni­ty to share their beloved game with eager Sovi­ets want­i­ng to play. My grand­moth­er had once men­tioned a café called Nar­od, or Peo­ple. I imag­ine it as a place where young peo­ple gath­ered and shared their dreams for the future.
Yet, ini­tial­ly these Russ­ian Jews felt hope­ful and wel­come in the USSR; they had returned to their home­land look­ing for jobs that elud­ed them in depres­sion-era US.
In real­i­ty, in 1931, food was quite scarce in Leningrad. Col­lec­tiviza­tion was occur­ring in the coun­try­side, which caused famines among peas­ant farm­ers and food short­ages all over the USSR. Starv­ing peas­ants filled the city hop­ing to find some respite from hunger. While The Dai­ly World and some Yid­dish news­pa­pers spoke of the USSR as a type of utopia, life there was incred­i­bly harsh even though liv­ing con­di­tions under the Tsar were even worse. By 1936, these Russ­ian Jews and oth­er Amer­i­cans who had been so wel­comed were impris­oned or sent to labor camps on Stalin's orders. The Amer­i­can gov­ern­ment did lit­tle to help them. My own grand­par­ents only stayed nine months. If they had stayed a year, they would have lost their US cit­i­zen­ship and nev­er got­ten out. They like­ly would have per­ished either from World War II or from Stalin's purges. So, they packed up once more, and took the long jour­ney by ship all the way back to Amer­i­ca, with their two small girls, very sick then with whoop­ing cough. As I did exten­sive research into this time peri­od for my nov­el, I began to see that in all like­li­hood, my grand­fa­ther, though he could nev­er admit it, must have felt great dis­il­lu­sion­ment. Kulaks, who were the more pros­per­ous land-own­ing peas­ants, and any­one with fam­i­ly ties to small busi­ness­es before the rev­o­lu­tion were con­sid­ered ene­mies. My grandfather's own father had owned a tav­ern. I won­der if that fam­i­ly his­to­ry may have caused him some wor­ry when he was in Leningrad. While the fam­i­ly sto­ry goes that my grand­moth­er insist­ed they leave, I see now that he must have known deep down she was right, and my grand­moth­er act­ed as the unlike­ly hero of the fam­i­ly, sav­ing us all, in her own qui­et way.
Per­haps, if each fam­i­ly looks into their own his­to­ry, they too will find an unlike­ly hero that no one knows about, some­one whose over­looked actions saved them. Through the twen­ty years of writ­ing and research­ing my nov­el, I have come to see that under­stand­ing the dreams and long­ings, the dis­ap­point­ments and tragedies of our ances­tors, is cen­tral to under­stand­ing ourselves.
L. Bor­det­sky-Williams is a Pro­fes­sor of Lit­er­a­ture at Ramapo Col­lege of New Jer­sey. She is the author of the his­tor­i­cal nov­el, For­get Rus­sia. She has also pub­lished the mem­oir, Let­ters to Vir­ginia Woolf, three poet­ry chap­books, and The Artist as Out­sider in the Nov­els of Toni Mor­ri­son and Vir­ginia Woolf.