Ear­li­er this week, Emi­ly Stone wrote about Jews and Hol­ly­wood (have you tak­en her quiz ​"It's True-ish, They're Jew­ish!"?) and Jews and sports (have you tak­en her quiz ​"Ath­lete or Math­lete?"). Her book, Did Jew Know: A Handy Primer on the Cus­toms, Cul­ture, and Prac­tice of the Cho­sen Peo­ple (Chron­i­cle Books), is now avail­able. She has been blog­ging here all week for Jew­ish Book Coun­cil and MyJew­ish­Learn­ing.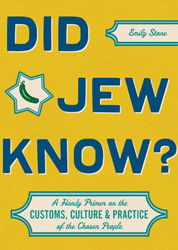 Jews and pol­i­tics make famil­iar if shaky and rival­rous bed­fel­lows. While it would seem that the left­ward lean is the quin­tes­sen­tial­ly Jew­ish way, the rela­tion­ship between Jews and sov­er­eign states is at once ancient, com­plex, and old as God. Or at least the Hebrew Bible. As soon as Abra­ham decid­ed the time was nigh to be in a monog­a­mous rela­tion­ship with God and the Jews became the Jews, two polit­i­cal chal­lenges arose: how to gov­ern the peo­ple from with­in and how to han­dle hos­tile forces from with­out and do so with­out end­ing up with your nog­gin on a plat­ter. While the for­mer seemed easy enough, the lat­ter was eas­i­er argued than done and var­i­ous divi­sive fac­tions began form­ing about which every­body and their uncle had some­thing to say. Or, as my grand­moth­er would say, ​"If you have two Jews, you have three opinions."
Some bib­li­cal his­to­ri­ans assert that Jew­ish inter­nal par­ty pol­i­tics began as ear­ly as Jacob and Esau, twin broth­ers in-fight­ing since ye olde womb. As the sto­ry goes, through an act of cun­ning and utzed by his moth­er Rebec­ca, Jacob beats out his hairy old­er broth­er who sells him his birthright for a bowl of red stew and Isaac is none the wis­er: ​"Let peo­ples serve you and nations bow to you." (Gen­e­sis 27:29) Oth­ers schol­ars, such as Stu­art Cohen, see three dis­tinct bib­li­cal pow­ers arise from this point for­ward: the priest­hood, the throne, and the prophets. In oth­er words, three Jews, three thou­sand opinions!
If Jew ask me, here's the dil­ly: the phrase ​"Jew­ish polit­i­cal move­ment" basi­cal­ly means an orga­nized effort to rep­re­sent the best inter­est of the Jews out­side the Jew­ish com­mu­ni­ty. The only glitch of this move­ment was that from the time of the destruc­tion of the Sec­ond Tem­ple, the Jews had com­mu­ni­ty, but no ter­ri­to­ry. Add to this dilem­ma the cold, hard fact that Jews were either hound­ed or exclud­ed from the wider polit­i­cal sphere from all the nations in which they dwelled until the Enlight­en­ment and the Haskalah (the Jew­ish Enlight­en­ment) in the eigh­teenth-nine­teenth cen­turies. And even then, it still wasn't what any­one would call a bed of ros­es, even after a bot­tle of schnapps, let's face it.
As long as Jews lived in seg­re­gat­ed com­mu­ni­ties sur­round­ed by hos­tile gen­tile forces that at best exclud­ed them and at worst impris­oned and mur­dered them, the rab­bi was their most impor­tant reli­gious and civ­il leader. When the seg­re­gat­ed com­mu­ni­ties moved toward inte­gra­tion or Haskalah, and Jews were no longer in iso­la­tion from oth­er Jews, sud­den­ly the prob­lem arose as to which Jew with what opin­ion was right about what was best for the Jews.
Fast for­ward to the Rev­o­lu­tions of 1848, in which Jew­ish states­men, like their non-Jew­ish rev­o­lu­tion­ary coun­ter­parts, were active­ly pur­su­ing polit­i­cal free­dom and equal­i­ty in the sec­u­lar sphere. Even­tu­al­ly, the gur­gles and rum­bles of pro­to-social­ism and com­mu­nism began to sig­ni­fy a deep­er need than could be ful­filled by a sim­ple bowl of ordi­nary Jew-stew. Moses Hess, a founder of Labor Zion­ism, intro­duced the Marx broth­er to His­tor­i­cal Mate­ri­al­ism and it seemed the West, if not one, was won — that is, tem­porar­i­ly, until fac­tions formed fac­tions that formed fac­tions and every­one and their broth­er took turns cry­ing in the bathroom.
Mean­time, over in East­ern Europe and Rus­sia, the Bund — the Esau to Zionism's Jacob — became an impor­tant force in unit­ing and orga­niz­ing Jews. On the one hand, Hess set forth the notion that Jews need­ed both a sec­u­lar and restored home­land in the Holy Land as a means of becom­ing a true nation rather than a bunch of schlep­py tsotchke-ped­dling mer­chants. On the oth­er hand, the Jew­ish mer­chant class thought they had a pret­ty decent thing going and were none too keen at the thought of trad­ing in their but­tons and bows for a pick­axe and a sun­tan — i.e., more divi­sive arguing.
Next thing you know, it's the first wave of Euro­pean migra­tion to Amer­i­ca (late-nine­teenth cen­tu­ry) and the same two fac­tions find them­selves floun­der­ing and form­ing on the shores of the New World. While the Jews of Ger­many tend­ed toward the con­ser­v­a­tive, the Jews of East­ern Europe, who became the major­i­ty, were more lib­er­al. Or rather, the Jacob/​Esau rival­ry evolved into that of Joseph and Moses. Joseph, an exile in a for­eign land, becomes a court Jew who played down his Hebrew ances­try. Moses then arrives on the scene, a big, ripped Jew who didn't care who the hell knew. Same old sto­ry, new singspiel. Only now, in Amer­i­ca — the only land to grant full rights of cit­i­zen­ship to Jews — Jew­ish politi­cians with diverse goals (and a thou­sand opin­ions) began to appear in cities from sea to shin­ing sea as ear­ly as Tam­many Hall and well into and through the next cen­tu­ry. Oy or yay: Jew decide! Gezai Gezunt!
Cut to the 1950s as the Sovi­et Union emerged as a repres­sive anti-Semit­ic regime rather than a cot­ton can­dy social­ist utopia: More opin­ions. Then, in 1975, a UN res­o­lu­tion con­demns Zion­ism as racism and out pops the neo-con­ser­v­a­tive move­ment — con­ser­v­a­tive Jews who knew from racism and saw the nation of Israel as essen­tial, Arabs as ter­ror­ists and Amer­i­ca as a new and improved Zion where a Jew could be a Jew. While ear­li­er Jew­ish rad­i­cals like Abby Hoff­man opposed the Amer­i­can main­stream, the neo­cons, led by the intre­pid Nor­man Pod­horetz, opposed the oppo­si­tion and the Polis was fur­ther, well, polar­ized. Next thing you know, the mid­dle caves in and it's the fall of the Roman Empire only with­out Charl­ton Hes­ton play­ing the lead.
On some lev­el, this is what is both great and chal­leng­ing about democ­ra­cy: It's all fun and games until every­body has a triple bi-pass try­ing to define exact­ly what's good for it, espe­cial­ly, you guessed it, Jews. While the Cho­sen Tribe might be a hel­lu­va long way from a meno­rah in the win­dow at 1600 Penn­syl­va­nia Avenue, one thing's for sure: they've made their mark on every polit­i­cal move­ment from soup to nuts.
Behold some key play­ers who dwelleth out­side the Land of Israel and who becameth and have becometh forces to be reck­oned with in the sec­u­lar polit­i­cal sphere:
The Jew-nit­ed States
Hen­ry Kissinger: Ger­man-born Amer­i­can politi­cian, writer, and diplo­mat who served as Sec­re­tary of State under Pres­i­dents Nixon and Ford. He was also a co-recip­i­ent of the Nobel Peace Prize in

1973

.


Ed Koch: Three-term as May­or of New York City from

1978

to

1989

. Note: He orig­i­nal­ly beat out Abe Beame, the city's first Jew­ish May­or, who gov­erned the Big Apple from

1974

 – 

1978

. Koch's epi­taph reads, ​

"

My father is Jew­ish, my moth­er is Jew­ish, I am Jew­ish," the last words of Daniel Pearl just before Pak­istani ter­ror­ists mur­dered him.


Dianne Fein­stein, Demo­c­rat: Thir­ty-eighth May­or of San Fran­cis­co from

1978

 – 

1988

and Unit­ed States Sen­a­tor since

1992

.


Made­line Albright: the first woman to serve as Unit­ed States Sec­re­tary of State. Raised Catholic, Albright alleged­ly did not learn until she was fifty-nine that her par­ents were, in fact, Jew­ish. In

1997

, when Albright was being vet­ted to serve in the Clin­ton Admin­is­tra­tion, a Wash­ing­ton Post pro­file revealed that more than a dozen of her rel­a­tives were killed in the Holo­caust, includ­ing three of Albright's grandparents.


Joseph Lieber­man: for­mer Unit­ed States Sen­a­tor from Con­necti­cut who was the Demo­c­ra­t­ic Party's nom­i­nee for Veep in

2000

.


Michael Bloomberg: busi­ness and media mag­nate, phil­an­thropist and May­or of New York City from

2002

 – 

2013

. If you're look­ing to get hitched, he is also the tenth rich­est per­son in the Unit­ed States.


Rahm Israel Emanuel, Demo­c­rat: Senior advi­sor to Pres­i­dent Bill Clin­ton from

1993

 – 

1998

, mem­ber of the

US

House of Rep­re­sen­ta­tives from

2003

to

2009

, White House Chief of Staff to Pres­i­dent Barack Oba­ma, and fifty-fifth May­or of Chicago.


Ari Fleis­ch­er: for­mer White House Press Sec­re­tary under

US

Pres­i­dent George W. Bush.


The Jew-nit­ed Kingdom
Ben­jamin Dis­raeli: British Prime Min­is­ter for a spate in

1868

and then again from

1874

 – 

1892

. Though Disraeli's father had him bap­tized Angli­can at age twelve, Dis­raeli is the only eth­ni­cal­ly Jew­ish Prime Min­is­ter of Great Britain. He is also cred­it­ed with invent­ing the polit­i­cal novel.


Oona King: British Labour Par­ty Mem­ber from

1997

 – 

2005

. In

2013

, King appeared as a con­tes­tant on ​

"

Danc­ing on Ice." She is also play­wright Tom Stoppard's niece.


David Miliband: British Labour Par­ty Mem­ber since

2001

and Sec­re­tary of State for For­eign and Com­mon­wealth Affairs from

2007

 – 

2010

. He and his broth­er Ed Miliband were the first sib­lings to sit simul­ta­ne­ous­ly in the Cab­i­net since

1938

.
Free­dom Fries: Jews in France
André Léon Blum: Active in the Drey­fus Affair, Blum was the first and only Jew­ish social­ist Prime Min­is­ter of France (

1936

and

1937

and again in

1938

). Arrest­ed by the Vichy author­i­ties, Blum sur­vived both Buchen­wald and Dachau and was lib­er­at­ed by the allies in

1945

. His broth­er René, the founder of the Bal­let de l'Opéra à Monte Car­lo, per­ished in Auschwitz in

1943

.


Nico­las Sar­cozy: twen­ty-third pres­i­dent of France from May

2007

to May

2012

. Sarkozy's moth­er was a mem­ber of the Mal­lah fam­i­ly, one of the old­est Sephardic Jew­ish fam­i­lies of Saloni­ka, Greece.


Dominique Strauss-Kahn: Econ­o­mist, lawyer and Direc­tor of the Inter­na­tion­al Mon­e­tary Fund until he resigned in

2011

after alleged­ly attempt­ing to boink a hotel employee.

Born in New Orleans and raised in Brook­lyn, Emi­ly Stone is a writer and a yoga teacher liv­ing in New York City.
Born in New Orleans and raised in Brook­lyn, Emi­ly Stone is the author of Did Jew Know? (Chron­i­cle Books).