Born in New Orleans and raised in Brook­lyn, Emi­ly Stone is a writer and a yoga teacher liv­ing in New York City. Her book, Did Jew Know: A Handy Primer on the Cus­toms, Cul­ture, and Prac­tice of the Cho­sen Peo­ple (Chron­i­cle Books), is now avail­able. She will be blog­ging here all week for Jew­ish Book Coun­cil and MyJew­ish­Learn­ing.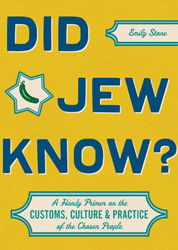 It's no small secret that the Cho­sen tribe has had an enor­mous impact on the intel­lec­tu­al are­na. Not to men­tion there is a dis­pro­por­tion­ate num­ber of Jew­ish Nobel Lau­re­ates and sci­en­tists who have changed (and con­tin­ue to change) the face of med­ical his­to­ry and made the world a safer, calmer, less painful place to be. Not to men­tion giv­ing it bet­ter skin, hair, and nails. As my broth­er Daniel would say, ​"Known fact." But the sports are­na … maybe not so much.
While the field of nuclear physics became known as the Jew­ish sci­ence, Jew­ish team sports are pret­ty much rel­e­gat­ed to the math, debate, and chess teams. Of course there are excep­tions to this rule, such as box­ing and col­lege and pro­fes­sion­al bas­ket­ball in the Unit­ed States— both sports that start­ed out as unreg­u­lat­ed prac­tices (such as usury) that were open to Jews. What's more, both sports rose to promi­nence dur­ing the first half of the twen­ti­eth cen­tu­ry because of — you guessed it — the Jews.
Since bas­ket­ball evolved from urban areas often pop­u­lat­ed by Jew­ish immi­grants, it became yet anoth­er ad hoc niche mar­ket (unlike col­lege foot­ball) where a cere­bral but scrap­py Jew might thrive. Accord­ing to bas­ket­ball his­to­ri­an Ari Sclar, Jew­ish play­ers such as Bar­ney Sedran, Ira Streu­sand, and Har­ry Brill honed their skills at City Col­lege and then went on to play in the var­i­ous pro­fes­sion­al leagues avail­able to them in east­ern cities. Mean­time, Yale Uni­ver­si­ty got wicked vocal about end­ing dis­crim­i­na­to­ry prac­tices against Jew­ish bas­ket­ball play­ers so that the Bull­dogs could win win win. Jew bet­ter believe that there was a point in time when sports (and not math) helped Jews find accep­tance at schools where ye olde cam­pus quo­tas kept many Jews out.
Point shav­ing scan­dals aside, the burbs were basi­cal­ly the down­fall of Jews in semi-pro­fes­sion­al and pro­fes­sion­al bas­ket­ball. As more and more jobs were opened to Jews, play­ing sports became less impor­tant and the point spread became the Sun­day spread became the tuchus spread and the sci­ence club was won.

Ath­lete or Mathlete?
A game that tests your knowl­edge of seri­ous Jew­ish com­peti­tors from the lock­er room to the classroom!
1. J. Robert Oppenheimer
2. Red Holtzman
3. Judith Deutsch-Haspel
4. Edward Teller
5. Hank Greenberg
6. Ágnes Keleti
7. Leo Szilard
8. Niels Bohr
9. Aly Raisman
10. Bob­by Fischer
11. Daniel Shechtman
12. Max Baer
13. David Ricardo
14. Ker­ri Strug
15. John George Kemeny
16. Dolph Schayes
17. Red Auerbach
18. Lise Meitner
19. Lar­ry Siegfried
20. Emmy Noether
21. Roman Greenberg
22. Abe Attell
23. Mark Spitz
24. Imi Lichtenfeld
Bonus point: David Joel Stern
Answers can be found here.
Check back all week to read more from Emi­ly Stone.
Born in New Orleans and raised in Brook­lyn, Emi­ly Stone is the author of Did Jew Know? (Chron­i­cle Books).