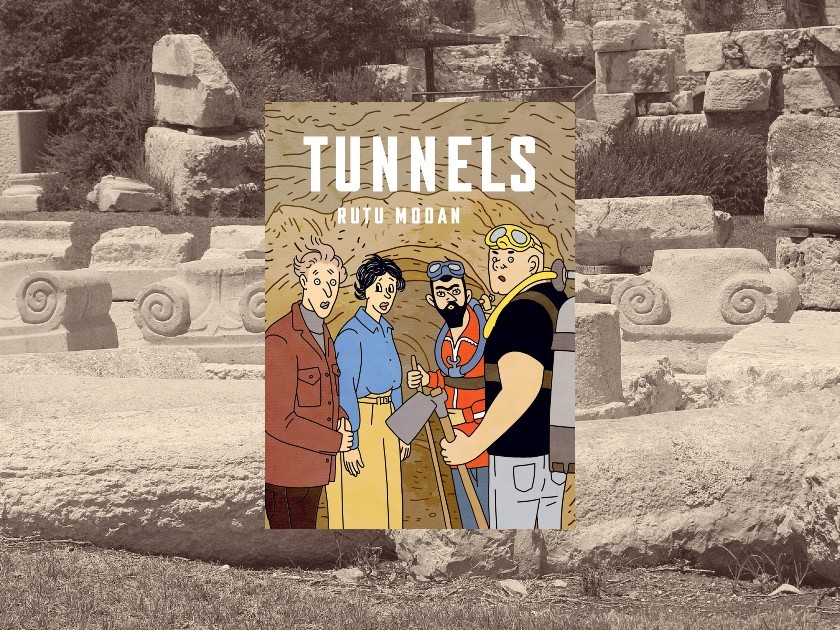 The title — and cen­tral metaphor — of Israeli car­toon­ist Rutu Modan's lat­est graph­ic nov­el, Tun­nels, is a cap­ti­vat­ing one. Humans, and ani­mals, dig tun­nels for a vari­ety of rea­sons: to run away; to for­age and explore; to con­nect places and their inhab­i­tants. In sum, the tun­nel is a func­tion­al metaphor, both for the lim­i­ta­tions of sto­ry­telling and for the many bridges that sto­ry­telling offers.
It's a fit­ting struc­tur­al device for a graph­ic nov­el­ist who has had four books trans­lat­ed into Eng­lish, each detail­ing the lives of com­pli­cat­ed fic­tion­al char­ac­ters, main­ly Ashke­nazi Israeli Jews. Modan's last book, the acclaimed The Prop­er­ty pub­lished in 2013, is an inter­gen­er­a­tional dra­ma star­ring a grand­daugh­ter and grand­moth­er duo on a quest to inves­ti­gate the past. Tun­nels comes almost a decade lat­er, and it's an impres­sive work about a group of peo­ple invest­ed — each for a dif­fer­ent rea­son — in dig­ging up a lost arche­o­log­i­cal trea­sure. In a sense, Tun­nels is less a book about indi­vid­ual past lives — though there is the sto­ry of a family's past at its core — and more a med­i­ta­tion on how indi­vid­u­als and groups of peo­ple can cling stub­born­ly to the past, to the detri­ment of oth­ers as well as themselves.
Tah­nee Oks­man: Tun­nels is unlike your oth­er works. Would you begin by explain­ing where the idea for the book came from?
Rutu Modan: After I pub­lished The Prop­er­ty, I rest­ed for a while and then start­ed look­ing for a new sto­ry. I was in a car on my way to the Beza­lel Acad­e­my of Art and Design where I teach in Jerusalem, and I sud­den­ly remem­bered some­thing from my twen­ties when I was a stu­dent there. One of my husband's best friends from high school, who was study­ing in a dif­fer­ent depart­ment, had told me a sto­ry about when he was young.
He said that when his father was doing his army reserves ser­vice, he met a rab­bi who told him that he had found a secret code in the Bible, and he knew where the Ark of the Covenant was buried. So his father took him out of school and togeth­er they went look­ing for it — they ille­gal­ly dug into a moun­tain near Jerusalem. They actu­al­ly did exact­ly what hap­pens in my book. Some­times, at four­teen years old, this friend even went to dig in the moun­tain alone, when his father had to go do some­thing else. And my hus­band, who had been his friend in high school, also went with them a few times.
When we were in the Acad­e­my and I heard this sto­ry, we laughed about it and that was all. It was just a good sto­ry that some­body told me about his father, his family.
Then, in 2013, when I sud­den­ly remem­bered it, I asked myself, why did they do it? Because they were not reli­gious. And they were just like any oth­er fam­i­ly I knew; more or less, they were a reg­u­lar fam­i­ly. But now, I won­dered, why did they do it? And why did­n't I ask myself about it beforehand?
TO: At its heart, Tun­nels is an adven­ture sto­ry with a very spe­cif­ic quest, a dar­ing pro­tag­o­nist, and a num­ber of dan­ger­ous obsta­cles and adver­saries along the way. Is that how you think of the book, too?
RM: From the begin­ning, I thought that the book should be writ­ten like a trea­sure hunt, like Indi­ana Jones. And that trea­sure hunt would be like Vel­cro, and all of the oth­er sub­jects would stick to it. I think this is also what made the book even more Tintin-like than my oth­er books, in terms of style.
I was nev­er inter­est­ed in archae­ol­o­gy before, so I thought that now I would have to go and research it a bit. I start­ed read­ing about Israeli arche­ol­o­gy and then I found out that it's a won­der­ful sub­ject because it's con­nect­ed to so many things that are inter­est­ing to me: his­to­ry, pol­i­tics. The arche­ol­o­gy in Israel is very con­nect­ed with pol­i­tics, and also with crime, mon­ey, crazy peo­ple, obses­sions. These are all sub­jects that I was already inter­est­ed in.
TO: I can see a lot of themes and motifs in Tun­nels also thread­ed through­out your ear­li­er books. I want to ask you about one in par­tic­u­lar: secre­cy and secrets, both with­in and beyond fam­i­ly units. Would you say more about what attracts you to this subject?
RM: In my fam­i­ly — I'm talk­ing about the fam­i­ly that I came from — you didn't tell oth­ers every­thing, even if it wasn't impor­tant; you just didn't share every­thing. This was nev­er said out loud, but this is how it was. I don't know why. Even my father, when he just went out to the mar­ket, he would say he was doing some­thing else.
Now, too, I do some of the same things. These days my life is kind of bour­geois: I have a fam­i­ly, I have kids, I teach, I go to the stu­dio. But I still have to fight myself to answer ques­tions. If I'm going out, either I don't tell any­one where I'm going, or I have to real­ly fight myself not to lie about it. I don't know why this is.
And it's not only from my father's side of the fam­i­ly. My moth­er also had many secrets. And you have in the open­ing [epi­graph] of my last book [The Prop­er­ty], my mother's say­ing, that in a fam­i­ly you don't have to tell the whole truth, but that does­n't mean that you're lying.
It's a fact that in my fam­i­ly we have this atti­tude: some­thing is a secret, and we respect the secret.
TO: The Prop­er­ty is also loose­ly based on a real-life sto­ry, your own fam­i­ly sto­ry, isn't it?
RM: Yes. In The Prop­er­ty, the secret of the char­ac­ter of the grand­moth­er, Regi­na, is also based on a true sto­ry. It's not exact­ly the same, but very close to it.
I found out, I think in my late 20s, that my father was an ille­git­i­mate child. He was born to my grand­moth­er before she mar­ried my grand­fa­ther. My grand­fa­ther had been mar­ried to anoth­er woman.
The per­son who told me this secret was my oth­er grand­moth­er, my moth­er's moth­er. Both sides of my fam­i­ly came to Israel before the Holo­caust. And when my par­ents start­ed dat­ing, one of my mater­nal grandmother's friends who knew the fam­i­ly before the war told this secret to my grand­moth­er. My grand­moth­er told it to my moth­er, but my moth­er nev­er told it to my father.
I knew, and my sis­ters knew. But until he died, we did­n't have the courage to ask my father if he knew. I think for ten years, from the moment we found out about it until my father died, we — me and my sis­ters — we con­tin­ued to car­ry the secret. We didn't ask him about it, we did­n't ask my grand­moth­er about it. Until this day, I don't know exact­ly why. It was this secret, and every­body knew about it but nobody spoke of it.
TO: The plots of your books do seem to revolve, more than any­thing else, around secrets held with­in families.
RM: It's a fact that in my fam­i­ly we have this atti­tude: some­thing is a secret, and we respect the secret.
We are a very close fam­i­ly. It sounds fun­ny to say that because we don't speak about a lot of things. But I was always very con­nect­ed to my par­ents, my uncle, my cousins. It's why I always write about fam­i­lies; it's part of my iden­ti­ty. I don't see myself just as an indi­vid­ual, but always as part of a group, part of a small tribe.
At the same time, every­body in the fam­i­ly is very indi­vid­u­al­is­tic by nature. So maybe the secret is like your pri­vate thing, some­thing that keeps you safe from the group. You have this spot that you don't share, and it lim­its how much the oth­ers can inter­fere in your life.
TO: One of the most inter­est­ing rela­tion­ships in the book is that of Nili and her broth­er Broshi. I love how com­pli­cat­ed they both are. Broshi has this beau­ti­ful rela­tion­ship with his nephew, and he has these mov­ing scenes of car­ing for his increas­ing­ly infirm father. But he also has a dis­agree­able, more ambi­tious side. And it's the same with Nili. Even though out­ward­ly she does­n't seem as ambi­tious, when she has her eyes on the quest, it's like she has these blind­ers on. She push­es away her son; you see her con­stant apolo­gies.
It felt like one of the things the book was get­ting at was this com­pli­cat­ed rela­tion­ship peo­ple have between their com­mit­ments of car­ing for oth­ers, and their per­son­al or pro­fes­sion­al ambi­tions. Is this theme some­thing you felt par­tic­u­lar­ly invest­ed in exploring?
RM: Well, I'm an artist, and a moth­er, and a woman. So, you know, this is my life.
You have this pas­sion to do some­thing, it's real­ly impor­tant to you, and then you have your fam­i­ly, and you have your kids, and also a hus­band. And you're com­mit­ted to them. This is a life strug­gle; you nev­er have this prob­lem com­plete­ly answered.
My moth­er was a fem­i­nist, and I learned fem­i­nism from her. Both my par­ents were sci­en­tists, and this was their pas­sion. I grew up know­ing in some way that I was not the most impor­tant thing to them. They would nev­er say it, but this was how the house was — every­thing was struc­tured around their work, even fam­i­ly vaca­tions. And as a child, some­times it was irri­tat­ing because you want to be the most impor­tant thing in your par­ents' life.
But I'm the same way. I have this thing that I real­ly want to do, some­times more than to play with or be with my kids. My kids are grownups now, and now maybe I'm more inter­est­ed in being with them than they are in me. But when they were kids, I felt guilty. And at the same time, I could­n't give up. I real­ly want­ed to go and do things. When I was in my thir­ties espe­cial­ly, I just want­ed to work all the time. And then I would have to drop every­thing and go to the kindergarten.
I was lucky that I had my moth­er because it was like I had the per­mis­sion to do it. Unfor­tu­nate­ly, she died before I became a moth­er, but she was my mod­el. Even though I was irri­tat­ed with her some­times, I was also very proud of her. Because she was so dif­fer­ent from oth­er mothers.
Maybe, because of that, it's been eas­i­er for me than for oth­er women — eas­i­er in terms of feel­ing that it's okay to neglect your fam­i­ly, and have your house be a mess because you want to work.
TO: I want to ask you one more ques­tion about the sib­lings' rela­tion­ship. Their present-day rival­ry seems root­ed in a dynam­ic from child­hood, per­haps stem­ming from a deep-seat­ed dif­fer­ence in out­look. In one of my favorite moments in the text, they're stand­ing in front of the dig site talk­ing to each oth­er, Nili says, ​"The land­scape of child­hood is the only one you can nev­er real­ly get sick of." Broshi responds, ​"Not sure I agree."
What do you think was at stake for them in this con­ver­sa­tion? Is it that some peo­ple pre­fer to ide­al­ize their child­hoods, while oth­ers resist this kind of ide­al­iza­tion for a more real­is­tic view?
RM: First of all, I'm glad that you like this exchange. Because it's just one frame, and some­times sen­tences for me are very mean­ing­ful, and I won­der if some­one will even notice them.
For me, this scene was about Israel, about the land. Israel is not such a beau­ti­ful coun­try. Let's be hon­est about it. And it has become less and less beau­ti­ful because it's so crowd­ed and every­thing is so divid­ed. You have this land­scape, and they put up a wall. We can speak about the prob­lem­at­ic polit­i­cal side of the wall, but it's also a prob­lem of land­scapes. What did they do to you that you put up this ugly thing and divid­ed this small space?
I remem­ber this quote because it is exact­ly the sen­tence I said to a friend of mine when we were hik­ing in Israel. Even in this not-so-beau­ti­ful land­scape, for me it's mean­ing­ful because I was born and raised here. And she looked at me and said, ​"I'm not sure I agree with you."
I tend to be more like Nili in this aspect: I'm always glo­ri­fy­ing the past, glo­ri­fy­ing my par­ents. There is an expres­sion in Hebrew, maybe you know it: ​"You live in a movie." It's like some­one who does­n't clear­ly live in real­i­ty but has these fan­tasies — about life, about the future. ​"You live in a movie." My younger sis­ter, she always says to me, ​"You're worse than that, even, because you don't live in a movie, you live in ani­ma­tion." My younger sis­ter tends to be more real­is­tic. If you have time, I can tell you a small sto­ry about it.
TO: I would love to hear a story.
RM: I remem­ber when we were real­ly young. I think my sis­ter was five, so I was nine. I took her from kinder­garten and we went home. When we arrived at our block, we saw this spot of red flu­id on the ground lead­ing to the house and we found more spots all along the way to the front of the build­ing where we lived.
My younger sis­ter said, ​"Look, it's blood." And I told her, ​"No, it's not blood. It's rasp­ber­ry juice," because we always used to drink rasp­ber­ry juice in our house. I was sure it was rasp­ber­ry juice, and she said, ​"No. Don't you see, it's blood?" And we argued about it.
And then we went up the stairs and we entered the apart­ment and my father was cov­ered with blood because he had had an acci­dent. And my moth­er was clean­ing him. This was a very pow­er­ful moment. It was­n't a bad acci­dent, but it was a very fright­en­ing image.
This sto­ry rep­re­sents well my sis­ter and I. I always say things are going to be okay and she thinks I'm ignor­ing real­i­ty. And I think she's always think­ing about the bad things.
There is an expres­sion in Hebrew: ​'You live in a movie.' It's like some­one who does­n't clear­ly live in real­i­ty but has these fan­tasies — about life, about the future.
TO: She doesn't live in a movie.
This makes me think about Nili's rela­tion­ship with her father. When the sto­ry begins, her father has been sick with some kind of neu­rode­gen­er­a­tive dis­or­der — I imag­ine Alzheimer's — for a long time. And she seems to be in denial about it.
RM: He has Pick's dis­ease. It's a kind of demen­tia, like Alzheimer's, but it con­tin­ues for a long time.
TO: It struck me, as I read the book, that she was in denial of the full extent of her father's ill­ness, and also that she was liv­ing her life in a way to avoid con­fronting it. Did you have a sense, when you were writ­ing that sto­ry­line, that you were try­ing to say some­thing about how peo­ple respond to loss and grief?
RM: This is anoth­er sub­ject I think that you can find a lot in my books. Grief and loss, los­ing some­one that you love. Part­ly it's because I lost my par­ents at a young age. Not very young, but I was twen­ty-six when my moth­er passed away and thir­ty-six when my father died. They were impor­tant peo­ple in my life and it was some­thing that influ­enced me a lot.
I always thought this was maybe the rea­son I have so much loss in my books. But actu­al­ly, I start­ed pub­lish­ing comics in 1990 — before my moth­er was even sick — and death and fam­i­ly are always there.
There's anoth­er small auto­bi­o­graph­i­cal detail about myself that might explain it. As young doc­tors, my par­ents lived where they worked. There was a whole neigh­bor­hood inside the hos­pi­tal area that the young staff lived in — nurs­es, doc­tors. I grew up in this neighborhood.
I used to vis­it my moth­er when she was work­ing in her depart­ment, I would go through the inter­nal dis­ease ward and the surgery depart­ment. Every­thing was open. It was also the ​'70s. Nobody thought that you had to pro­tect kids, espe­cial­ly doc­tors. Because for them, it was every­day life.
Even in the time of the Yom Kip­pur War, in 1973, when I was in sec­ond grade. Where we kids played, where we had our play­ground, the heli­copters from the front came in with wound­ed and dead sol­diers — right where we were playing.
Wher­ev­er you grow up, you think it's reg­u­lar, you don't think it's strange. It took me years to under­stand that maybe this was also some­thing relat­ed to the comics I made when I was young, which were all grotesque and full of gore.
TO: The rela­tion­ship between Nili and her son, whose name is Doc­tor, was sim­i­lar­ly com­pelling. He is often on any elec­tron­ic device he can get his hands on — in fact that's how the book opens — and he's young, six or sev­en, and pulled out of school to tag along on his mother's adven­tures. I found it amus­ing how the very thing he is always get­ting in trou­ble for — being on an iPhone — is the thing that saves him and his mother.
Would you say a bit about what role you think tech­nol­o­gy, espe­cial­ly tex­ting, plays in the book? Or more gen­er­al­ly, what role do you see tech­nol­o­gy play­ing in your life as an artist?
RM: First of all, I don't have any techno­pho­bia. Even though I'm from a gen­er­a­tion that grew up before every­thing was invent­ed, I nev­er had any prob­lems with com­put­ers. I think I was one of the first illus­tra­tors who start­ed work­ing on a com­put­er in the ​'90s. I love technology.
But also, I com­plain about tech­nol­o­gy all the time. I'm addict­ed to it. Instead of read­ing, I'm going on Face­book or YouTube. And I'm aware of the dam­age it does — espe­cial­ly for kids.
My daugh­ter is twen­ty-six and my son is nine­teen. There's a big dif­fer­ence between them because my daugh­ter grew up with­out an iPhone and good inter­net. She had a smart phone only when she was already in high school, and the inter­net was not fast enough to be enter­tain­ing. My son was born into tech­nol­o­gy, and I see the dif­fer­ence. I think that my daugh­ter, it was like she escaped in the last moment.
I'm very aware of the prob­lem, for exam­ple, that nobody is bored any­more. I don't think that ani­mals get bored in nature. And it's real­ly pow­er­ful — I think being bored in the end makes us invent things or think about being cre­ative. And that's why when my kids were small and said, ​"Mom­my, I'm bored!" I would say, ​"Oh, good. It's very good for you."
Now, there's no time to be bored. If you're bored, you imme­di­ate­ly have some­thing to enter­tain you. But it's not some­thing that you invent­ed. It's some­thing that some­body else invent­ed. I don't think it's good, not to have uneasi­ness, not to be bored or just let your­self feel empty.
When I was think­ing about Doc­tor, first of all I want­ed to show that this is just how kids are. I also want­ed to show that Nili loves her son but she isn't a per­fect moth­er. She's a sin­gle moth­er and she doesn't always have patience and also the abil­i­ty to see what her son wants from life, not just what she wants him to be. She drags him out of school and takes him out on this adven­ture that he's not inter­est­ed in at all. She also wants him to be a genius and have this intu­ition with arche­ol­o­gy, like her father had. She wants him to love what she used to love and have the same adventures.
For her it's an adven­ture, but for him it's not interesting.
TO: I think it's a beau­ti­ful depic­tion of motherhood.
I don't want to go too much into the spe­cif­ic pol­i­tics of the sto­ry and what they might sym­bol­ize, the mes­sages you could inter­pret from the key con­flicts of the sto­ry, the cen­tral play­ers in the adven­ture; in part because you do such a beau­ti­ful job of it in your after­word, and in part because I don't want to give away too many spoil­ers. And also, it's so intri­cate that it would take a long time to explain. But I did notice that your char­ac­ters often show their ugly prej­u­dices — whether it's Israeli Jews talk­ing about Pales­tini­ans, reli­gious Jews talk­ing about sec­u­lar Jews, etc.
I won­der if you could talk a bit about those moments of prej­u­dice. Did you have any hes­i­ta­tions about how, or when, to let those slip into the dia­logue? What com­pelled you to show those moments?
RM: For me, this is the most com­pli­cat­ed book that I've writ­ten. It's also longer than my oth­er books. This is part­ly because of its sub­ject, pol­i­tics; it was dif­fi­cult to find a way to talk about it. Also, there are many char­ac­ters. It's not like in my oth­er books, where there are like five char­ac­ters and the rest are extras. Here there are many char­ac­ters and each has some kind of arc.
But this is also the first time I wrote about peo­ple who are not like me. It's not only about this Ashke­nazi fam­i­ly, or some­one from Tel Aviv. There are char­ac­ters in the book who are maybe sup­posed to be my ​"ene­mies." And I'm not talk­ing just about Pales­tini­ans here but I'm also talk­ing about set­tlers. In real life, I find it very dif­fi­cult to under­stand them some­times. Why do they talk like this? I'm an artist, I'm from the left — a pro­gres­sive. But I want­ed to under­stand them, how their minds work.
When I was research­ing for the book, I inter­viewed reli­gious peo­ple, for exam­ple. One of them was a very reli­gious man, but at the same time he's a doc­tor. I was talk­ing not to argue with him. And I didn't want to argue with my char­ac­ters. I just want­ed to present them with­out judge­ment — well, I have a lit­tle bit of judge­ment in what I decide to show. But it's like I am say­ing of the char­ac­ter, ​"Okay, you said it. I didn't say you were a racist, you said it. I'm just quot­ing you."
There's anoth­er side of it, too. I have racism in me. I try not to have this racism or prej­u­dice. But I want­ed to also look at this in me, in myself. And this is the nice thing about writ­ing fic­tion. I can put down this thought and look at it and think, maybe I have this thing that I'm fight­ing, maybe it's still there. I can put it in some­body else's mouth, which is not me. And by show­ing it it's like say­ing, it's there. The fight, the con­flict that we have about Pales­tini­ans is not just about secu­ri­ty and jus­tice, for exam­ple. There's also racism in it. And let's look at it, let's face it.
TO: I have been think­ing a lot about audi­ence, espe­cial­ly giv­en your inter­est in writ­ing about secrets and fam­i­lies. Do you think about your audi­ence when you're work­ing on your books, and does that affect your storytelling?
RM: I don't think that being a secre­tive per­son is in con­tra­dic­tion with being a writer. It's the oppo­site. This is why I like to write fic­tion and not auto­bi­o­graph­i­cal work. Then I can tell all of the secrets.
In 2008, I was doing these short pieces for the New York Times web­site, for a blog called Mixed Emo­tions. I had to do a sto­ry a month, and I decid­ed that I would tell real sto­ries because think­ing up sto­ries takes me a lot of time. So I did fam­i­ly sto­ries which were nine­ty-nine per­cent true. Since I was liv­ing in Eng­land at the time and my fam­i­ly was far away, I told myself that they wouldn't find out about it. Of course my cousin did, and then one of my uncles — some­one I had writ­ten about. I wrote that he was the black sheep of the fam­i­ly. I changed his name and his pro­fes­sion, but he nev­er for­gave me for that.
Now as for the read­er, it's dif­fi­cult and also dan­ger­ous to think about your audi­ence. Before I pub­lished Exit Wounds, I didn't have a very large audi­ence, espe­cial­ly abroad, and I was just doing my thing and I wasn't real­ly wor­ried about it. I was main­ly wor­ried that I wouldn't have many readers.
But then Exit Wounds was pub­lished and suc­ceed­ed, and I felt the dan­ger. When I want­ed to write a new book, I real­ly felt how I want­ed it to be loved by the audi­ence as much as Exit Wounds. I felt myself think­ing about it while writ­ing, and it was not good.
So I told myself, I can't think about the audi­ence. I don't actu­al­ly know who is going to like it or hate it. My solu­tion to this is that I write for some­one I love, a very good friend of mine. His name is Yir­mi Pinkus, and he's a comics artist and a won­der­ful writer. He has always been my first read­er and I'm his. Before we have any­thing to share, we dis­cuss ideas. When I write, I try to only think about him, what he's going to say.
TO: You've pub­lished sev­er­al books already, which were trans­lat­ed into Eng­lish via the Mon­tre­al-based pub­lish­er, Drawn & Quar­ter­ly. I won­der if you have any idea about who is most inter­est­ed in your books?
RM: To say who my audi­ence is, it's com­pli­cat­ed for me because I don't live near most of them. In Israel, it's most­ly young peo­ple because comics is a very new medi­um to Israelis, even main­stream comics.
With The Prop­er­ty, for the first time sud­den­ly I had a wider audi­ence than just comics read­ers — because of the sub­ject. Peo­ple would tell me it was the first com­ic they had ever read, or their grand­moth­er had ever read, or their moth­er. Also, some­times young chil­dren read my comics, which is sur­pris­ing. But then, this is what I love about comics. One kid, eight years old, my friend's son, he read Tun­nels and he was sure that Doc­tor was the hero. He read every­thing from Doctor's per­spec­tive, and he was only inter­est­ed in him.
TO: We didn't delve too close­ly into the real-life pol­i­tics con­tigu­ous to your adven­ture sto­ry — the Israeli-Pales­tin­ian con­flict — but you speak in depth about it in your ​"After­word." I was espe­cial­ly tak­en by your descrip­tion of the pow­er sto­ry­telling plays in the ways that real life events unfold, and how restrict­ed points of view exac­er­bate long­stand­ing ten­sions. You ask a series of relat­ed ques­tions: ​"Are we real­ly that lim­it­ed that we can­not imag­ine the con­flict com­ing to an end one day? Can we not, at least in our minds, jump over the tec­ton­ic events, still hid­den from our eyes, that would lead, three thou­sand years hence, when the Israeli and Pales­tin­ian nar­ra­tives have been assim­i­lat­ed into one sto­ry? …And if we can already imag­ine such a sit­u­a­tion, why can't we try and avoid the usu­al­ly unsa­vory tribu­la­tions of his­to­ry and strive for it already now?"
Do you have any­thing you'd like to add, in terms of what you were try­ing to show about the present-day situation?
RM: I don't mind speak­ing about the polit­i­cal side but I'm glad you found oth­er sub­jects to ask me about today. I was a lit­tle bit afraid that the book would be framed only around the con­flict, but for me it's not the only subject.
In terms of the pol­i­tics, I wasn't try­ing to look for a solu­tion. I just want­ed to say, this is how it is. This is how we're stuck. This is how I see it.