Helene Weck­er​'s debut nov­el The Golem and the Jin­ni is now avail­able. She will be blog­ging here all week for Jew­ish Book Coun­cil and MyJew­ish­Learn­ing.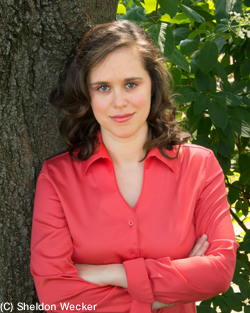 When I start­ed look­ing through the exten­sive and awe-inspir­ing Vis­it­ing Scribe archives, one theme kept pop­ping out at me: the peren­ni­al ques­tion, ​"What Does It Mean to Be a Jew­ish Writer?" I decid­ed I'd use my space here to offer my own take, but as I thought about it, the ques­tion kept shift­ing into some­thing else. Not what does it mean to be a Jew­ish writer, but why am I a Jew­ish writer?
Because I am, unde­ni­ably. True, I've only writ­ten one book so far, The Golem and the Jin­ni, but it's pret­ty darn Jew­ish. My one oth­er pub­lished piece, a short sto­ry called ​"Divest­ment," is about a Ger­man Jew­ish woman in the last years of her life. When I think about pos­si­ble future projects — nov­els, short sto­ries, maybe a screen­play? — inevitably it con­tains some ele­ment of Judaism, either at its cen­ter or creep­ing in around the edges.
This sur­pris­es me more than you might think. I don't live what any­one would call a vis­i­bly Jew­ish life. On Fri­day nights you'll find me on the couch, eat­ing take­out and watch­ing Doc­tor Who. My week­ly dose of group spir­i­tu­al­i­ty comes on Sun­days, when I dri­ve 45 min­utes to a Bud­dhist med­i­ta­tion cen­ter. My hus­band is a nice young Arab-Amer­i­can man I met in col­lege. (Bash­ert!) There's no Mogen David around my neck, and no mezuzah at the door, though we do have a love­ly sil­ver meno­rah and an antique page from the Quran. My tod­dler daugh­ter has only one Jew­ish-themed board book on her groan­ing shelf, titled Let's Nosh!—and, let's face it, that sums up a lot of my reli­gious expres­sion right there.
So if it's true what they say, that Judaism is a reli­gion of actions rather than beliefs, then my list is look­ing kind of skimpy. Except, of course, for the writing.
It's hard to pin down why my writ­ing is the most Jew­ish thing I do — except that a large part of writ­ing is about explor­ing a life's under­cur­rents, whether they belong to the char­ac­ters or (con­scious­ly or not) the writer. And as far as under­cur­rents go, my Judaism is prac­ti­cal­ly a rip­tide. Like so many of us, a lot of my first sto­ries were Bible sto­ries, Noah and Jon­ah and let my peo­ple go, and I devoured them, their rhythms and their themes. I'm the grand­daugh­ter of Holo­caust sur­vivors, and I grew up with those sto­ries too — first told in weighty silences, then in brief but omi­nous gloss­es, before final­ly, when I was old enough, the truth. My fam­i­ly belonged to a Reform con­gre­ga­tion that down­played God and belief in favor of ​"the Jew­ish life cycle," and my ear­ly years were set inside that struc­ture: Sun­day school, Hebrew school, Bat Mitz­vah, con­fir­ma­tion, the whole shebang.
In Lib­er­tyville, the May­ber­ry-esque Chica­go sub­urb where I grew up, that made me dif­fer­ent. And that dif­fer­ence some­how tied in the oth­er ways that I was dif­fer­ent, or at least the ways I felt dif­fer­ent. I roll my eyes when I hear oth­ers rem­i­nisce with bit­ter pride about their gawky, geeky, Star-Trek-and-X‑Men-filled child­hoods—yes, you were a dork, we were all dorks, let it go—but it's easy to for­get how it could make you feel like the loneli­est per­son in the world. Much has been made of the Jew­ish­ness of Super­man: the hid­den alien, secret and alone, blink­ing incog­ni­to behind those neb­bishy glass­es. Of course Super­man's pow­ers would be flight and invul­ner­a­bil­i­ty, and not invis­i­bil­i­ty. What was so great about invis­i­bil­i­ty? We dorks already had it in spades.
So there I was, a big ol' Jew­ish dork, sneak­ing reads of the lat­est Drag­onlance nov­el instead of study­ing my Torah por­tion. And as I got old­er, through col­lege and ear­ly adult­hood, the ​"life cycle" touch­stones and rit­u­als began to fall away. Per­haps it was because they nev­er gained their own intrin­sic mean­ing for me, just a sense of oblig­a­tion: the whis­pers from the mur­dered great-greats and the cousins who nev­er were, hov­er­ing some­where over my shoul­der. You do this because it's what Jews do. You do this because we could­n't. But some­how — and there are days when I deeply regret this — it was­n't quite enough.
The sto­ries stayed with me, though, grooved deep into my brain, and were joined by the urge to tell stores — and by some strange tran­si­tive prop­er­ty of the sub­con­scious, that urge felt Jew­ish. Like when I was a kid, and my dad turned me onto Ray Brad­bury and Robert Hein­lein, and that felt Jew­ish. And how walk­ing between junior-high class­es with my nose buried in a book felt Jew­ish. And when, in my mid-twen­ties, I took a seri­ous look at my unhap­py career and decid­ed to hell with it, I'm gonna write —that, too, felt Jewish.
So there it is, unfor­tu­nate­ly. I don't light can­dles on Fri­day night, and my daugh­ter will grow up eat­ing cheese­burg­ers and moo shu prawns. (Or watch­ing me eat them, at least. Maybe she'll be a veg­e­tar­i­an, who knows?) This is what I do instead. I write, and I write Jew­ish sto­ries. And even if some­day (heav­en forefend!) I write a sto­ry that has no hint of Jews at all, no turn-of-the-cen­tu­ry golems or space rab­bis or even so much as an irra­di­at­ed latke, you can guar­an­tee that that sto­ry will still feel to me, in some weird and inef­fa­ble way, Jewish.
Read more about Helene Weck­er here.
Relat­ed content:
The Golem and the Jin­ni was award­ed the Mythopoe­ic Award, the VCU Cabell Award, and the Har­ald U. Rib­alow Prize, and was nom­i­nat­ed for a Neb­u­la and World Fan­ta­sy Awards. Her work has appeared in Joy­land, Cata­ma­ran, and in the anthol­o­gy The Djinn Falls in Love and Oth­er Sto­ries. She lives in the San Fran­cis­co Bay area with her family.