Ear­li­er this week, Helene Weck­er shared a golem-cen­tric read­ing list and wrote about writ­ing a nov­el in two cul­tures and Dork­dom. She has been blog­ging here all week for Jew­ish Book Coun­cil and MyJew­ish­Learn­ing.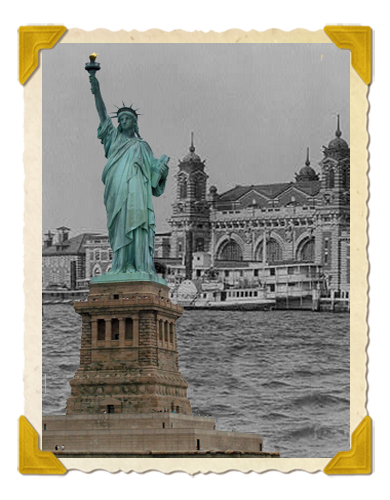 I was 28 before I first saw the Stat­ue of Lib­er­ty in per­son. I'd been accept­ed to grad school in New York City, and my hus­band (then fiancé) and I flew out togeth­er to see the school — and, in my case, to see the city for the first time. It was a hasty trip, with a red-eye flight and a hodge­podge itin­er­ary. We had friends of friends in Chelsea, and they gra­cious­ly allowed us to crash at their place. It turned out they lived on one of the busiest cor­ners in the city, and the inces­sant cab-honk­ing kept us awake most of the night. It was a very New York welcome.
That first after­noon, still fuzzy with jet lag, we took a walk out to the Hud­son Park green­way. At Chelsea Piers we stopped to watch the trapeze stu­dents swing­ing through the air above us, look­ing ner­vous in their leo­tards and safe­ty har­ness­es. We walked out to the end of one of the piers, and that's where I caught my first real-life glimpse of her.
Wow, I thought. Here I am. There she is.
At that dis­tance she was just a slim gray sil­hou­ette, motion­less on her pedestal. Tour boats churned at her feet; heli­copters swooped past her like drag­on­flies. She seemed like the only still object in a mov­ing world. Look­ing at her, I felt what I'd lat­er come rec­og­nize as a par­tic­u­lar­ly New York-style cog­ni­tive dis­so­nance: the weird fact of this huge, icon­ic thing just sit­ting there, mind­ing her own busi­ness, while the city went about its afternoon.
A few years after I stood on Chelsea Pier, I gave a char­ac­ter in The Golem and the Jin­ni the tra­di­tion­al immi­grant arrival in Amer­i­ca: a steamship cruis­ing past the stat­ue, the wav­ing hands and the tears of joy. Except that my char­ac­ter is far from a tra­di­tion­al immi­grant. She's a golem, new­ly cre­at­ed and alone. She has no knowl­edge or under­stand­ing of the stat­ue; she does­n't even know what lib­er­ty is — though she's new­ly lib­er­at­ed her­self, her mas­ter hav­ing just died. But she rec­og­nizes that the peo­ple around her love the stat­ue, and she takes com­fort in the fact that it is clear­ly a con­struct­ed woman, like herself.
If you think about it, the Stat­ue of Lib­er­ty is an odd­i­ty among mon­u­ments. We Amer­i­cans like our stat­ues to be of real peo­ple, of pres­i­dents and heroes and civic lead­ers. But the Stat­ue of Lib­er­ty is a per­son­i­fi­ca­tion, a por­trait of an idea, and a female one to boot. (Name one oth­er woman whose face is so close­ly asso­ci­at­ed with the idea of Amer­i­ca.) She's become such an every­day image that it's hard to remem­ber that The Stat­ue of Lib­er­ty isn't just her name, but her func­tion, the pur­pose for which she was built. A Stat­ue, rep­re­sent­ing Lib­er­ty. And as it turns out, Barthol­di and his work­ers were mere­ly her first set of cre­ators. In the years that fol­lowed she was brought to life again and again, a mul­ti­tude of ani­ma­tions, as each immi­grant en route to Ellis Island filled her with a new set of hopes and fears, long­ings and dis­ap­point­ments. In that sense, she's the ulti­mate Amer­i­can golem.
Read more about Helene Weck­er here.
Relat­ed: Emma Lazarus
The Golem and the Jin­ni was award­ed the Mythopoe­ic Award, the VCU Cabell Award, and the Har­ald U. Rib­alow Prize, and was nom­i­nat­ed for a Neb­u­la and World Fan­ta­sy Awards. Her work has appeared in Joy­land, Cata­ma­ran, and in the anthol­o­gy The Djinn Falls in Love and Oth­er Sto­ries. She lives in the San Fran­cis­co Bay area with her family.