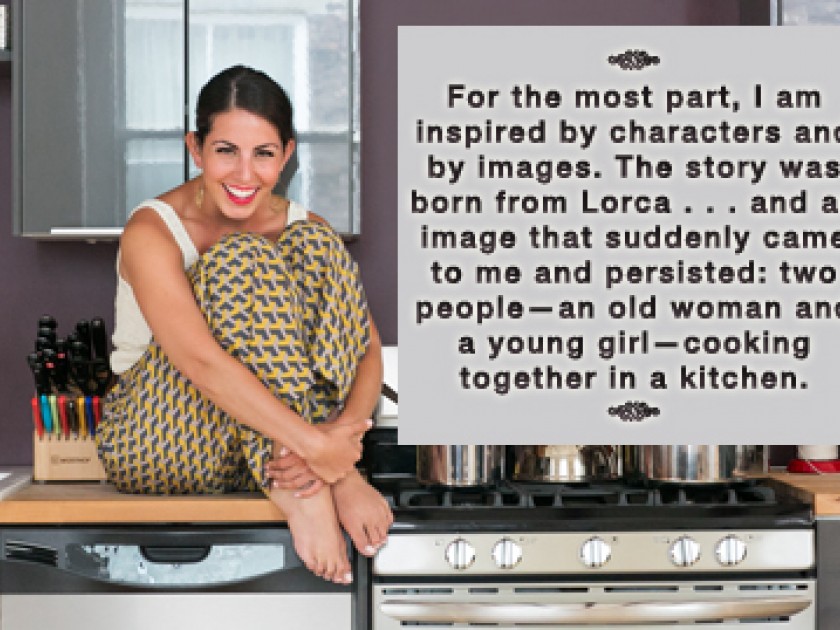 Jes­si­ca Sof­fer­'s debut nov­el, Tomor­row There Will Be Apri­cots, was pub­lished by Houghton Mif­flin Har­court in April 2013.
Pen­ny Metsch: Every aspect of your sto­ry is so time­ly, yet so endur­ing. Issues of immi­gra­tion, par­ent­ing, teenage angst, and food, won­der­ful, beau­ti­ful­ly pre­pared food, are with us every day. Yet, you have giv­en us a fresh view of it all. The char­ac­ters are each com­pelling in his or her own right, but also inter-woven like a pre­cious rug. How did it all come together?
Jes­si­ca Sof­fer: That's a real­ly gen­er­ous way of describ­ing the book. Thank you so much. I didn't think too ter­ri­bly much about those con­cepts while writ­ing. For the most part, I am inspired by char­ac­ters and by images. The sto­ry was born from Lor­ca (a teenage pain addict, whom I'd writ­ten a sto­ry about while I was in grad­u­ate school) and an image that sud­den­ly came to me and per­sist­ed: two peo­ple — an old woman and a young girl — cook­ing togeth­er in a kitchen. What grew out of that, around that, was a way of sit­u­at­ing those elements.
PGM: Vic­to­ria and Joseph are Iraqi Jews. Their immi­gra­tion jour­ney has a very per­son­al con­nec­tion to your family's his­to­ry. Would you elaborate?
JS: My father was an Iraqi Jew who came to the Unit­ed States at rough­ly the same time that Vic­to­ria and Joseph (two char­ac­ters in Apri­cots) did. At one time, and for a very long time, the Jews in Bagh­dad flour­ished. They were the sophis­ti­cates, the intel­lec­tu­als, a huge and impor­tant part of the polit­i­cal and cul­tur­al land­scape. But after the Brits left Iraq in 1942, there was tur­moil and insta­bil­i­ty — and the Nazis took advan­tage of that. Every­thing changed. In the late 1940s and ear­ly 1950s, 120,000 out of 135,000 Jews fled. First, before 1947, legal­ly and safe­ly. After, they were giv­en the option to leave every­thing — their pass­ports, belong­ings, every­thing — and be air­lift­ed to Israel. Most did. My father didn't. He went through Iran, into hid­ing, and even­tu­al­ly was giv­en false papers, which enabled him to trav­el to Ellis Island.
PGM: I think I will remem­ber Lor­ca for as long as I read. Her yearn­ing for love and her self-muti­lat­ing response at rejec­tion is heart wrench­ing. Did you ever know any­one like her?
JS: What a love­ly thing to say. Thank you again. I knew some cut­ters grow­ing up, but no one inti­mate­ly. I was nev­er present when they cut, nor was I ever in a posi­tion to inter­vene, which I am grate­ful for. But self-harm is an epi­dem­ic and one that has always inter­est­ed me. In a lot of ways it's the oppo­site of escapism. It's an attempt to feel, to inhab­it one's body, the world, more. And feel­ing more is at the heart of what good writ­ing should do, force us to inhab­it anoth­er person's life, anoth­er world.
PGM: As the char­ac­ters orbit around each oth­er, near, but not yet con­nect­ing, food is the mag­net that brings them togeth­er. Has food, par­tic­u­lar­ly Mid­dle East­ern fla­vors, always been an inte­gral part of your aware­ness?
JS: In a way, yes. We spent the High Holy Days at my father's sister's house, eat­ing the food of my father's child­hood. Those mem­o­ries feel very close to me. But I didn't want food to sim­ply be a pos­i­tive, nos­tal­gic force in the nov­el. Lor­ca, the teenage pain addict, is desper­ate for her mother's atten­tion — and her moth­er is a chef. It's with food that she tries to win her over and it's with food that she fails, again and again, to do just that. Food, in Apri­cots, is as much mag­net, as you say, as it is a tool: a way of engag­ing with the world, of cop­ing, of sur­viv­ing. And that's what inter­ests me: the unique ways that we find to live — to cut, to cook, to cry.
PGM: Has the role of Judaism in your life influ­enced the sto­ry in any way?
JS: Where food is con­cerned: yes. I grew up with two very dis­tinct ver­sions of Jew­ish cook­ing. On my father's side, there are the heav­i­ly-spiced, warm, orange fla­vors. Lots of stews, lots of car­damom, lots of nur­tur­ing the body through what one puts in it. On my mother's side, there's the Brook­lyn ver­sion of Jew­ish cui­sine: smoked fish, bagels, mat­zah brei, horse­rad­ish. My mother's father used to love noth­ing more than Katz's, which appalled my father. We didn't go to tem­ple, and I wasn't bat mitz­va­hed. So, for now, food is how I access my Jew­ish­ness, how I com­pre­hend it, ref­er­ence it, hon­or it in my writ­ing and otherwise.
PGM: A first nov­el is such an excit­ing event. Have you always writ­ten and seen this on the horizon?
JS: I keep hav­ing to remind myself to be excit­ed. I'm most­ly just ner­vous and itchy and dis­tract­ed. It seems idi­ot­ic, but I real­ly didn't think about this part: the part where peo­ple would have opin­ions about it. Or at least, I for­got about it for some time. I think you have to in order to write freely. The kind of anx­i­ety I'm feel­ing at the moment would have done noth­ing good for the writing.
PGM: And, final­ly, the title, Tomor­row There Will Be Apri­cots, refers to an Ara­bic say­ing. Does it give away too much of the sto­ry to tell why you chose this?
JS: Apri­cot sea­son is typ­i­cal­ly short and fick­le. The idiom sug­gests that things will turn up as much as the oppo­site. What's at the heart of Apri­cots is the hope for joy, the real­i­ty of sad­ness, and the del­i­cate bal­ance between the two: how we must learn to live there.
Pen­ny Metsch,
MLS
, for­mer­ly a school librar­i­an on Long Island and in New York City, now focus­es on ear­ly lit­er­a­cy pro­grams in Hobo­ken,
NJ
.