Post­ed by Nat Bernstein
We are all still reel­ing from the past weeks of ter­ror and grief over the mur­ders of Naf­tali Fraenkel, Gilad Shaar, Eyal Yifrah, three Jew­ish young men whose bod­ies were found in a field in the West Bank after an eigh­teen-day search fol­low­ing their kid­nap­ping, and Muham­mad Abu Khdeir, a six­teen-year-old Pales­tin­ian who was burned alive in a hor­ri­fy­ing civil­ian act of retaliation.
It is hard, and it hard­ly seems appro­pri­ate, to find inspi­ra­tion in the face of such tragedy, espe­cial­ly as the vio­lence, divi­sion, and hatred behind it con­tin­ue to pro­mul­gate in its wake. There was no small vic­to­ry for humankind in this sto­ry, no mir­a­cle — but there was progress.
"The funer­al cer­e­monies also includ­ed a sem­i­nal moment from a reli­gious per­spec­tive, a per­son­al moment with far-reach­ing pub­lic sig­nif­i­cance," Yair Ettinger point­ed out hours after the bur­ial of the three Jew­ish vic­tims, in an essay enti­tled ​"When Rachel Fraenkel Recit­ed the Kad­dish, the Chief Rab­bi Said ​'Amen'" for Haaretz. ​"The recita­tion of the Mourner's Kad­dish by women is gain­ing momen­tum, par­tic­u­lar­ly in Mod­ern Ortho­dox com­mu­ni­ties. Although it has rab­bini­cal approval, it has nev­er had such great expo­sure as it had on Tuesday."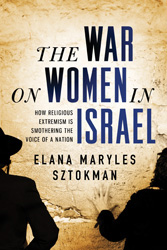 Indeed, 2014 – 2015 JBC Net­work author Elana Maryles Sztok­man lists ceme­ter­ies and funer­als among the worst exam­ples of pub­lic gen­der seg­re­ga­tion in Israel in the open­ing chap­ter of her cur­rent book, The War on Women in Israel: How Reli­gious Extrem­ism is Smoth­er­ing the Voice of a Nation. ​"One of the most painful expe­ri­ences of women's exclu­sion," she writes, ​"takes place at the ceme­tery, where women are increas­ing­ly barred from their own mourn­ing process­es… For per­haps obvi­ous rea­sons, women who were pre­vent­ed from say­ing eulo­gies or hon­or­ing their deceased loved ones at funer­als faced sig­nif­i­cant emo­tion­al struggles."
Thank­ful­ly — and sig­nif­i­cant­ly — that added dis­tress was not placed on Rachel Fraenkel, the bereft moth­er of Naf­tali, as she buried her six­teen-year-old son. She was not edged out of pub­lic view or ush­ered away from her son's grave­side; she stood togeth­er with her fam­i­ly and recit­ed the Mourner's Kad­dish in front of Chief Rab­bi David Lau, reli­gious lead­ers and mem­bers of Knes­set, and the thou­sands of Jews who assem­bled at the ceme­tery, and the only response she received was ​"Amen."
"The reli­gious fem­i­nist move­ment is not new," Ettinger asserts in his arti­cle. ​"It has been tak­ing shape for many years with the full coop­er­a­tion of high-rank­ing Ortho­dox rab­bis, but it is not every day that it gets the kind of expo­sure engen­dered by a woman's pub­lic recita­tion of Kaddish."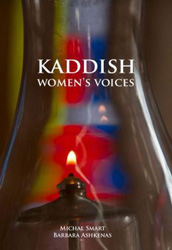 Sev­er­al months ago, 2014 – 2015 JBC Net­work authors Michal Smart and Bar­bara Ashke­nas received a 2013 Nation­al Jew­ish Book Award for their co-edit­ed anthol­o­gy, Kad­dish: Women's Voic­es, in which over fifty writ­ers from around the world — includ­ing Nes­sa Rapa­port and fel­low 2014 – 2015 JBC Net­work author and 2013 Nation­al Jew­ish Book Award recip­i­ent Chaya R. Gorset­man, who coau­thored Edu­cat­ing in the Divine Image: Gen­der Issues in Ortho­dox Jew­ish Day Schools with Sztok­man — share their expe­ri­ences mourn­ing as Jew­ish women. ​"I hope this book will serve as a com­pan­ion to oth­ers," Ashke­nas writes in the pref­ace, ​"spark many mean­ing­ful con­ver­sa­tions, and open the pos­si­bil­i­ties for women to choose how to mourn and remem­ber a loved one."
Since Naf­tali Fraenkel , Gilad Shaar, Eyal Yifrah's dis­ap­pear­ance, the entire Jew­ish world has been watch­ing — watch­ing for devel­op­ments in the case, watch­ing the bereaved fam­i­lies, watch­ing for the respons­es of Jew­ish, Arab, and world lead­ers, watch­ing the cit­i­zens of Israel and the Pales­tin­ian ter­ri­to­ries. This process of wait­ing and, eigh­teen days lat­er, con­firmed grief, and lat­er still shock and hor­ror at the dis­cov­ery of Muham­mad Abu Khdeir's bru­tal­ized body — for we are all, regard­less of our pol­i­tics or opin­ions, sad­dened by the sense­less deaths of these youths — has elicit­ed dis­cus­sion with­in the Jew­ish com­mu­ni­ty, albeit a painful one. We don't know what to talk about, and so we resort to either sit­ting in an unhealthy silence or react­ing in ways that harm oth­ers, harm our stand­ing as a nation in the glob­al com­mu­ni­ty, and harm our own friends and dear ones.
Yair Ettinger's piece points us to one way in which we might cre­ate a con­struc­tive con­ver­sa­tion, both in the imme­di­ate after­math of this ter­ri­ble event and for the months and years to fol­low, for our com­mu­ni­ties: a dis­cus­sion of heal­ing, of Jew­ish prac­tice, of women and reli­gion, of a way forward.
Nat Bern­stein is the for­mer Man­ag­er of Dig­i­tal Con­tent & Media, JBC Net­work Coor­di­na­tor, and Con­tribut­ing Edi­tor at the Jew­ish Book Coun­cil and a grad­u­ate of Hamp­shire College.