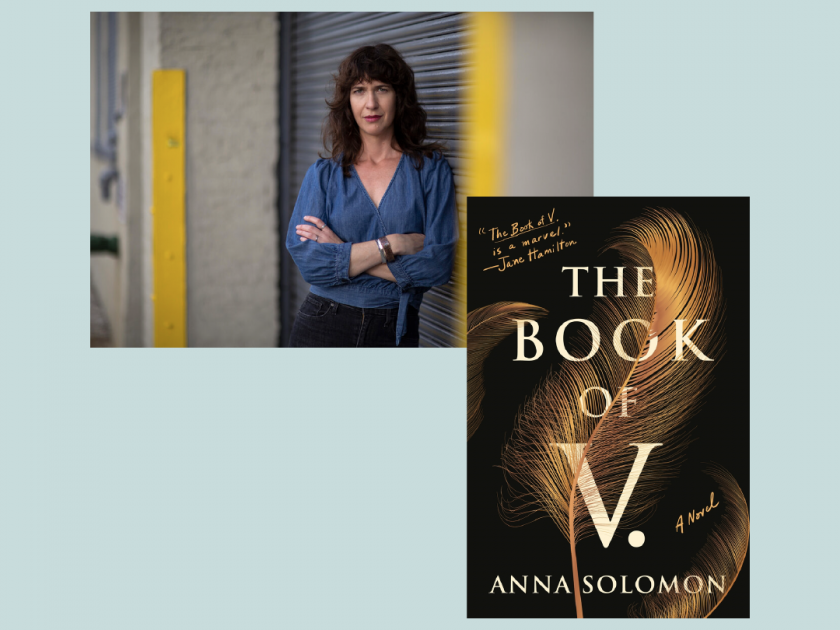 If you'd asked me, when I was a girl, whom I planned to dress up as for Purim, I might have blinked. No one ever asked that ques­tion. I would be Esther, of course. Who else was there?
Esther was the obvi­ous hero­ine of the sto­ry. The orphan turned queen turned sav­ior of her peo­ple, which were our peo­ple, after all. So many unlike­ly fates and she had nailed them all! Oh — and the book was named after her. Every girl want­ed to be Esther.
Beyond the main plot points, there was the mat­ter of her char­ac­ter. She was vir­tu­ous, we were told. She was loy­al. And she was brave — so loy­al and so brave, that to save her peo­ple from geno­cide she dared approach King Aha­suerus with­out invi­ta­tion, declar­ing: Ka'ash­er ovade­ti ovade­ti. And if I per­ish, I perish.
Who could beat that? Not Haman's wife, cer­tain­ly. And not the only oth­er female char­ac­ter in the sto­ry: Vashti. Vashti, to begin with the most obvi­ous strike against her, was ban­ished almost as quick­ly as she appeared. Also, she seemed to be a pros­ti­tute — based on the cos­tumes of who­ev­er played her in the spiel — or else a lep­er. Either way, she was bad, and she was bad in the ways that Esther was good. Instead of vir­tu­ous, Vashti was wan­ton. Instead of loy­al, dis­obe­di­ent. Instead of brave, well, it was unclear. Was it cow­ardice that made her refuse to parade naked in front of Aha­suerus and his friends at their par­ty? Or was it sim­ply a rebel­lious streak? Either way, she had reject­ed his demands. She had suf­fered the con­se­quences. And her ouster paved the way for Esther — good, pure Esther; so what did Vashti real­ly mat­ter any­way, beyond serv­ing as a foil for our heroine?
Either way, she was bad, and she was bad in the ways that Esther was good. Instead of vir­tu­ous, Vashti was wan­ton. Instead of loy­al, dis­obe­di­ent. Instead of brave, well, it was unclear.
As a kid, all this made sense to me, not because I'd giv­en it a lot of thought, but because I had been told the sto­ry so many times from one van­tage point — the one that still dom­i­nates con­ven­tion­al Purim cel­e­bra­tions today.
Still, I thought about Vashti. There was some­thing about her sto­ry that I didn't quite buy, though I could not yet say what it was, or why.
Years lat­er, I decid­ed to inves­ti­gate. And what I found, as I returned to the Book of Esther and began to read wide­ly in the com­men­tary, both con­tem­po­rary and ancient, was that when you real­ly looked at the text, the Esther-Vashti dichotomies that had been incul­cat­ed in me did not seem to grow in any nat­ur­al or ratio­nal way from the sto­ry. Put anoth­er way, the sto­ry I'd been told about the sto­ry did not seem to match the sto­ry itself.
Wait a sec­ond, I thought. Aha­suerus is ask­ing Vashti to do some­thing inde­cent. How could she pos­si­bly agree to that, as queen? And isn't her refusal an act of virtue? A very brave act of virtue? Why, then, has she been demo­nized for it? And wait a sec­ond. All these vir­gins Aha­suerus gath­ers. They're essen­tial­ly a harem. Which makes Esther a con­cu­bine. Which makes her deci­sion to forego the oth­er con­cu­bines' elab­o­rate make­up pro­ce­dures more inter­est­ing. Could it be that she was hop­ing, even pray­ing, that she would not be cho­sen as queen?
These ques­tions and many more drove me to write my new nov­el, The Book of V., which reimag­ines and rein­ter­prets The Book of Esther in much the same way that Michael Cunningham's The Hours did with Vir­ginia Woolf's Mrs. Dal­loway. In one thread you meet the teenaged Esther in ancient Per­sia and see not only what hap­pens to her and to Vashti but how the bib­li­cal text came into being. In anoth­er you meet Vivian Barr, a senator's wife in 1970s Wash­ing­ton, D.C. who is ban­ished in much the same way as Vashti. And in the third, you get to know Lily Ruben­stein, a sec­ond wife (like Esther) and moth­er of two in 2016 Brook­lyn who is strug­gling with her intel­lec­tu­al and sex­u­al desires, and try­ing to learn to sew to make Purim cos­tumes for her daugh­ters. The three women's sto­ries inter­twine, and even­tu­al­ly col­lide in the present day.
I wrote The Book of V. for every­one, and I was thrilled when ear­ly read­ers who were total­ly unfa­mil­iar with The Book of Esther said they didn't feel they missed a beat. But I'm also eager to hear from read­ers who do know the bib­li­cal sto­ry. I won­der which ref­er­ences to the orig­i­nal you'll catch, which char­ac­ters will res­onate most, and how read­ing the book will influ­ence the way you expe­ri­ence Purim next year. I'd love to hear from you! Reach out to us on Face­book, our JBC Book Club page, or chat with us on Twit­ter @JewishBook and @SolomonAnna.
Anna Solomon is the author of Leav­ing Lucy Pear and The Lit­tle Bride, and a two-time win­ner of the Push­cart Prize. Her short fic­tion and essays have appeared in pub­li­ca­tions includ­ing The New York Times Mag­a­zine, One Sto­ry, Ploughshares, Slate, and more. Coed­i­tor with Eleanor Hen­der­son of Labor Day: True Birth Sto­ries by Today's Best Women Writ­ers, Solomon was born and raised in Glouces­ter, Mass­a­chu­setts, and lives in Brook­lyn with her hus­band and two children.