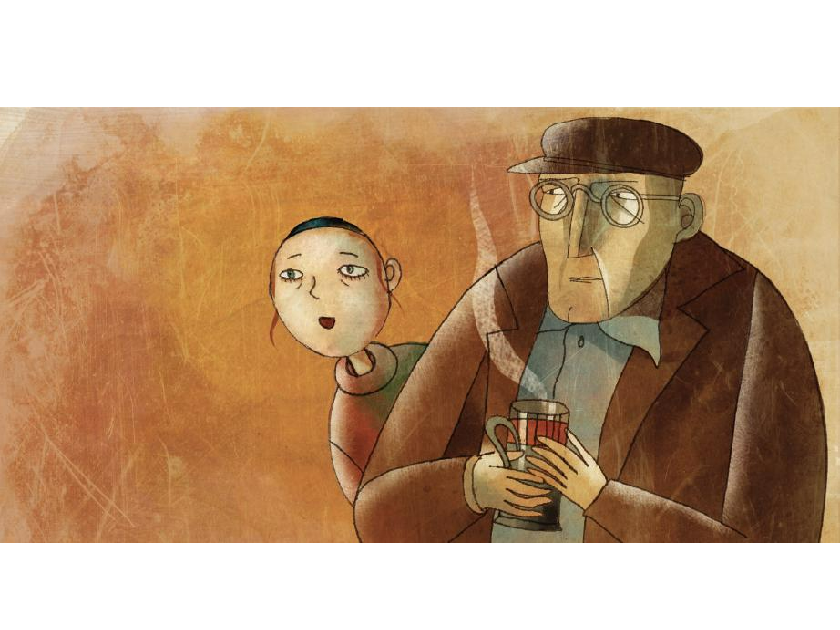 In 1965, an Amer­i­can rab­bi trav­els to the Sovi­et Union to inves­ti­gate reports of per­se­cu­tion of the Jew­ish com­mu­ni­ty. Moscow wel­comes him and the oth­er Amer­i­can rab­bis in his group as guests, but keeps them on a strict sched­ule. One after­noon, the rab­bi slips away. With only an old address and almost no knowl­edge of the Russ­ian lan­guage, he embarks on a secret jour­ney to a part of Moscow where he dis­cov­ers a lit­tle boy, Zev, who has nev­er left the small apart­ment where he was born, and his par­ents who des­per­ate­ly want to pro­tect him from Sovi­et-enforced assimilation.
Every time I re-read A Vis­it to Moscow, I find myself ask­ing the same question.
Near the end of the book, after the rab­bi goes back to his hotel in Moscow, Zev remem­bers the peo­ple and set­ting of the sto­ry in the pre­vi­ous pages. He remem­bers that the man at the table is the rab­bi who vis­it­ed him as a child in the Sovi­et Union, that he and his par­ents left the Sovi­et Union and went to Israel, that he even­tu­al­ly mar­ried and had his own children.
Zev also remem­bers the moment he died. And on the last page, he sees Jerusalem.
That is when I ask the ques­tion: Is it the earth­ly Jerusalem or the heav­en­ly Jerusalem that Zev sees?
When I first heard the sto­ry that would become A Vis­it to Moscow from Rab­bi Rafael Gross­man, the basis of the fic­tion­al rab­bi, I asked him end­less ques­tions about the real Zev and his fam­i­ly. I want­ed to under­stand how the lit­tle boy would view the world. Would he be angry? Would he be afraid? Would he be bitter?
Zev had told Rab­bi Gross­man that when his moth­er was sleep­ing, he would turn the shade a lit­tle to see what was out­side. Zev knew that in the win­ter it snowed. He knew there was rain. He knew when it was warm and when it was cold. As he looked out the win­dow, he won­dered about the world. He thought it was made up of mean peo­ple because he couldn't go out and play, but — Rab­bi Gross­man empha­sized — Zev nev­er thought the world was ugly. He want­ed to know more about it.
As soon as Rab­bi Gross­man arranged for their visas, Zev and his fam­i­ly flew from Ros­tov to Moscow to Europe to Israel. Zev thought the car that took them to the air­port was an incred­i­ble thing and the air­plane total­ly fas­ci­nat­ed him. He talked about it at his bar mitz­vah. He said he went up to Hashem and came down.
As he looked out the win­dow, he won­dered about the world.
Rab­bi Gross­man said that when he vis­it­ed the fam­i­ly in Israel, Zev ran around show­ing him things: his school books, his tzitz­it, his kip­pah. Zev was excit­ed and full of life, intro­duc­ing his pals to the Rab­bi, shout­ing, singing — not at all restrict­ed. He seemed to love every­thing in life.
I heard Rab­bi Gross­man tell the sto­ry of Zev and his fam­i­ly many times, and always when he told it, the Rab­bi him­self was excit­ed and full of life. I think he and Zev were alike in many ways and that was why Rab­bi Gross­man nev­er stopped telling the sto­ry. They both loved this world.
Rab­bi Gross­man was at Zev's bar mitz­vah in Israel. As part of his speech, Zev said, ​"I can't believe what my par­ents went through so that I could be a Jew­ish, reli­gious child." Some­one asked him, ​"Do you resent them? Are you angry at them?"
"Oh, no," he said.
Rab­bi Gross­man said Zev was extreme­ly hap­py in Israel. His life was filled with learn­ing the lan­guage, mak­ing friends, and play­ing sports. He trav­eled on bus­es and went to every part of Israel; lat­er, he went to a hes­der yeshi­va and received a degree in mechan­i­cal engi­neer­ing. He mar­ried and had chil­dren. And through it all Zev had a very strong, lov­ing rela­tion­ship with his par­ents. Zev talked about the world as a beau­ti­ful place. He talked about Lebanon and said the moun­tains were extraordinary.
Lebanon, where as a young man he stepped on a land mine while on reserve duty and was killed.
That view of the world as an extra­or­di­nary place sus­tained Zev, whether in the one room in Moscow where he could only peek out the win­dow or in the open­ness of the land and cities of Israel. I think for him, being alive on this earth was like being in heaven.
So, is it the earth­ly Jerusalem or the heav­en­ly Jerusalem that Zev sees on the last page of A Vis­it to Moscow?
I'm sure Rab­bi Gross­man would know. I hope the read­er will, too.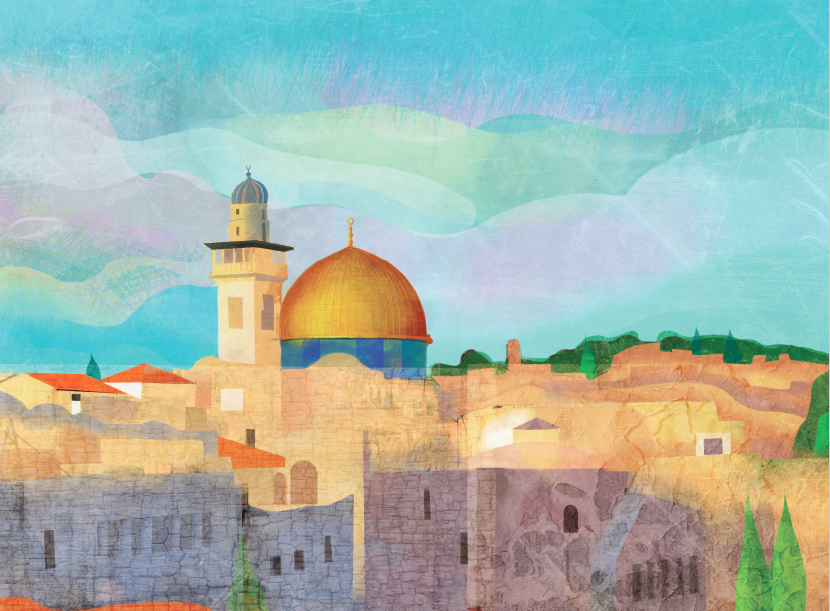 Anna Olswanger first began inter­view­ing Rab­bi Rafael Gross­man and writ­ing down his sto­ries in the ear­ly 1980s. She is the author of the mid­dle grade nov­el Green­horn, based on an inci­dent in Rab­bi Gross­man­'s child­hood and set against the back­drop of the Holo­caust. She is also the author of Shlemiel Crooks, a Syd­ney Tay­lor Hon­or Book and PJ Library Book, which she wrote after dis­cov­er­ing a 1919 Yid­dish news­pa­per arti­cle about the attempt­ed rob­bery of her great-grand­par­ents' kosher liquor store in St. Louis.
Anna lives in New Jer­sey with her hus­band. She is a lit­er­ary agent and rep­re­sents a num­ber of award-win­ning authors and illus­tra­tors. Vis­it her at www​.olswanger​.com.