Eric Gre­it­ens​'s most recent book, The Heart and the Fist: The Edu­ca­tion of a Human­i­tar­i­an, the Mak­ing of a Navy SEAL
, is now avail­able. He will be blog­ging all week for the Jew­ish Book Coun­cil and MyJew­ish­Learn­ing​'s Vis­it­ing Scribe.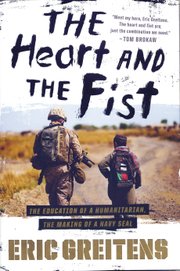 In the pref­ace of The Heart and the Fist, I explain to the read­er that I've been lucky enough to learn from amaz­ing war­riors and human­i­tar­i­ans alike. Through this book, I hope to share how their work and their sto­ries inspire me.
How do sto­ries relate to the nar­ra­tive of social jus­tice and Judaism? The human mind is nar­ra­tive; we tend to think in sto­ries, and there is a strength in sto­ry and tra­di­tion. In some of our most dire times, we look to sto­ries because they give us strength.
I spent time in Rwan­da work­ing with unac­com­pa­nied chil­dren who had sur­vived the geno­cides. I spoke to many chil­dren, women, and men that had endured the unimag­in­able. One young man, who had stud­ied Eng­lish in Kigali and hid with his sis­ter and two young neigh­bor girls dur­ing the vio­lence, told me that dur­ing the vio­lence he thought of Elie Wiesel—the Holo­caust sur­vivor — and he asked me if I'd read Night.
The world is full of sto­ries of courage, too infre­quent­ly told. I've read accounts of coura­geous peo­ple who took risks to care, and they often drew upon sto­ries from their faith and their fam­i­ly. These sto­ries were enough to assure them that, though they may have felt alone at the time as the only per­son pro­vid­ing secret shel­ter, they were in fact stand­ing in a deep­er, wider stream of con­sci­en­tious peo­ple through­out his­to­ry who have stood against injustice.
Check back on Thurs­day for more from Eric Gre­it­ens, author of The Heart and the Fist
.