Ear­li­er this week, Dr. Eri­ca Brown asked, ​"What are the Three Weeks, any­way?", and wrote about learn­ing to mourn. Her new book, In the Nar­row Places, is now available.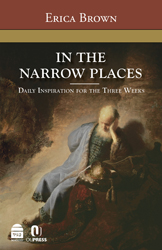 Jew­ish law is based gen­er­al­ly on the assump­tion that our emo­tions fol­low our actions. If we act char­i­ta­bly, we will become, over time, more com­pas­sion­ate human beings. We don't wait for a moment of empa­thy to hit before we oblig­ate our­selves to give. Yet we are com­mand­ed when it comes to cer­tain emo­tions: we are sup­posed to love God, sup­posed to refrain from hate towards oth­ers and feel rev­er­ence for our parents.
Dur­ing the Three Weeks, the sum­mer stretch of time that is marked by two fasts com­mem­o­rat­ing the destruc­tion of the Tem­ples and any oth­er per­se­cu­tion of Jews in his­to­ry, we are oblig­at­ed to mourn. Our mourn­ing con­sists of many behav­iors designed to min­i­mize our sense of joy. But if you look care­ful­ly at the Shulkhan Arukh, the six­teenth cen­tu­ry code of Jew­ish law writ­ten by Rabi Joseph Karo, you notice a small but stun­ning appeal to the emotions.
In addi­tion to the Three Weeks as a cal­en­dar mark­ing, there are a set of laws that we are sup­posed to observe to remind us of the loss of our holy Tem­ples. We break a glass at a Jew­ish wed­ding and some have the cus­tom of putting an ash mark on the fore­head of the groom. In oth­er words, our hap­pi­est moments are tar­nished – if just a lit­tle bit – because we real­ize their incom­plete­ness with­out our ancient spir­i­tu­al cen­ter. These prac­tices are still com­mon today.
Less com­mon is the idea that when­ev­er a woman wears her full set of jew­el­ry, she should leave out one piece. When­ev­er we set our tables for a hol­i­day feast, we leave one place set­ting emp­ty and when­ev­er we build a home, we leave a space free of plas­ter near our front door. All of these prac­tices share one com­mon theme: emptiness.
It is near impos­si­ble to mourn some­thing we have nev­er expe­ri­enced. The clos­est, per­haps most hon­est response to loss is to leave a space emp­ty that should not be filled. This approach has char­ac­ter­ized many memo­ri­als to loss in recent years. The Okla­homa bomb­ings have been com­mem­o­rat­ed with a field of emp­ty chairs. The 9/11 Pen­ta­gon plane crash has been marked in a sim­i­lar way, with emp­ty bench­es for the num­ber of peo­ple who died in that ter­ror­ist attack.
Right at the end of the code of Jew­ish law that presents these prac­tices, we read that no one should expe­ri­ence com­plete hap­pi­ness in this life. This goes far beyond table set­tings and to the heart of what loss means. If you ask any­one who has lost a very close friend, a child or a spouse, they will tell you that although – over time – they live ​"nor­mal­ly," they nev­er expe­ri­ence com­plete hap­pi­ness because a piece of them­selves is always miss­ing. That, I believe, is what our sages of old want­ed us to expe­ri­ence – a loss of a col­lec­tive spir­it and con­nec­tion to the divine that we can only approx­i­mate but nev­er ful­ly under­stand, that we car­ry with us always.
Dr. Eri­ca Brown has been blog­ging all week for the Jew­ish Book Coun­cil and MyJew­ish­Learn­ing. Her new book, In the Nar­row Places, is now avail­able, and she will be tweet­ing dur­ing the Three Weeks at @DrEricaBrown.
Dr. Eri­ca Brown is an edu­ca­tor and the author of ten books, most­ly on the themes of spir­i­tu­al­i­ty and lead­er­ship. She lives with her hus­band, four chil­dren, and two dogs just out­side of Wash­ing­ton, DC.