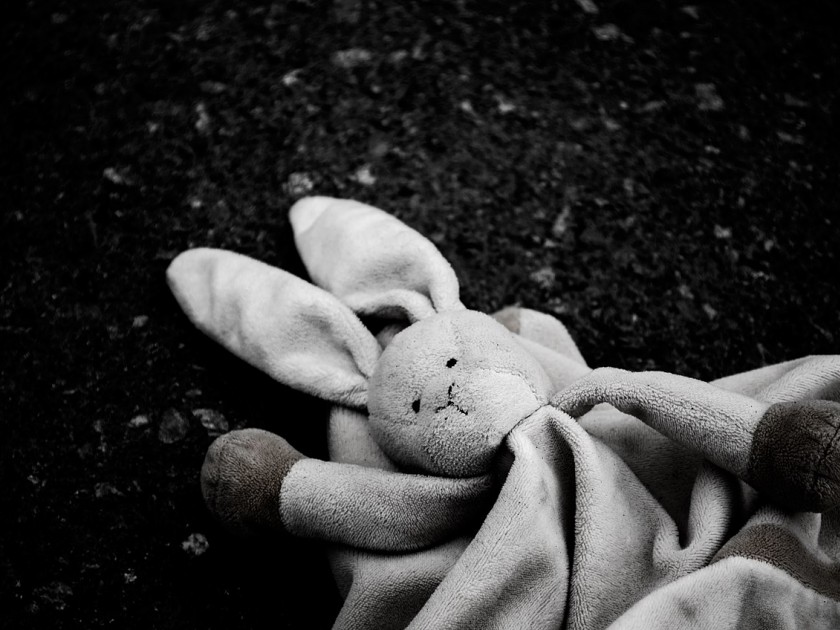 When the Supreme Court end­ed the con­sti­tu­tion­al right to abor­tion ear­li­er this year, my stom­ach lurched — not only because of what the deci­sion will mean for the future of our coun­try, but because I'm also acute­ly aware of the real­i­ties of our not-so-dis­tant past. In research­ing my book Amer­i­can Baby: A Moth­er, a Child, and the Secret His­to­ry of Adop­tion, I spent years look­ing at how women dealt with unplanned preg­nan­cies in a coun­try that banned abor­tion. I focused on the wide­ly ignored con­se­quences of adop­tion post-World War II, Amer­i­ca's pre­ferred solu­tion for girls and women ​"in trouble."
The his­to­ry of adop­tion has nev­er been more rel­e­vant. Fol­low­ing the over­turn­ing of Roe, states across the coun­try imme­di­ate­ly banned or severe­ly restrict­ed abor­tion and anti-abor­tion activists began to tout what they call ​"adop­tion, the lov­ing option." Adop­tion agen­cies start­ed gear­ing up to process what they hope will be an uptick in what the Dobbs deci­sion cit­ed as the ​"domes­tic sup­ply of infants."
In the years between 1945 and 1973, more than three mil­lion young, unmar­ried women were forced to sur­ren­der their new­borns to an exploita­tive adop­tion indus­try. Most lost touch with their chil­dren for decades, if not forever.
Then, as now, the num­ber of cou­ples strug­gling to con­ceive vast­ly out­num­bered the infants avail­able for adop­tion. The mis­match between sup­ply and demand widened in the Roe years as the vast major­i­ty of peo­ple with cri­sis preg­nan­cies either had abor­tions or became sin­gle parents.
My book, Amer­i­can Baby, tells the sto­ry of Mar­garet Erle, the daugh­ter of Ger­man Jew­ish refugees in post-World War II Man­hat­tan. Mar­garet and her high school boyfriend, George Katz, the son of two Holo­caust sur­vivors, were in love. In an era with no sex edu­ca­tion and lit­tle birth con­trol even for mar­ried cou­ples, Mar­garet got preg­nant the first time she had sex, at six­teen. Their two scan­dal­ized fam­i­lies, con­ser­v­a­tive com­mu­ni­ty, and New York State law coerced Mar­garet to relin­quish the son she named Stephen at his birth in 1961.
Mar­garet went on to mar­ry George and have three more chil­dren, but they nev­er stopped long­ing for their first­born. Their sto­ry unfold­ed against larg­er soci­etal pres­sures that made adop­tion all but inevitable; their son was adopt­ed by a lov­ing can­tor and his wife, both Roman­ian Holo­caust sur­vivors, who named him David Rosen­berg. The Jew­ish non-prof­it that han­dled the adop­tion, the Louise Wise agency, told the Rosen­bergs that Mar­garet was an aspir­ing sci­en­tist, in real­i­ty a dancer and arts lover; and that George was a col­lege busi­ness stu­dent, in actu­al­i­ty a gift­ed high school ath­lete. And the agency told Mar­garet, who lived in a walkup in Wash­ing­ton Heights, that the cou­ple adopt­ing her son were diplo­mats who would raise him in embassies abroad. In fact, David spent his ear­ly years in a small apart­ment just blocks from his birth parents.
These decep­tions weren't an aber­ra­tion — they were rep­re­sen­ta­tive of a much larg­er repro­duc­tive and human-rights sto­ry that encom­passed gen­er­a­tions of Amer­i­can women, their sons and daugh­ters, and the cou­ples who adopt­ed them. Adop­tion agen­cies exploit­ed all par­ties for prof­it, and some babies, chill­ing­ly, for science.
Agen­cies like Louise Wise were allowed to pur­sue their aims at will because laws in forty-eight states sealed the orig­i­nal birth cer­tifi­cates of adoptees, mak­ing it almost impos­si­ble for birth moth­ers and their sur­ren­dered chil­dren to find each other.
In the years between 1945 and 1973, more than three mil­lion young, unmar­ried women were forced to sur­ren­der their new­borns to an exploita­tive adop­tion industry
States issued adoptees amend­ed birth cer­tifi­cates that list­ed the adop­tive par­ents as the ​"orig­i­nal" ones, and only the child's new name. Sup­port­ers of this sys­tem said it shield­ed the birth moth­er from her dis­grace­ful past, pro­tect­ed the adoptee from the taint of ille­git­i­ma­cy, and reas­sured adop­tive par­ents that no one would inter­fere with their new fam­i­ly. But it also cov­ered the tracks of a cor­rupt indus­try that some­times stole and sold babies. In the Baby Scoop Era, as it is now known, agen­cies preyed on the des­per­a­tion of cou­ples unable to con­ceive, and on the shame of mil­lions of preg­nant women who'd done so ​"out of wedlock."
The Louise Wise agency was among the most egre­gious of all post­war agen­cies in its ruth­less pur­suit of clients, ris­ing prof­its, and the promise of ​"match­ing" infants to cou­ples who, decades before the devel­op­ment of many repro­duc­tive tech­nolo­gies, were anx­ious to join the baby boom. The Louise Wise agency dealt pri­mar­i­ly with Jew­ish par­ents; New York law at the time held that the birth moth­er's reli­gion should cor­re­spond with that of the adop­tive parents.
The secre­cy laws allowed the agen­cy's board mem­bers to con­duct sin­is­ter research on thou­sands of infants in its cus­tody. One board mem­ber, a child psy­chi­a­trist, led the infa­mous study that sep­a­rat­ed iden­ti­cal twins and triplets in an effort to prove the effects of nature over nur­ture. Anoth­er board mem­ber, a pedi­a­tri­cian, the­o­rized that infants who cried the loud­est were the smartest. For fif­teen years, he car­ried out fed­er­al­ly fund­ed ​"induced cry­ing" exper­i­ments in which he shot thick rub­ber bands at the feet of new­borns sur­ren­dered for adop­tion and record­ed the deci­bel lev­el of their wails. The nois­i­est babies were then placed with doc­tors, lawyers, and suc­cess­ful busi­ness­men. Anoth­er board mem­ber, an anthro­pol­o­gist and avowed eugeni­cist, observed the skin tone and hair tex­tures of babies in an effort to ascer­tain their race and, improb­a­bly, future looks. (In a deeply racist soci­ety, inter­ra­cial adop­tion was as unac­cept­able as unwed moth­er­hood, and white fam­i­lies want­ed white babies.)
Mar­garet and David were reunit­ed in 2014 by a DNA test, three months before David died of some of the same fam­i­ly ill­ness­es Mar­garet had tried to warn him about for decades. The Louise Wise agency had nev­er passed on repeat­ed mes­sages about his health his­to­ry (let alone her con­tact information).
Today, Mar­garet allies her­self with adoptee-rights activists work­ing to open adoptee birth cer­tifi­cates in more than three dozen states. She, who prayed for fifty-two years for the health and safe­ty of her son, was chilled by Jus­tice Amy Coney Bar­ret­t's sug­ges­tion that safe haven laws allow­ing women to drop off their new­borns anony­mous­ly could avoid the ​"bur­dens of par­ent­ing." Social work­ers promised Mar­garet that she'd for­get her son, too, and move on as if she'd nev­er had him. Of course, adop­tion is not that sim­ple— not for her, not for her son, or for the mil­lions of oth­er birth par­ents and adoptees.
Today, sin­gle moth­er­hood is far more accept­ed. Adop­tion is rel­a­tive­ly rare, but it remains so loose­ly reg­u­lat­ed that it is legal in some states for attor­neys and inter­me­di­aries to sell babies to the high­est bidder.
There are instances when adop­tion is the best course for a child. We live in a com­plex world strained by addic­tion, eco­nom­ic hard­ships, and an ongo­ing pan­dem­ic. But as the past shows us, an adop­tion indus­try that manip­u­lates women in cri­sis for prof­it invari­ably harms both moth­ers and children.
Adoptee-rights activists have worked for decades to deep­en pub­lic under­stand­ing of what hap­pened dur­ing the ​"baby scoop" years. In their view, it's inac­cu­rate and reduc­tive to por­tray adop­tion sole­ly as an act of benev­o­lence and gen­eros­i­ty. Their expe­ri­ences are also a human- and civ­il-rights sto­ry that aris­es from an unde­ni­able truth that every­one is enti­tled to know their ori­gin story.
While the past is not always a pro­logue to the future, it can give us many lessons. Now, more than ever, it's worth look­ing back care­ful­ly at the con­se­quences that ensued from pres­sur­ing young moth­ers to give up their chil­dren and pri­or­i­tiz­ing prof­it above all else.
Gabrielle Glaser is a New York Times best­selling author whose work on cul­ture, health, and med­i­cine has appeared in the New York Times, the Atlantic, the Wash­ing­ton Post, and many oth­er pub­li­ca­tions. She has appeared on many nation­al tele­vi­sion and radio pro­grams, includ­ing NPR's Fresh Air and All Things Con­sid­ered; NBC's Night­ly News, ABC's World News Tonight, and CBS's Sun­day Morn­ing.