Ear­li­er this week, Rey­na Sim­ne­gar, the author of Per­sian Food from the Non-Per­sian Bride: And Oth­er Sephardic Kosher Recipes You Will Love, wrote about Miss Venezela Mate­r­i­al and Sephardim Strike Back!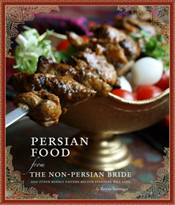 It was a reg­u­lar morn­ing at my home, dish­es to wash, laun­dry to fold, when I got a phone call from my hus­band. ​"Rey­na, I am com­ing this after­noon with Reza Pahlavi." Think­ing it was a work col­league, I casu­al­ly asked him, ​"At what time? Do you guys want to have din­ner here?" That's when he final­ly explained to me this ​"Reza Pahlavi" was not any ​"Pahlavi," he was His Impe­r­i­al High­ness Crowned Prince Reza Pahlavi of Iran!
The Prince was vis­it­ing Boston and some­how my hus­band (if you know him, you know this is right up his alley) had con­vinced His Impe­r­i­al High­ness to come have dessert and tea at our house! My legs were shak­ing. ​"The crowned prince — here? In this messy house? I am going to kill Sam­my!" I imme­di­ate­ly recruit­ed a clean­ing lady and set off for a hunt to buy Per­sian desserts. As I was pulling off the dri­ve­way, I noticed the secret ser­vice search­ing the vicin­i­ty of my house mak­ing sure it was a safe place for the prince.
The more I thought about it, the more ner­vous I became. ​"We are Jew­ish, I won­der if he real­izes he is com­ing to an Ortho­dox Jew­ish home…" My mind kept on think­ing how this would prob­a­bly have nev­er hap­pened back in Iran. I loaded the car with more sweets than an army could fin­ish and tons of gor­geous fresh flow­ers. ​"Per­sians love flow­ers," I told myself. I head­ed back home and start­ed to get ready to meet the son of the Shah! I was so ner­vous. To calm myself, I start­ed think­ing, ​"He is just anoth­er human being, just like me, there is noth­ing to be ner­vous about." I solemn­ly decid­ed it was so sil­ly of me to be ner­vous and I was going to even refer to him by his name: ​"We are in Amer­i­ca, these non­sense titles are so passé!"
The door­bell rang. I could see from the win­dow his armored car parked out­side. I opened the door and there he was, in his entire splen­dor, tall-dark-and-hand­some. He approached me with a smile, body­guards on both sides, self-con­fi­dent and impos­si­ble to evade, ​"Thank you for hav­ing me over, Mrs. Simnegar."
I near­ly faint­ed. I just stared at him and qui­et­ly blurt­ed out, ​"It is my plea­sure, Your Highness."
I had surrendered.
The Prince was incred­i­bly charm­ing and kind. I fig­ured I must offer him chai, since this is what most Per­sians crave after sweets. To my sur­prise, instead of tea, His Impe­r­i­al High­ness want­ed cof­fee! Unfor­tu­nate­ly, all I had was tea. I had nev­er been a good cof­fee-mak­er, much less a good Turk­ish cof­fee-mak­er. Ever since this episode, I made it a per­son­al goal to learn the secrets of Turk­ish cof­fee-mak­ing. A few years lat­er I met the expert, Peleg Mor­ris. Peleg learned the art of mak­ing Turk­ish cof­fee while serv­ing in the Israeli Army and camp­ing in treach­er­ous deserts. He was even appoint­ed the best Turk­ish-cof­fee-mak­er in his divi­sion. If His Impe­r­i­al High­ness ever hon­ors me vis­it­ing again, I will sure­ly be ready.
Turk­ish Cof­fee: Kahveh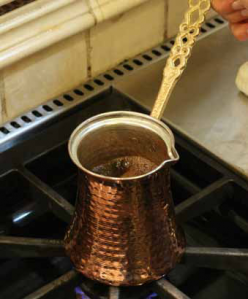 Turk­ish cof­fee is tra­di­tion­al­ly made in a spe­cial long-han­dled cop­per jug called ibrik. How­ev­er, a very small saucepan will also do the trick.
This cof­fee is served in tiny porce­lain cups. After drink­ing this cof­fee, some peo­ple read the future by look­ing at the pat­terns the cof­fee grounds have left behind in the cup. I am not even kid­ding! We have no real for­tunetellers in the fam­i­ly, but a few aunts are known for mak­ing great guesses.
1 cup water
2 tea­spoons fine ground Turk­ish cof­fee
2 tea­spoons sug­ar
3 car­damom seeds or ¼ tea­spoon car­damom powder
1. Place the water in an ibrik or very small saucepan with a long han­dle. Bring to a boil over high heat.
2. Remove from heat and add cof­fee, sug­ar, and car­damom. Mix with a spoon.
3. Reduce the flame to medi­um. Return the ibrik to the heat and boil until the cof­fee ris­es to the top of the ibrik just like lava in a vol­cano.
4. Imme­di­ate­ly remove from the heat before ​"erup­tion" occurs and serve.
Yield: 4 (¼‑cup) servings
Rey­na Sim­ne­gar​'s Per­sian Food from the Non-per­sian Bride: And Oth­er Sephardic Kosher Recipes You Will Love
is now avail­able. She has been blog­ging all week for the Jew­ish Book Coun­cil and MyJew­ish­Learn­ing.