Ear­li­er this week, Anne Cher­ian wrote about vis­it­ing the syn­a­gogue of the Cochin Jews in India and about her own expe­ri­ences with Judaism. She has been blog­ging here all week for Jew­ish Book Coun­cil and MyJew­ish­Learn­ing.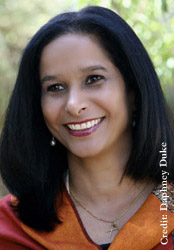 The first title of a book that I remem­ber with clar­i­ty is QB VII. It seemed so odd, with let­ters instead of words. My moth­er is an avid read­er, and because there were no pub­lic libraries in our town, she saved every book. I grew up with book­cas­es lin­ing the hall­ways, the shelves weight­ed down with nov­els. From the time I was very young, Mom would, on occa­sion, give me books she thought I need­ed to read. I was about 12 when she hand­ed me QB VII, and then all the oth­er nov­els by Leon Uris. Mom said that fam­i­ly mem­bers she had nev­er met in Ger­many had died dur­ing the Holo­caust, and because I did not know their names, every vic­tim I read about in the nov­els became my family.
I nev­er imag­ined, when I was read­ing Uris, that one day I would actu­al­ly write – and pub­lish – novels.
I like to joke that my first nov­el, A Good Indi­an Wife, is pure fiction…it is also pure­ly Indi­an. The sec­ond nov­el, The Invi­ta­tion, is more per­son­al because my char­ac­ter Jonathan is Jew­ish, like my moth­er; is a doc­tor like my grand­fa­ther; and lives in Marin, which is across the bay from Berke­ley, where my moth­er grew up. Jonathan also gave me an entrée into the Jew­ish Book Coun­cil. I almost did not send in my appli­ca­tion for the JBC Net­work, because I feared that though I am Jew­ish, I had not been brought up cel­e­brat­ing Jew­ish hol­i­days, which mir­rors Jonathan's expe­ri­ence, but left me feel­ing I wasn't Jew­ish enough. I calmed down when I real­ized that many of my friends in the US had been raised the same way. They, too, had not been to a syn­a­gogue until their twenties.
Mom was very excit­ed when I told her I was going to New York to make a 2 minute pre­sen­ta­tion. She didn't ask me what I was going to say. She only said: ​"Be proud. I want you to stand there and be proud."
Anne Cher­ian was born and raised in Jamshed­pur, India. She lives in Los Ange­les, Cal­i­for­nia, and vis­its India reg­u­lar­ly. Her sec­ond book, The Invi­ta­tion, is now available.
Born in India to an Amer­i­can Jew­ish moth­er and Indi­an father, Anne came to study com­par­a­tive lit­er­a­ture (Eng­lish, Clas­si­cal Greek) at Berke­ley and meet her Amer­i­can fam­i­ly. She stayed on to pur­sue her dream of being a writer. The Invi­ta­tion, her sec­ond nov­el, fea­tures Lali, an Indi­an, who mar­ries Jonathan, a Jew­ish doc­tor, the cou­ple being a reverse of her parents.