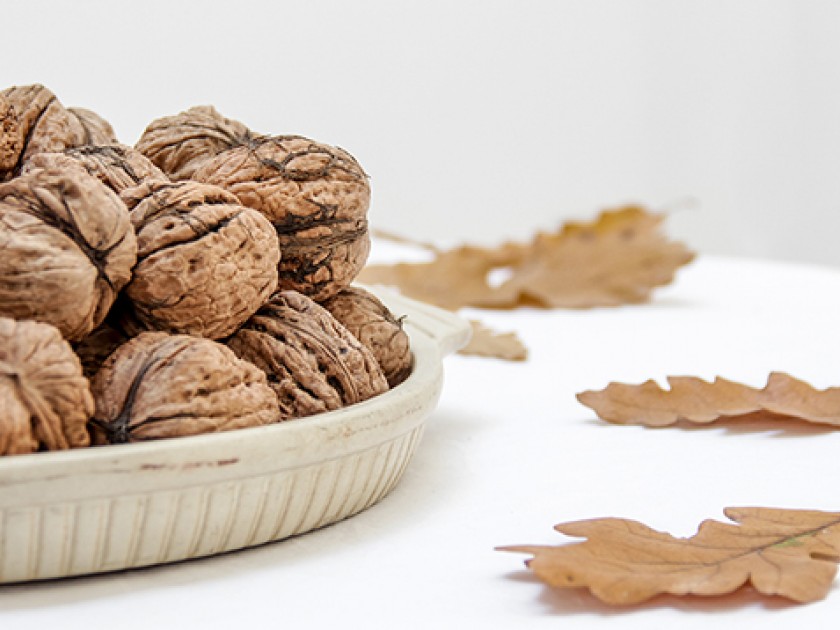 Joan Nathan has a new cook­book out this week! With the release of King Solomon's Table: A Culi­nary Explo­ration of Jew­ish Cook­ing around the World, Joan is guest blog­ging for the Jew­ish Book Coun­cil all week as part of the Vis­it­ing Scribe series here on The ProsenPeo­ple.
One of the ideas that I have wres­tled with through­out my career is the ques­tion of what is ​"Jew­ish food". Work­ing on my lat­est cook­book, King Solomon's Table: A Culi­nary Explo­ration of Jew­ish Cook­ing around the World, has at last answered that ques­tion for me.
The spe­cial qual­i­ty of Jew­ish food first came to me years ago through the cook­book author Lynn Ros­set­to Kasper, for­mer host of the radio pro­gram The Splen­did Table. Lynn, when talk­ing about the food of Emilio Romagna, said that this Ital­ian region­al cui­sine was root­ed in the land. I imme­di­ate­ly thought that the same could not be said for Jew­ish food: our cui­sine may indeed be metaphor­i­cal­ly root­ed in the land of Israel but, in truth, being tied to the soil of just one land is not a com­po­nent of Jew­ish cooking.
To my mind, Jew­ish food is tied more strong­ly to its dietary laws and many food-cen­tered hol­i­days. Even if Jews are not very obser­vant, they know in the back of their minds that kosher laws exist, and that many of these rules go back Bib­li­cal times, influ­enc­ing how we all eat. Indeed, these dietary laws have been a com­fort to so many of us through our lives and are a very impor­tant com­po­nent of what is called Jew­ish food.
The sec­ond com­po­nent that defines Jew­ish cui­sine is that since peo­ple first learned about sea­far­ing ves­sels from the Phoeni­cians, as it says in the Bible, Jews have gone out in search of food, jew­els, and pre­cious stones for Solomon's Table. Jews have always looked for new fla­vors and have eager­ly incor­po­rat­ed these nov­el foods (pro­vid­ed they were kosher) into their diet.
The third com­po­nent is the fact that, as a peo­ple, Jews have been dis­placed again and again through­out his­to­ry. In mov­ing to Spain, then being kicked out of Spain, and then mov­ing from there through­out the Mediter­ranean and to the Amer­i­c­as, the Jew­ish peo­ple have had to adjust to new ingre­di­ents and new homes.
The haroset we place on our tables at Passover reflect this Dias­poric lega­cy. In some areas we use romaine let­tuce for our bit­ter herbs while in oth­ers we use horse­rad­ish, both red and white. In places like Maine we have haroset made out of blue­ber­ries; in Iran, this sym­bol­ic spread is infused with the fla­vors of almonds and car­damom. Jew­ish foods vary geo­graph­i­cal­ly with dif­fer­ent cus­toms, dif­fer­ent veg­eta­bles, dif­fer­ent main dish­es, and dif­fer­ent desserts, but always retain their con­nec­tion with the sym­bol­ic and the sacred in Jew­ish traditions.
In a sense all three of these com­po­nents are inter­re­lat­ed. I remem­ber going to the Russ­ian Embassy in Wash­ing­ton, D.C. for din­ner one night and there we feast­ed on a zakus­ka made of smoked salmon, bli­n­is, chopped eggs, and scal­lions, a dish famil­iar to my hus­band with his East­ern Euro­pean back­ground. At this din­ner, how­ev­er, the Russ­ian Ambas­sador served this recipe along­side beef stroganoff and oth­er dish­es that com­bined meat and dairy.
Treif con­sid­er­a­tions aside, my hus­band couldn't help but remark on how very Jew­ish all the food was. He didn't believe me when I told him that what he con­sid­ered to be ​"Jew­ish food" was real­ly just Russ­ian food made with either dairy or meat (but not both). A wan­der­ing cui­sine since it began in the Mid­dle East, Jew­ish food was sim­ply what Jews made their own in what­ev­er part of the world in which they found them­selves. The very Jew­ish-tast­ing Russ­ian zakus­ka was no exception.
Joan Nathan is a fre­quent con­trib­u­tor to The New York Times and oth­er pub­li­ca­tions. She is the author of eleven books, includ­ing Jew­ish Cook­ing in Amer­i­ca and The New Amer­i­can Cook­ing, both of which won both James Beard Awards and IACP Awards.