Ali­cia Oltus­ki is the author of
Pre­cious Objects: A Sto­ry of Dia­monds, Fam­i­ly, and a Way of Life
.
Ali­cia toured through Jew­ish Book Coun­cil's Jew­ish Book Net­work this past year and will be blog­ging here all week for

JBC

and MyJew­ish­Learn­ing.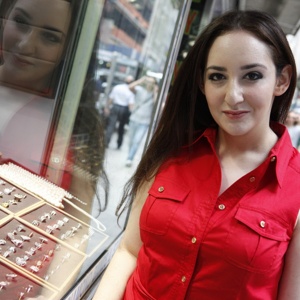 Some­times, stand­ing in line for air­port secu­ri­ty toward the begin­ning of my book tour, I felt I knew what my ances­tors expe­ri­enced on Ellis Island — you know, minus the fumi­ga­tions and crush­ing anx­i­eties about how they would ever make it in this coun­try. (I use the term ​'ances­tors' loose­ly here.) Except­ing a sup­ply of what I'd like to think of as shrewd­ly dis­persed con­tact lens­es, I had not packed well.
I've always thought of my pro­fes­sion as noth­ing like my father's. Through­out much of mychild­hood, he earned his liv­ing as a trav­el­ing dia­mond mer­chant. Last sum­mer, though, as I began tour­ing for my first book, Pre­cious Objects, my job began to resem­ble his just a lit­tle bit more.
When I was young, my fam­i­ly ascribed a sense of solem­ni­ty to trav­el. Bag­gage claim was some­thing grave and sober­ing. The women would step aside and wait for my father and grand­fa­ther to push through the throngs and tug at our suit­cas­es, some­times fal­ter­ing and being pulled along the con­vey­er belt for one ter­ri­fy­ing moment before they got the bet­ter of grav­i­ty and lift­ed the mam­moth thing from the belt. I watched as they threw their weight into it, like a sport.
Our job (my mother's, my grandmother's, my sis­ters', and mine) was to try and spot our bags, which we did by look­ing for black, non­de­script suit­cas­es with rib­bons my grand­moth­er had tied around the han­dle, as had every oth­er trav­el­er. Our oth­er job (my mother's, my sis­ters' and mine) was to pre­vent my four-foot ten-inch grand­moth­er from cross­ing the line from wait­ers to lug­gers to try and help with the heavy lifting.
I myself am actu­al­ly a relaxed trav­el­er. Hav­ing spent a few years com­mut­ing for work and school, I'm used it. And now, after more than thir­ty events in about twen­ty cities, I'm even more used it. I'm so used to it that when I had a late-night lay­over in a time zone dif­fer­ent from both my depar­ture and arrival cities, which coin­cid­ed with a run of three dif­fer­ent events in three dif­fer­ent states, I didn't tell every­one about it. Only the lady at the board­ing counter. She clear­ly cared a lot.
Since that first tour stop, I've also man­aged to pick up on a host of trav­el­ing tricks — for exam­ple, that the C‑line on South­west is some­thing like the low­est lev­el of the Titan­ic. (This is actu­al­ly not true; the C‑line has land­ed me in a seat between two of the kind­est peo­ple I've ever met, and who were more than gen­er­ous vis-à-vis armrests.)
I learned that when you trav­el a lot your hair smells like a dif­fer­ent flower in every city, owing to the array of hotel bath products.
I learned that after a full week of con­sec­u­tive trav­el, I do not look like my author photo.
I learned that no one does not have an iPad.
But most impor­tant­ly, I learned that every­where, in every city, there are readers.
Pas­sion­ate, enthu­si­as­tic, razor-sharp read­ers. I feel huge­ly grate­ful to the Jew­ish Book Coun­cil and to every­one who's been hav­ing me over at their com­mu­ni­ty cen­ters, book stores, libraries, and clubs for allow­ing me to meet an incred­i­ble and eclec­tic sam­ple of bib­lio­philes. This is amaz­ing­ly heart­en­ing for a writer, and not just because it implies the pos­si­bil­i­ty of an audi­ence, but much more so, because writ­ers love read­ers. Writ­ers are readers.
My favorite thing to think about every time I get on a plane is that all over the coun­try, there are mil­lions of peo­ple who read in between job shifts, who get togeth­er to talk about books; peo­ple who can't help them­selves, peo­ple don't want to help them­selves. And I love them for it.
Ali­cia Oltus­ki​'s Pre­cious Objects: A Sto­ry of Dia­monds, Fam­i­ly, and a Way of Life
is now available.
Ali­cia Oltuski's
Pre­cious Objects
is a Barnes
&
Noble Dis­cov­er Great NewWrit­ers selec­tion. Her work has appeared or is forth­com­ing on
NPR
'sBerlin Sto­ries, in the
Finan­cial Times, W, The Faster Times
, and others.She holds an
MFA
from Colum­bia Uni­ver­si­ty, where she received a David­Berg Foun­da­tion Fel­low­ship, and a
BA
and
MA
from Uni­ver­si­ty ofPenn­syl­va­nia. She taught writ­ing at Uni­ver­si­ty of the Arts, and was aread­er at
The Paris Review.