Ear­li­er this week, Daniel Tor­day wrote about Jew­ish novel­la-writ­ers and dis­cussed the com­pli­cat­ed ​"Jew­ish Writer Ques­tion." Daniel's novel­la The Sen­su­al­ist won the 2012 Nation­al Jew­ish Book Award in Out­stand­ing Debut Fic­tion. He will be blog­ging here all week for Jew­ish Book Coun­cil and MyJew­ish­Learn­ing.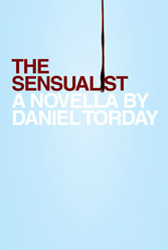 After five years as a mag­a­zine edi­tor in New York City, I took the leap and the risk to exit the race and take an MFA. I was in my 20's and didn't know much more than that I loved books and want­ed to write one. My first work­shop there was taught by an African Amer­i­can writer whose nov­els I love, and whose advice — every word of it — has stuck with me every day since.
In one of my first days there, I turned in a short sto­ry about a Jew­ish kid who goes to vis­it his grand­par­ents in Mon­tre­al, and after a long night of drink­ing ends up skin­ny-dip­ping in a hot tub only to see, dra­mat­i­cal­ly and in great detail, that his grand­fa­ther isn't circumcised.
This fact came under appro­pri­ate scruti­ny by my fel­low work­shop mem­bers. Maybe the writ­ing wasn't so hot (it wasn't). Maybe no one wants to read a long descrip­tion of an octogenarian's fore­skin (they sure don't!). So I demurred. The story's been in a draw­er since.
But in pri­vate con­fer­ence after work­shop, the nov­el­ist sat me down. He could see how deject­ed I was.
"Look look look — so maybe you didn't pull of that scene," he said. ​"But you've got mate­r­i­al here."
I looked at him. I said it seemed like peo­ple weren't respond­ing. Maybe I should find some­thing else to write about — I'd been a mag­a­zine edi­tor the past cou­ple years, played man­dolin in a suc­cess­ful blue­grass band. Who want­ed to hear about these peo­ple in my family?
"But you're part of a tra­di­tion, man," the nov­el­ist said. ​"The great Jew­ish writ­ers! Babel, Singer, Mala­mud, Bel­low, Brod­key, Ozick, Roth! Part of the tra­di­tion. Keep after it."
He was right. He didn't know I'd spent the past decade read­ing the Rus­sians, read­ing Melville, Hawthorne, Austen, Joyce, Woolf, Pound, Faulkn­er, James, Hem­ing­way, Fitzger­ald, and that I'd nev­er read a word of Babel, Singer, Mala­mud, Bel­low, Brod­key, Ozick, Roth.
The Tra­di­tion. Keep after it. First I'd have some read­ing to do.
So I did.
Daniel Tor­day​'s debut nov­el, The Last Flight of Poxl West, will be pub­lished by St. Martin's Press in 2015.
Daniel Tor­day is the author of the nov­el The Last Flight of Poxl West, a New York Times Book Review Edi­tor's Choice, and an Inter­na­tion­al Dublin Lit­er­ary Award nom­i­nee. Tor­day's work has appeared in The New York Times, NPR, The Paris Review Dai­ly and Tin House, and has been hon­ored in both the Best Amer­i­can Short Sto­ries and Best Amer­i­can Essays series. He was longlist­ed for the 2020 Simpson/​Joyce Car­ol Oates Lit­er­ary Prize. A two-time Nation­al Jew­ish Book Awardee and win­ner the 2017 Sami Rohr Choice Prize, Tor­day is Direc­tor of Cre­ative Writ­ing at Bryn Mawr Col­lege. His sec­ond nov­el, Boomer1, is out now from St. Mar­t­in's Press.