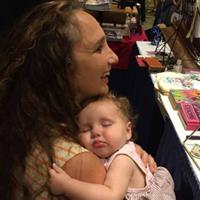 Cel­e­brate Jew­ish Book Month with #

30

days

30

authors!

JBC

invit­ed an author to share thoughts on #Jew­Lit for each day of Jew­ish Book Month. Watch, read, enjoy, and dis­cov­er!
Today, Lau­ren R. Wein­stein, graph­ic artist and author of Girl Sto­ries, writes an appre­ci­a­tion of Three Big Hogs and Daniel Manus Pinkwater.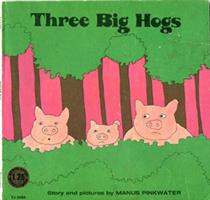 I was total­ly obsessed with Daniel Manus Pinkwater's Three Big Hogs when I was a kid. First of all, the draw­ings weren't metic­u­lous­ly ren­dered like Mau­rice Sendak's Out­side Over There, they were col­ored with Mag­ic Mark­er that left a faint trail of col­or around the shapes which seemed to give them kind of an aura. I could almost see being able to do myself. Until then I didn't real­ize that kind of illus­tra­tion was allowed! At about the same time I dis­cov­ered Pinkwa­ter, an art teacher had told me to ​"draw a face the way the inside of your face feels…" Pinkwater's draw­ings looked like that. Three Big Hogs spoke direct­ly to me, an awk­ward, slight­ly plump Jew­ish girl liv­ing in the semi-sub­urbs with a buzz cut and a tail down the back of my neck. The book is out of print now, and my old copy has dis­in­te­grat­ed, so I just reordered it and copied some of the draw­ings. Study­ing them has rein­forced what a mas­ter Mr. Pinkwa­ter is and how pro­found­ly his sto­ries have affect­ed my brain.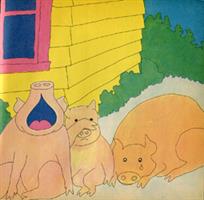 Three Big Hogs is about three pink pigs whose farmer leaves and nev­er comes back. This is unthink­ably sad. I remem­ber look­ing at the upside down heart of the cry­ing pig's mouth and con­nect­ing with the intense fear of being orphaned.
They wan­der on their own until they get to a stranger's house where they have an impromp­tu dance par­ty, eat all his pota­toes, and go to sleep. When the guy whose house it is comes and sees the mess, he screams, ​"Great Gravy!" and kicks them out.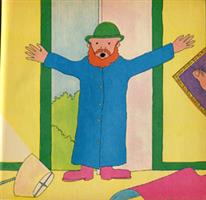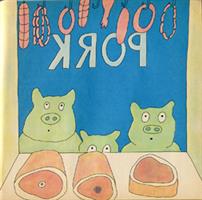 This is one of the three fun­ni­est draw­ings of all time. I don't know how many times I have scru­ti­nized the way his head fills up his hat. Then the pigs wan­der into the city and freak out. There is an intense Jew­ish­ness to this illus­tra­tion that may or may not have been intentional.
Then they go into the for­est where they meet a reg­u­lar toothy for­est hog who calls them babies, and says, ​"Nobody takes care of me… I eat acorns and apples, and I sleep wher­ev­er I jol­ly well please." Then he walks away.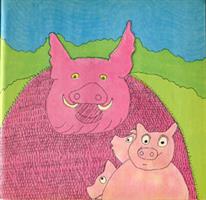 They decide to become hairy toothy for­est hogs too.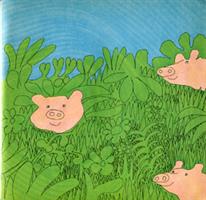 I par­tic­u­lar­ly remem­ber the draw­ings of the pigs loung­ing in the for­est, becom­ing hairi­er and tooth­ier, because they are drawn with such unbri­dled joy. And when a weird kid who very dear­ly wants to be an artist and draw things that look like the way things feel sees a draw­ing like that she wants to be an artist for­ev­er. It's that simple.Like some of my oth­er favorite Pinkwa­ter titles, The Big Orange Splot and Lizard Music, Pinkwa­ter opens the door for chil­dren to see this mag­ic crazy adult world, and to not be afraid of it. Lat­er I would see echoes of Pinkwater's jubi­lant line and bold col­or in Matisse's cut-outs, Josef Frank's tex­tiles and Rousseau's paint­ings. I would hear his voice in Dr. Demento's weird radio show, and in SCTV. But I keep com­ing back to Three Big Hogs because it got me through the fear of lone­li­ness and non­con­for­mi­ty that comes with being an artist, and instead nudges me to embrace the hairy, toothy life in the forest.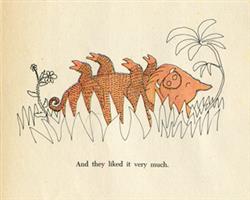 Lau­ren Weinstein's high­ly acclaimed com­ic strip, Normel Per­son, can be found week­ly in the Vil­lage Voice. Some­times her work can be spot­ted in the
New York­er
. She has pub­lished three books:
Girl Sto­ries
,
Inside Viney­land
and
God­dess of War
. Cur­rent­ly she is work­ing on a teenage mem­oir ten­ta­tive­ly enti­tled,
Calami­ty
, to be pub­lished by Hen­ry Holt and a com­ic about moth­er­hood for the pub­lish­er, Youth in Decline.