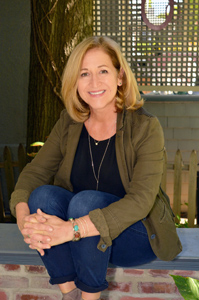 Cel­e­brate Jew­ish Book Month with #

30

days

30

authors!

JBC

invit­ed an author to share thoughts on #Jew­Lit for each day of Jew­ish Book Month. Watch, read, enjoy, and dis­cov­er!
When I think of Jew­ish lit­er­a­ture, I think of voic­es from around the world call­ing and speak­ing to one anoth­er through the ages. In truth, this is how I think of all lit­er­a­ture: a con­tin­u­ous con­ver­sa­tion between the liv­ing and the dead, the imag­i­nary and the non-imag­i­nary, between authors and read­ers and writ­ers and the char­ac­ters who have a lit­tle bit of each of us in their souls (the same way that we have bits of the stars in our very bones and flesh).
The Tal­mud tells us that to save one per­son is to save the world. It is log­i­cal, then, that to write one sto­ry of sal­va­tion is to con­tin­ue the con­ver­sa­tion of courage and hope through time.
Two of my favorite Jew­ish nov­els — Markus Zusak's pow­er­ful Holo­caust tale, The Book Thief, and E.R. Frank's heart-rend­ing sto­ry of child sex traf­fick­ing, Dime—do just that.
Death is the infa­mous nar­ra­tor of Zusak's The Book Thief. Four­teen-year-old Dime is the nar­ra­tor of E.R. Frank's epony­mous 2015 nov­el. What does a book nar­rat­ed by Death, con­cern­ing a Ger­man fos­ter child and the Jew­ish man she res­cues and hides dur­ing WWII, have to do with a four­teen-year-old African Amer­i­can fos­ter child nick-named Dime and a let­ter that is meant to save her friend's new­born baby?
Every­thing. And this: the first inspired the sec­ond; the sec­ond car­ries and echoes the strength and reach of the first. This is the pow­er of stories.
Zusak's sto­ry takes us into the base­ment of a home in Ger­many, into the heart and mind of a girl who sees what is wrong with the Nazis and does her part to save one starv­ing, per­se­cut­ed man. Frank's nov­el, Dime, is focused on a traf­ficked teenag­er and her efforts to write a note in a ​"voice" – like the voice of Death in The Book Thief – to save a new­born child, and to save herself.
Entrapped in a life of pros­ti­tu­tion and deprav­i­ty, Dime finds strength in sto­ries and books as var­ied and sweep­ing as James and the Giant Peach, To Kill a Mock­ing­bird, Good Night Moon and, of course, The Book Thief.
In The Book Thief, our young hero­ine Liesel Meminger, learns to read and then shares her new love of books with her neigh­bors (dur­ing bomb raids) and with the Jew­ish man she's hid­ing in the base­ment. Togeth­er, she and her hid­den refugee Max write a book, and in this way merge their imag­i­na­tions, their minds and their hearts.
In both nov­els, it is the telling and shar­ing of sto­ries that save the pro­tag­o­nist. And this, to me, is an essen­tial nature of the expe­ri­ence of Jew­ish peo­ple, and Jew­ish lit­er­a­ture. Jew­ish peo­ple (my great-grand­moth­er among them) have been forced, through hard­ship, pover­ty, pogroms, dis­crim­i­na­tion and the Shoah, to move and relo­cate around the globe in order to sur­vive and thrive.
To keep our sto­ries linked — to keep our lives linked — we need literature.
It's impos­si­ble for me to read The Book Thief or Dime with­out think­ing about the books that have meant so much to me — these titles and oth­ers, from Are You There God? It's Me, Mar­garet, to The Red Tent, The His­to­ry of Love, Every­thing is Illu­mi­nat­ed, Catch­er in the Rye, Ellen Fos­ter and Jane Eyre—sto­ries about sur­vival that each, in its own way, is also about the impor­tance of telling, writ­ing and shar­ing sto­ries in order to pre­serve ones own san­i­ty and to keep hope and human­i­ty alive.
Lau­rie Lico Albanese has pub­lished fic­tion, poet­ry, jour­nal­ism, trav­el writ­ing, cre­ative non­fic­tion, and mem­oir. Her books include Blue Sub­ur­bia: Almost a Mem­oir, Lynelle by the Sea, and The Mir­a­cles of Pra­to, co-writ­ten with art his­to­ri­an Lau­ra Morowitz. Lau­rie is mar­ried to a pub­lish­ing exec­u­tive and is the moth­er of two chil­dren. To learn more vis­it her at Lau​rieLi​coAl​banese​.com.