Rab­bi Sara Bran­des is the author of Mag­i­cal World: Sto­ries, Reflec­tions, Poems. Invit­ed to weigh in on recent devel­op­ments at the Kotel, the West­ern Wall of Jerusalem's Old City, Sara is blog­ging here all week as part of the Vis­it­ing Scribe series on The ProsenPeo­ple.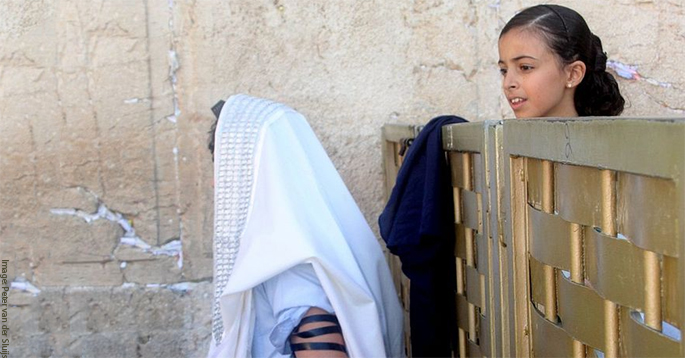 I was born in 1978, so as a Jew­ish Amer­i­can child, I was expect­ed to know about three walls: The Great Wall of Chi­na, the Berlin Wall, and the West­ern Wall in Jerusalem.
With por­tions built as ear­ly as the sev­enth cen­tu­ry BCE, the Great Wall of Chi­na is a good, old fash­ioned wall. Mark­ing the his­toric north­ern bor­der of Chi­na, it was built in stages, over the course of hun­dreds of years, in order to pro­tect the Chi­nese from north­ern raiders. It is a UNESCO World Her­itage site, a pride of the Chi­nese people.
The Berlin wall, on the oth­er hand, was a bad wall — a slice of the Cold War cap­tured in stone, a sym­bol of the out­er lim­its of the reach­es of democ­ra­cy, or so said the Amer­i­can nar­ra­tive. One must admit, though, that this wall served its pur­pose, staving off war, allow­ing ene­mies to rest on either side of it. We rejoiced in 1989 when the Berlin wall came down, allow­ing the Ger­mans to express in con­crete their renewed will for unity.
The West­ern Wall in Jerusalem seems to be anoth­er kind of wall entire­ly. Old like the Great Wall, the West­ern Wall is a mon­u­ment to destruc­tion and to the cher­ished past of the Jew­ish peo­ple. The West­ern Wall, or the Kotel, is a mas­ter­piece of ancient con­struc­tion, its old­est stone stand­ing near­ly as tall as I do. First destroyed by the Baby­lo­ni­ans, rebuilt and destroyed again by the Romans, one exter­nal wall of the great struc­ture remains: weighty and strong, a sym­bol of Jew­ish resilience and unwill­ing­ness to forget.
In its time, the West­ern Wall was noth­ing spe­cial at all, just a retain­ing wall demar­cat­ing the out­er edge of the ele­vat­ed Tem­ple plat­form. But, as a sur­vivor, it became some­thing else entire­ly, a site of Jew­ish pil­grim­age through­out the ages; a belea­guered wall for a belea­guered people.
No one bet­ter cap­tures the pow­er and sym­bol­ism of the Kotel than Yitzhak Rabin, the fifth prime min­is­ter of Israel. Reflect­ing on his expe­ri­ence there when his unit of Israeli Para­troop­ers retook the Wall from the Jor­da­ni­ans, who had con­trolled it since 1948, Rabin recalled in an address to Knes­set in May 1995, ​"It was as if Prov­i­dence had direct­ed the whole thing: the para­troop­ers weep­ing — loud­ly and in pain — over their com­rades who had fall­en along the way, the words of the Kad­dish prayer heard by the West­ern Wal­l's stones after nine­teen years of silence, tears of mourn­ing, shouts of joy, and the singing of ​"Hatik­vah."
Walls were added to the Wall from the moment the Kotel returned to Jew­ish hands in 1967. The war was fought just weeks before the sacred hol­i­day of Shavuot, and the lead­ers at the time were aware that Jews would flock to the site to cel­e­brate the ancient pil­grim­age fes­ti­val. In order to make it a fit­ting place for Ortho­dox prayer, a mechitza, a par­ti­tion sep­a­rat­ing men and women, was erect­ed. This new wall tran­sect­ed the old one, as a sym­bol for the rec­og­nized Judaism in the Holy Land — men empow­ered on one side, and women, whis­per­ing like their matri­arch Han­nah on the oth­er. Sec­u­lar and lib­er­al Jews were wel­come to vis­it, as long as they were will­ing to don the cos­tume of the Ortho­dox and divide them­selves accordingly.
In late Jan­u­ary of this year, the Israeli Gov­ern­ment under­took the his­toric deci­sion to add a sec­ond wall to this ancient Jew­ish space, cre­at­ing a third domain for those who do not wish to sep­a­rate by gen­der, who do not find them­selves in the cat­e­gories con­struct­ed by Ortho­dox Judaism.
If our ancient wall is like the Great Wall of Chi­na, what is the sta­tus of these new, younger walls?
In recent weeks, the cre­ation of the newest wall has been her­ald­ed by the lead­ers of the lib­er­al Jew­ish move­ments as a great suc­cess: ​"One Wall for One Peo­ple," they pro­claim. If so, then we are a peo­ple divid­ed. I pre­fer to regard our new walls like the Berlin Wall, serv­ing a pur­pose for a time, but not a reflec­tion of the ide­al. An ancient wall in the heart of a besieged city sur­round­ed and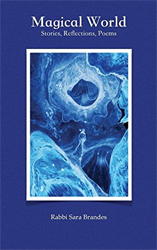 tran­sect­ed by walls of sep­a­ra­tion is not the metaphor I choose for my homeland.
Instead, as a new immi­grant to Israel, one here to pur­sue jus­tice and build peace, I'd rather look just a few blocks away, to an inter­lock­ing grid of tiny par­ti­tions at the open-air mar­ket, Shuk Machne Yehu­da, for inspi­ra­tion. There, humans born in count­less coun­tries, speak Hebrew, Ara­bic, Russ­ian, Eng­lish, Span­ish, and more, offer tastes of goods grown from this sacred earth, to shop­pers head­ing home to feed fam­i­lies near­by, a cel­e­bra­tion of diver­si­ty of every kind. And, as for our ancient wall, I hold out hope that its par­ti­tions will come down some day, so that a Hatik­va res­o­nant with the one sung by the para­troop­ers in 1967, a song of hope and uni­ty, can be heard at the Kotel once more.
Rab­bi Sara Bran­des is the author of Mag­i­cal World: Sto­ries, Reflec­tions, Poems, a spir­i­tu­al mem­oir inspired by her life in the north of Israel. She blogs about the com­plex­i­ty of life there at www​.heris​rael​.com.
Relat­ed Content:
Rab­bi Sara Bran­des was born in Los Ange­les and received her rab­bini­cal ordi­na­tion from the Jew­ish The­o­log­i­cal Sem­i­nary of Amer­i­ca. She worked as an edu­ca­tor, yoga instruc­tor, hos­pi­tal chap­lain, and direc­tor of the Neshama Cen­ter and Mik­vah before mov­ing with her fam­i­ly to Kib­butz Han­na­ton in Israel.
Kol Isha — A Voice for Every Woman