Post­ed by Libi Adler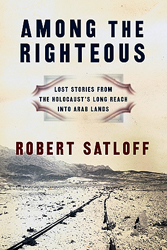 In 2007 Robert Sat­loff pub­lished his book Among the Right­eous: Lost Sto­ries from the Holocaust's Long Reach into Arab Lands. In it he con­sid­ers the role Arabs played in the Holo­caust. North Africa is not often includ­ed in dis­cus­sions about World War II. In fact, Arabs in coun­tries like Tunisia and Moroc­co assist­ed the Nazis' roundup of North African Jews. There was active col­lab­o­ra­tion with anti-Semit­ic poli­cies — Arabs helped run Biz­erte, one of 60 labor camps for Jews in Moroc­co and Alge­ria estab­lished by the Vichy gov­ern­ment. In an inter­view, Sat­loff said that ​"To a greater extent than I ever knew, the Jews of Arab lands suf­fered many of the same ele­ments of Holo­caust per­se­cu­tion that the Jews of Europe suffered."
Thus, Satloff's mis­sion was to find out if there was ONE Arab who helped at least ONE Jew at the time of the Holo­caust. He found that in fact there were. This book describes some of the Arab heroes who helped shield and pro­tect Jews from being exter­mi­nat­ed by the Nazis. These noble sto­ries are often overlooked.
Soon, a PBS spe­cial on this top­ic will be explain­ing what hap­pened to the Jew­ish com­mu­ni­ties in Arab lands dur­ing the Holo­caust, which is unfor­tu­nate­ly large­ly for­got­ten. Sat­loff explains that even though many Arabs deny the Holo­caust hap­pened, or if they admit that it did, claim that the Jews deserved it, there were some right­eous among the peo­ple that chose to save Jews in their time of need. Sat­loff traces down sur­vivors and fam­i­ly mem­bers, using tes­ti­mo­ny and infor­ma­tion vol­un­teered to him to find those who risked their lives to save oth­ers. His hope is that: ​"If Arab ​'Schindlers' ever exist­ed, it might change how Arabs view the Holo­caust and how Arabs and Jews view each oth­er." Whether or not this will change opin­ions it is a piece of his­to­ry that needs to be brought to light.
Don't miss this spe­cial air­ing of Among the Right­eous on PBS on Mon­day April 12, 2010 at 10 PM ET. Check local listings.
For a Wash­ing­ton Post review of the book by Deb­o­rah Lip­stadt click here.