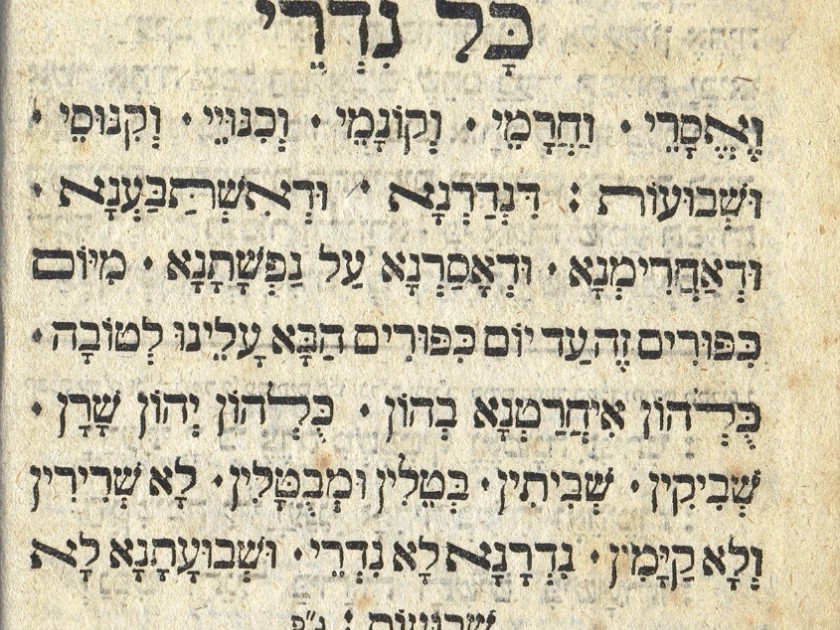 Lori Got­tlieb's book Maybe You Should Talk to Some­one is the author's per­son­al sto­ry of a ther­a­pist receiv­ing ther­a­py, and will have you laugh­ing and cry­ing along with Lori and her patients — as they each dive into their trau­mas and strive to under­stand them­selves. As we approach Yom Kip­pur, we reflect on our actions and see how we can make amends and move for­ward. The fol­low­ing excerpt deals with self-for­give­ness and repen­tance. Learn more about the book here.
— the oppor­tu­ni­ties they have; the finan­cial or emo­tion­al sta­bil­i­ty that the par­ents pro­vide; the fact that their chil­dren have their whole lives ahead of them, a stretch of time that's now in the par­ents' pasts. They strive to give their chil­dren all the things they them­selves didn't have, but they some­times end up, with­out even real­iz­ing it, resent­ing the kids for their good fortune.
Rita envied her kids their sib­lings, their com­fort­able child­hood home with the pool, their oppor­tu­ni­ties to go to muse­ums and trav­el. She envied their young, ener­getic par­ents. And it was, in part, her uncon­scious envy — her fury at the unfair­ness of it all — that kept her from allow­ing them to have the hap­py child­hood she didn't, that kept her from sav­ing them in the way she so bad­ly want­ed to be saved when she was young.
I'd brought up Rita in my con­sul­ta­tion group. Despite her gloomy, Eey­ore-like exte­ri­or, I told my col­leagues, she was warm and inter­est­ing, and because I was free of the his­to­ry her kids shared with her, I could enjoy Rita the way I'd enjoy a friend of a par­ent. I liked her quite a bit. But could her chil­dren real­ly be expect­ed to for­give her?
Did I for­give her? the group asked. I thought of my son and felt sick at the idea of any­one hit­ting him, of my ever allow­ing that to happen.
I wasn't sure.
For­give­ness is a tricky thing, in the way that apolo­gies can be. Are you apol­o­giz­ing because it makes you feel bet­ter or because it will make the oth­er per­son feel bet­ter? Are you sor­ry for what you've done or are you sim­ply try­ing to pla­cate the oth­er per­son who believes you should be sor­ry for the thing you feel com­plete­ly jus­ti­fied in hav­ing done? Who is the apol­o­gy for?
There's a term we use in ther­a­py: forced for­give­ness. Some­times peo­ple feel that in order to get past a trau­ma, they need to for­give who­ev­er caused the dam­age — the par­ent who sex­u­al­ly assault­ed them, the bur­glar who robbed their house, the gang mem­ber who killed their son. They're told by well-mean­ing peo­ple that until they can for­give, they'll hold on to the anger. Grant­ed, for some, for­give­ness can serve as a pow­er­ful release — you for­give the per­son who wronged you, with­out con­don­ing his actions, and it allows you to move on. But too often peo­ple feel pres­sured to for­give and then end up believ­ing that something's wrong with them if they can't quite get there — that they aren't enlight­ened enough or strong enough or com­pas­sion­ate enough.
So what I say is this: You can have com­pas­sion with­out for­giv­ing. There are many ways to move on, and pre­tend­ing to feel a cer­tain way isn't one of them.
I once had a client named Dave who had a prob­lem­at­ic rela­tion­ship with his father. His father was, by his account, a bul­ly — demean­ing, crit­i­cal, and full of him­self. He had alien­at­ed both of his sons from a young age and had a dis­tant and con­tentious rela­tion­ship with them as adults. When his father was dying, Dave was fifty years old, mar­ried with chil­dren of his own, and he strug­gled with what to say at his father's funer­al. What would ring true? And then he told me that as his father lay on his deathbed, he had reached out for his son's hand and said, out of the blue, ​"I wish I'd treat­ed you bet­ter. I was a prick."
Dave was livid — did his father expect abso­lu­tion now, at the eleventh hour? The time to make repairs, he felt, was long before you left this earth, not on the eve of your depar­ture; you don't auto­mat­i­cal­ly get the gift of clo­sure or for­give­ness from a deathbed confession.
He couldn't help him­self. ​"I don't for­give you," Dave told his dad. He hat­ed him­self for say­ing this, regret­ted it the sec­ond it came out. But after all the pain his father had put him through and all the work he'd done to cre­ate a good life for him­self and his fam­i­ly, he'd be damned if he was going to soothe his father now with a sug­ary lie. He'd spent his child­hood lying about how he felt. Still, Dave won­dered, what kind of per­son says this to his dying father?
Dave had start­ed to apol­o­gize, but his father inter­rupt­ed him. ​"I under­stand," he said. ​"If I were you, I wouldn't for­give me either."
And then the strangest thing hap­pened, Dave told me. Sit­ting there hold­ing his father's hand, Dave felt some­thing shift. He felt, for the first time in his life, gen­uine com­pas­sion. Not for­give­ness, but com­pas­sion. Com­pas­sion for the sad dying man who must have had his own pain. And it was that com­pas­sion that allowed Dave to speak authen­ti­cal­ly at his father's funeral.
It was com­pas­sion, too, that helped me help Rita. I didn't have to for­give her for what she'd done with her chil­dren. As with Dave's father, that was up to Rita to reck­on with. We may want oth­ers' for­give­ness, but that comes from a place of self-grat­i­fi­ca­tion; we are ask­ing for­give­ness of oth­ers to avoid the hard­er work of for­giv­ing ourselves.
I thought of some­thing Wen­dell had said to me after I'd list­ed my own regret­table mis­steps that I took great plea­sure in pun­ish­ing myself for: ​"How long do you think the sen­tence for this crime should be? A year? Five? Ten?" Many of us tor­ture our­selves over our mis­takes for decades, even after we've gen­uine­ly attempt­ed to make amends. How rea­son­able is that sentence?
It's true that in Rita's case, her children's lives were sig­nif­i­cant­ly affect­ed by their par­ents' fail­ures. She and her chil­dren would always feel the pain of their shared pasts, but shouldn't there be some redemp­tion? Did Rita deserve to be per­se­cut­ed day after day, year after year? I want­ed to be real­is­tic about the con­sid­er­able scars they all bore, but I didn't want to be Rita's warden.
I can't help but think about her evolv­ing rela­tion­ship with the hellofam­i­ly girls next door; what if she had been able to offer her four chil­dren what she offers them?
I put the ques­tion to Rita: ​"What should your sen­tence be, as you approach sev­en­ty, for the crimes you com­mit­ted in your twen­ties and thir­ties? They were sig­nif­i­cant crimes, yes. But you've felt remorse for decades, and you've tried to make repairs. Shouldn't you have been released by now, or at least out on parole? What do you think is a fair sen­tence for your crimes?"
Rita con­sid­ers this for a moment. ​"Life in prison," she says.
"Well," I say. ​"That's what you got. But I'm not sure that a jury that includ­ed Myron or the hel­lo-fam­i­ly would agree."
"But the peo­ple I care most about, my kids — they'll nev­er for­give me."
I nod. ​"We don't know what they're going to do. But it doesn't help them in any way for you to be mis­er­able. Your mis­ery doesn't change their sit­u­a­tion. You can't lessen their mis­ery by car­ry­ing it for them inside you. It doesn't work that way. There are ways for you to be a bet­ter moth­er to them at this point in all of your lives. Sen­tenc­ing your­self to life in prison isn't one of them." I notice that I have Rita's atten­tion. ​"There's only one per­son in this entire world who ben­e­fits from you not being able to enjoy any­thing good in your life."
Rita's fore­head becomes a series of lines. ​"Who?"
"You," I say.
I point out to her that pain can be pro­tec­tive; stay­ing in a depressed place can be a form of avoid­ance. Safe inside her shell of pain, she doesn't have to face any­thing, nor does she have to emerge into the world, where she might get hurt again. Her inner crit­ic serves her: I don't have to take any action because I'm worth­less. And there's anoth­er ben­e­fit to her mis­ery: she may feel that she stays alive in her kids' minds if they rel­ish her suf­fer­ing. At least some­body has her in mind, even in a neg­a­tive way — and in this sense, she's not com­plete­ly forgotten.
She looks up from her tis­sue, as if con­sid­er­ing the pain that she's car­ried for decades in an entire­ly new way. For maybe the first time, Rita seems to see the cri­sis she has been in the midst of — the bat­tle between what Erik Erik­son called integri­ty and despair.
Which, I won­der, will she choose?
Lori Got­tlieb is a psy­chother­a­pist and New York Times best­selling author who writes The Atlantic​'s week­ly ​"Dear Ther­a­pist" advice col­umn. A con­tribut­ing edi­tor for The Atlantic, she also writes for The New York Times, and appears as a fre­quent expert on rela­tion­ships, par­ent­ing, and hot-but­ton men­tal health top­ics in media such as The Today Show, Good Morn­ing Amer­i­ca, CBS This Morn­ing, CNN, and NPR. Her most recent book Maybe You Should Talk to Some­one is in devel­op­ment for a tele­vi­sion series at ABC.