Sasha Abram­sky has been blog­ging here all week on The ProsenPeople's Vis­it­ing Scribe series. Ear­li­er this week, he wrote about the con­ti­nu­ity of read­ing across Jew­ish gen­er­a­tions and obser­vance and the mys­ti­cal expe­ri­ence of writ­ing a mem­oir, observed as he worked on The House of Twen­ty Thou­sand Books.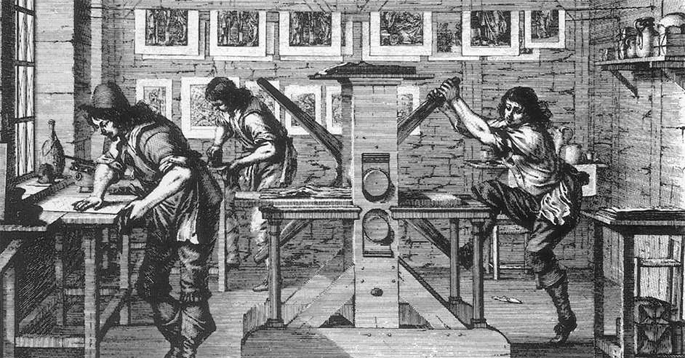 Libraries tell sto­ries. The books, the places those books were pub­lished, the mate­ri­als used in their pro­duc­tion; the paper trail of pre­vi­ous own­ers of those books, and the con­nec­tions from one vol­ume to the next — all are peb­bles mark­ing hid­den paths.
My grand­fa­ther, a his­to­ri­an both of Jew­ish his­to­ry and of social­ist his­to­ry, owned a lot of books. By weight — which is of course a use­less mea­sure of bib­li­o­graph­ic worth, but which at least tells you some­thing about how many pages he plowed through over a life­time of read­ing — there were sev­er­al tons of books in his house when he died in 2010. They resided on dou­ble-stacked, floor-to-ceil­ing shelv­ing in every room of the house except the kitchen and the two bath­rooms. I wor­ried, only par­tial­ly in jest, that the house would col­lapse when the books were removed from the walls. By geo­graph­ic locale, there were books orig­i­nat­ing in cities as far afield as ear­ly six­teenth cen­tu­ry Con­stan­tino­ple, sev­en­teenth cen­tu­ry Ams­ter­dam and Antwerp, eigh­teenth cen­tu­ry War­saw and Vil­na; books from the Unit­ed King­don, the Unit­ed States, from Rus­sia and Israel and numer­ous oth­er epi­cen­ters of the Jew­ish and social­ist expe­ri­ences. By top­ic mat­ter, the books — and by exten­sion the con­ver­sa­tions — at the house cov­ered Bib­li­cal his­to­ry, Kab­bal­ah, medieval Europe, the Renais­sance, the Enlight­en­ment, the Age of Rev­o­lu­tion, Jew­ish art, Yid­dish polit­i­cal tracts, the ori­gins of cap­i­tal­ism, clas­si­cal phi­los­o­phy, the sci­en­tif­ic rev­o­lu­tion, and a host of oth­er dis­parate themes.
Chi­men col­lect­ed vast num­bers of words: books, man­u­scripts, let­ters, dis­ser­ta­tions. He had Karl Marx's mem­ber­ship card of the First Inter­na­tion­al and he owned first-edi­tion copies of Spinoza's pub­li­ca­tions; there were let­ters writ­ten by Chaim Weiz­mann, as well as math­e­mat­i­cal trea­tis­es penned by Jew­ish schol­ars in the ear­ly Ottoman peri­od. 5 Hill­way may have been the only sub­ur­ban house in north Lon­don with its own Bomberg Bible. It host­ed a col­lec­tion of William Mor­ris mate­ri­als to rival that held in the British Library.
Each doc­u­ment in that clut­tered house told a sto­ry, albeit often­times an incom­plete one. Each book had a legion of peo­ple behind it: those involved in the writ­ing, the pro­duc­tion, the dis­tri­b­u­tion, the pur­chas­ing. For Chi­men, who knew most every rare books deal­er in the West­ern world, and who spent years doing con­sult­ing work as a man­u­scripts' spe­cial­ist for Sotheby's auc­tion house, each book was a mys­tery. He knew which edi­tions con­tained which mis­prints; which foot­notes led up blind alleys; which pub­lish­ers had suf­fered cen­sor­ship at the hands of which polit­i­cal and reli­gious fig­ures. If a print­er decamped, say, from Inqui­si­tion-era Spain and relo­cat­ed to Man­tua or Antwerp, Hol­land or Istan­bul, that told you about zones of safe­ty, about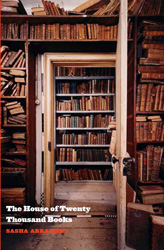 which cities at any giv­en moment exud­ed a tol­er­ant enough cul­ture to gen­er­ate an active, and crit­i­cal, book-print­ing scene. If a print­ing method­ol­o­gy began in one city and, with­in a few years, had spread to anoth­er, again that told you some­thing about how tech­nol­o­gy spread, about com­merce routes, trade pat­terns, even immi­gra­tion pathways.
I began work­ing on The House of Twen­ty Thou­sand Books as a way to memo­ri­al­ize my grand­par­ents. I fin­ished work­ing on it with a renewed sense of awe at the end­less realms of knowl­edge gen­er­at­ed by human cul­ture over the cen­turies. No sin­gle library, no mat­ter how majes­tic or ambi­tious, can ever hope to encap­su­late more than a frag­ment of all of this learn­ing. Chi­men, who made as good a stab at poly­math-sta­tus as any­one I have ever met, was all too aware of this. His library was a set of extra­or­di­nary frag­ments, a uni­ver­si­ty unto itself. But even such a library is, ulti­mate­ly, ephemer­al, as frag­ile a part of his­to­ry as the events and peo­ple and places con­tained with­in the texts of its many vol­umes. As Karl Marx once wrote, ​"All that is sol­id melts into air."
Sasha Abram­sky grew up in Lon­don and attend­ed Bal­li­ol Col­lege, Oxford, where he stud­ied pol­i­tics, phi­los­o­phy, and eco­nom­ics. He is a Senior Fel­low at Demos think tank and teach­es writ­ing at Uni­ver­si­ty of Cal­i­for­nia Davis. His mem­oir The House of Twen­ty Thou­sand Books is now avail­able from New York Review Books.
Relat­ed Content:
Sasha Abram­sky grew up in Lon­don and attend­ed Bal­li­ol Col­lege, Oxford, where he stud­ied pol­i­tics, phi­los­o­phy, and eco­nom­ics. Abram­sky is a jour­nal­ist and author whose work has appeared in The Nation, Amer­i­can Prospect, The New York­er Online, and many oth­er pub­li­ca­tions. His most recent book, The Amer­i­can Way of Pover­ty: How the Oth­er Half Still Lives, was list­ed by The New York Times as among the one hun­dred notable books of 2013. He is a Senior Fel­low at Demos think tank and teach­es writ­ing at Uni­ver­si­ty of Cal­i­for­nia Davis. Abram­sky lives in Sacra­men­to, CA with his wife and their two children.