Aviya Kush­n­er is the author of The Gram­mar of God, a mem­oir of her Jour­ney into the Words and Worlds of the Bible. She will be blog­ging here all week for the Jew­ish Book Council's Vis­it­ing Scribe series on The ProsenPeo­ple.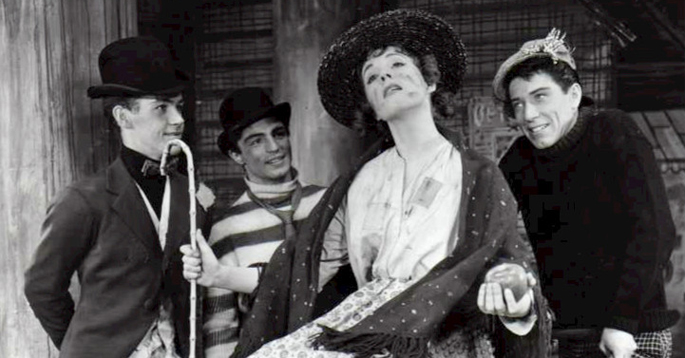 This sum­mer, a strange thing hap­pened: I saw My Fair Lady in Hebrew. The per­for­mance was at Israel's famous the­ater, Habi­ma, and all the act­ing was top-notch. I was moved, as I always am, at the very exis­tence of a Hebrew the­ater; how unimag­in­able this must have been to my grand­fa­ther as a child, grow­ing up in Bre­men, Ger­many, in the thir­ties, as Hitler rose to pow­er, to think that one day his grand­daugh­ter would sit in her high-heeled san­dals, in per­fect safe­ty, lis­ten­ing to a British play trans­lat­ed into a Hebrew musical.
I mar­veled at the audi­ence — Russ­ian Jews, Israeli sabras, and a group of employ­ees who worked for the prison sys­tem, all of whom were able to expe­ri­ence the mod­ern mir­a­cle of attend­ing a play in Hebrew in a Hebrew-speak­ing the­ater in a Hebrew-speak­ing state. And I thought of the Israeli theater's ear­ly his­to­ry; many of the first actors and actress­es had trained in the Yid­dish the­ater, and had switched lan­guages in order to con­tin­ue as artists and to help build what is now a major Israeli theater.
But of course, it was bizarre to hear those songs in trans­la­tion. The trans­la­tor, Dan Almagor, whose ver­sion was first per­formed in 1964, prob­a­bly strug­gled to cre­ate a con­nec­tion between class and accent, and so the plot focused on how Eliza Doolit­tle pro­nounced the let­ter hey. The famous line about the rain in Spain became ​"Barad yarad bidrom Sfarad ha'erev," or lit­er­al­ly ​"hail fell this evening in south­ern Spain."
In Israel, there is some tie between edu­ca­tion and speech, and it is cer­tain­ly pos­si­ble to guess where some­one was born from his or her Hebrew accent, but it is not the dead give­away it is in Eng­land. It was a lit­tle bit of a stretch to believe that pro­nun­ci­a­tion of hey could deter­mine a person's entire eco­nom­ic and social destiny.
For the entire first act, I could not con­nect to the per­for­mance. But then, as time went on, I got used to it: I knew the sto­ry, and I got into the plot. I rec­og­nized the melodies. The expe­ri­ence was not unlike the years I spent on The Gram­mar of God. At first, the Bible in trans­la­tion felt so strange to me that I could not stop chron­i­cling the dif­fer­ences between the orig­i­nal Hebrew and the Eng­lish. But as time went on, I got used to trans­la­tion, and even to the errors in it. I accept­ed the awk­ward­ness I encountered.
I sus­pect this is what hap­pens to schol­ars, and to lay read­ers who know Hebrew but who spend years read­ing Eng­lish. It gets less shocking.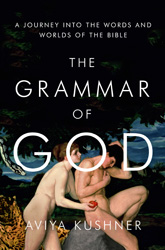 I'm glad I took the time, on that first long read in Iowa, to note every moment I found sur­pris­ing. I was so stunned by that first read that I had no idea that I would get used to trans­la­tors' choic­es, and that I would move from feel­ing hor­ri­fied to feel­ing empa­thy as I began to under­stand the dif­fi­cul­ty of the task. And I cer­tain­ly did not know, at the begin­ning, that there was a beau­ty in sur­prise and a dan­ger in familiarity.
As the years of read­ing trans­la­tions rolled on, I got used to phras­es like ​"the Lord of Hosts." I no longer jumped when I came across ​"all the fur­ni­ture of heav­en" for the Hebrew v'chol tz'vaam, which is famil­iar not only from Gen­e­sis 1 but from the week­ly Kid­dush for Shab­bat. I was no longer aston­ished when body parts in the Hebrew were erased or altered in Eng­lish, or when ancient idioms were flat­tened or removed alto­geth­er. I did not feel a strange creepi­ness in my bones when I could not find a Hebrew verse in Eng­lish, because the ver­si­fi­ca­tion had been changed, a sit­u­a­tion which even occurred in cru­cial loca­tions like the Ten Com­mand­ments. I expect­ed discrepancies.
But lis­ten­ing to the actors in the Hebrew My Fair Lady make a big deal of how the let­ter hey is pro­nounced, as they tried valiant­ly to cast it as a major mark­er of class, I remem­bered how odd some of the trans­la­tions I encoun­tered seemed to me at first — per­haps as dis­turb­ing as a bad accent might seem to an Eng­lish gen­tle­man like Hen­ry Higgins.
Some trans­la­tions bold­ed or high­light­ed pas­sages they deemed impor­tant, tak­ing that deci­sion out of the reader's hands; in the Hebrew scroll, by con­trast, all the vers­es are in the same col­or, hand­writ­ten by a scribe. Oth­er famous trans­la­tions, like The King James, fea­ture head­ings that tell the read­er what's com­ing — even though those head­ings don't appear in the Hebrew. For exam­ple, the head­ing ​"The Tenne Com­mand­ments" appears before the Ten Com­mand­ments, effec­tive­ly effac­ing the cen­turies of argu­ment on what should count as one of the Ten Com­mand­ments, and where they even begin. Many trans­la­tions of the Psalms fea­ture two to four-line expla­na­tions, at the top, of what the psalm is osten­si­bly about; hav­ing this kind of intro­duc­tion cre­ates a dif­fer­ent read­ing expe­ri­ence than sim­ply expe­ri­enc­ing the Psalms on their own.
In time, I became a dif­fer­ent kind of read­er. I became a read­er of Bib­li­cal trans­la­tions, just as I became a the­ater­go­er who could appre­ci­ate the huge effort to make My Fair Lady acces­si­ble to Hebrew speak­ers who could not fol­low a musi­cal based on George Bernard Shaw's play Pyg­malion if it were per­formed in Eng­lish. And now I appre­ci­ate both halves of my read­ing self — the orig­i­nal-lan­guage read­er and the trans­la­tion read­er. I believe both types of read­ing should be part of a read­ing life.
Whether trans­la­tions are clunk­ing or accom­plished, they have affect­ed all our read­ing lives — and they often influ­ence polit­i­cal views, not to men­tion col­lege edu­ca­tions. We owe it to our­selves to check out every­thing from how My Fair Lady comes across to how the Bible seems in a Catholic trans­la­tion or an evan­gel­i­cal translation.
What Bib­li­cal trans­la­tion reveals is how lan­guage shapes belief. It is essen­tial to con­sid­er how what we con­sid­er holy and pre­cious seems to oth­er read­ers; trans­la­tion allows us to under­stand what oth­er peo­ple are read­ing in the pri­va­cy of their homes. It is a mis­take to ignore the oppor­tu­ni­ty to lift the cur­tain on the win­dows and look in.
Aviya Kush­n­er is the author of The Gram­mar of God: A Jour­ney into the Words and Worlds of the Bible, which will be pub­lished by Spiegel & Grau, an imprint of Ran­dom House, on Sep­tem­ber 8th.
Relat­ed Content:
Aviya Kush­n­er is the author of The Gram­mar of God, which was a Nation­al Jew­ish Book Award Final­ist, Sami Rohr Prize for Jew­ish Lit­er­a­ture Final­ist, and one of Pub­lish­ers' Week­ly's Top 10 Reli­gion Sto­ries of the Year. An asso­ciate pro­fes­sor at Colum­bia Col­lege Chica­go, she is The For­ward​'s lan­guage colum­nist and has a life­long love of the Book of Isa­iah.