Ear­li­er this week, Stan­ley Gins­berg wrote about the mean­ing of a Jew­ish bak­ery and the sweet and sour sides of life for Jew­ish Book Coun­cil and MyJew­ish­Learn­ing.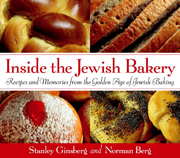 One of my pet peeves is the ver­i­ta­ble del­uge of pre­pared foods and ​"meal assem­bly" empo­ria that has over­tak­en Amer­i­ca and seem to be spread­ing like a stain across the rest of the world. Walk into any store sell­ing food, and there they sit – ready-to-heat main cours­es and side of every imag­in­able eth­nic­i­ty and ingre­di­ent, indis­tin­guish­able, or so the labels claim, from home-cooked (and, of course, priced at a hefty pre­mi­um over the cost of the ingre­di­ents them­selves). Nor is it only the mains and sides: to see how per­va­sive the ready-tos have become, take a walk down the aisles of any super­mar­ket and keep men­tal notes of all the things you can eat right out of the con­tain­er, or that pre-mix key ingre­di­ents (think cake mixes).
Even as recent­ly as 20 years ago or so, an indus­tri­al food takeover on this scale was incon­ceiv­able, yet very much in the cards. I for­get the con­text, but remem­ber well read­ing an arti­cle in the ​'90s that spoke about sea­son­ing mix­es that would enable butch­ers to reap high­er prof­its from val­ue-added, ready-to-cook steaks, roasts, and poul­try. At around that same time, dur­ing my stint on Wall Street, I worked with the CEO of a com­pa­ny, now defunct, that pio­neered treat­ments for cut fruits and veg­eta­bles that all but elim­i­nat­ed dis­col­oration. One has only to look at the pro­lif­er­a­tion of pre-bagged cut pro­duce to see how vision­ary the idea was.
What's behind it? Obvi­ous­ly, from the food proces­sors' per­spec­tive, it's about prof­its. Any­thing you do to an ingre­di­ent changes it from com­mod­i­ty to unique prod­uct, and in so doing, low­ers its vul­ner­a­bil­i­ty to the pure-price nature of the com­mod­i­ty mar­kets, tak­ing it instead to a high­er realm, where brand­ing and mar­ket­ing oper­ate to keep prices and prof­its high. Nev­er mind that the bulk of indus­tri­al food pro­cess­ing is based on water and sug­ar (includ­ing fruc­tose sweet­en­ers), the cheap­est of addi­tives that also offer proces­sors the advan­tage of a cheap way to increase weight – both the pro­duc­t's and the con­sumer's (hah!).
There's a sec­ond impor­tant finan­cial con­sid­er­a­tion for the pro­duc­ers as well: labor. From-scratch food prepa­ra­tion requires skilled work­ers who can com­mand pre­mi­um wages. The work­ers need­ed to cook from mix­es and indus­tri­al ready-to-heats can be had for min­i­mum wage. Even bet­ter, machines don't get sick or have hang­overs, and a retail­er can always be cer­tain of hav­ing enough prod­uct because his dis­trib­u­tors will have ware­hous­es full. Once again, tech­nol­o­gy and indus­tri­al pro­duc­tion trump com­pe­tence and experience.
From the con­sumer's point of view, those dish­es rep­re­sent sav­ings of time and ener­gy, but at the very dear cost of con­trol and com­pe­tence. The time issues are under­stand­able. When I was grow­ing up in the ​'50s, moms and grand­mas stayed at home and had time to shop and cook; today's eco­nom­i­cal­ly stressed world puts far more pres­sure on every­one to go out and find ways to earn mon­ey. The sim­ple act of prepar­ing and serv­ing a meal has gone from plea­sure to chore, and my grand­moth­er's pride in feed­ing her fam­i­ly as giv­en way to a sigh of relief at not hav­ing to cook, with­out the guilt of hav­ing failed at this most basic of fam­i­ly responsibilities.
That guilt also is the dri­ving ratio­nale behind the ​"meal assem­bly" stores, where peo­ple can go to assem­ble a week's worth of their own ready-to-heat din­ners. Every­thing is there, pre-cooked and por­tion-con­trolled, ready to mix and match into microwave­able con­tain­ers. It's exact­ly the same mind­set that built the cake-mix busi­ness and pro­pelled bread machines into the appli­ance main­stream: here's a way to pro­duce a Rem­brandt – or at least an accept­able repro­duc­tion – with­out hav­ing to learn how to paint, let alone draw.
At what cost? Mon­e­tary, cer­tain­ly: the ready-tos are sub­stan­tial­ly more expen­sive than the sum cost of their ingre­di­ents. But more trou­bling, in my view, is the per­son­al cost. I want to be able to con­trol what goes into the things my fam­i­ly and friends eat. I don't want chem­i­cal life-exten­ders, mold inhibitors or poten­tial­ly haz­ardous addi­tives (think potas­si­um bro­mate) in my food. I want to decide how my food tastes, not some food chemist who's moti­vat­ed by cor­po­rate prof­itabil­i­ty tar­gets and focus-group dri­ven con­sen­sus. I want to know how to make the things that please my sens­es and those of the peo­ple I care about, so that I can encour­age oth­ers to val­ue their own competence.
My wife and I often engage in a reveal­ing dia­logue when we go food shop­ping togeth­er. She'll see a ready-to that she finds appeal­ing and say, ​"Ooh, let's try that." I'll look at it and say, ​"Why? I can make it bet­ter and cheap­er at home." Some­times we buy it, some­times we don't, and more often than not, when we do, it's either too sweet, too salty, or both for our tastes (mine, cer­tain­ly, since she has a far big­ger sweet tooth than I). But at least we have the abil­i­ty to make that choice and still have what we want.

Stan­ley Gins­berg is the author of Inside the Jew­ish Bak­ery: Recipes and Mem­o­ries from the Gold­en Age of Jew­ish Bak­ing. Vis­it his offi­cial web­site here.
Stan­ley Gins­berg, a native of Brook­lyn, grew up in a close-knit Jew­ish and Ital­ian neigh­bor­hood, where gen­er­a­tions lived side by side and every­thing was with­in walk­ing dis­tance. He start­ed bak­ing with his grand­moth­ers at age
4
or
5
and has­n't stopped yet. Now retired, Stan­ley made his career in finan­cial writ­ing and mar­ket­ing. He and his wife, Sylvia, live in South­ern Cal­i­for­nia. They have three adult chil­dren, two beau­ti­ful grand­daugh­ters and two stan­dard poodles.