On Mon­day, Stan­ley Gins­berg talked about the mean­ing of a Jew­ish bak­ery. He will be blog­ging here for Jew­ish Book Coun­cil and MyJew­ish­Learn­ing all week.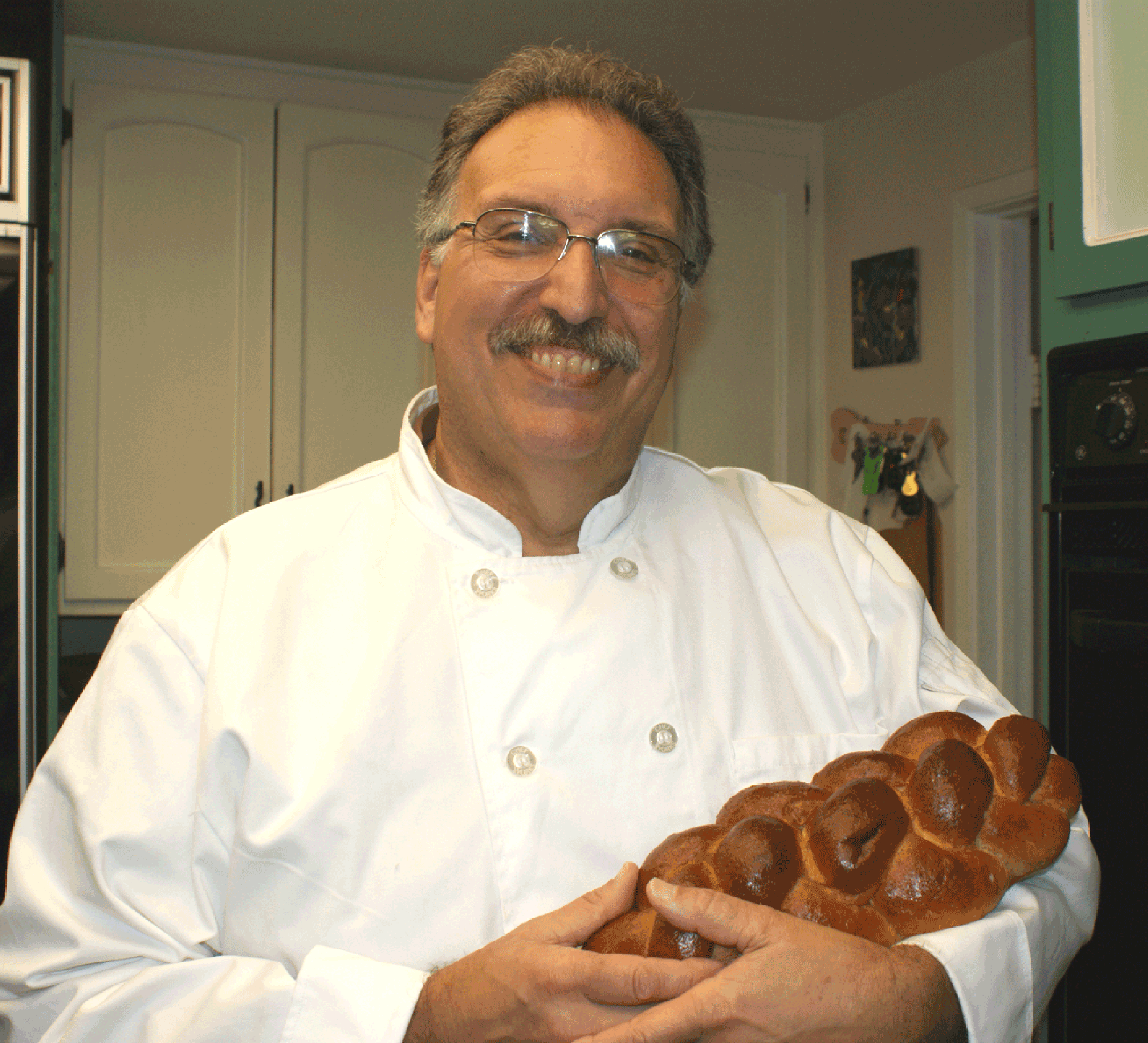 In my grand­par­ents' homes, as in the shtet­lach from whence they came, the food was sweet and sour – just as life itself was sweet and sour. For me, a grand­child of immi­grants grow­ing up between two worlds in 1950's Amer­i­ca, sweet and sour came to sym­bol­ize both the con­trasts and con­ver­gences of my mul­ti­fac­eted existence.
Sour was dur­ing the week. It was school and after­noon ched­er for me, jobs that took my father and grand­fa­ther away from before I woke up until after I had my sup­per; and for my moth­er and grand­moth­ers, shop­ping, clean­ing, child-rear­ing and all the oth­er things stay-at-home wives did back then.
Sour was a pick­le or sour toma­to for a snack, a piece of sour rye bread slathered with schmaltz and topped with a slice of onion, a lunch of sour cream, farmer cheese and chopped radish, scal­lion and cucum­ber; or maybe a glass of ruby red borscht and sour cream, or shchav (sor­rel soup) with a raw egg stirred in and chopped scal­lions on top. Sour was Grand­ma Annie stir­ring a spoon­ful of sour cream into a pot of warm milk, then pour­ing it into a tray full of pat­terned yortzeit glass­es and leav­ing it to sour over the pilot light on her white enam­el stove.
Sour was the taste of the shtetl, where a piece of sour black rye bread, a bowl of the fer­ment­ed beet water called rosl and per­haps a dol­lop of sour cream was a day's nour­ish­ment. After all, what could be cheap­er, eas­i­er and more prov­i­dent for the inevitable times of scarci­ty than a crock filled with sliced beets, left to fer­ment by the wild yeasts that fill the air? Sour was the sum of their existence.
Week­ends were sweet, and so were our hol­i­days. Sweet was the saucer of hon­ey, the sweet-sticky teyglach and cloves-fra­grant car­rot tsimmes at Rosh Hashanah, and the sweet gefilte fish and oloptzes (stuffed cab­bage), for Shabbes. The chal­lah was sweet and pale yel­low, with a shiny brown crust that crack­led when Grand­pa cut it; the prune and apri­cot com­pote was sweet (but with a touch of lemon, to remind us of the week past and the week yet to come). Sour held no place of hon­or at my grand­ma's Shabbes table.
Sweet was spend­ing Sat­ur­day and Sun­day with my par­ents and extend­ed fam­i­ly, cook­ies and rugelach from Grand­ma and Bub­bie, crack­ing pecans and hazel­nuts with my cousins after a big hol­i­day meal, vis­its to the bak­ery with my father and bring­ing home cook­ies and pas­tries in white card­board box­es tied with string striped like a bar­ber pole. Sweet was going to the Sat­ur­day mati­nee (20 cents for a dou­ble fea­ture, ser­i­al, news­reel and 5 col­or car­toons 5) with my best friend Richie and eat­ing Black Crows, Jujubes and Sug­ar Dad­dy bars. Sweet was being allowed to stay up late so my broth­er and I could sit in front of the TV with our par­ents, watch­ing Uncle Miltie, Sid Cae­sar, Grou­cho Marx and Dragnet.
As I grew old­er, my life grew sweet­er, more Amer­i­can. Instead of a giant sour pick­le bought for a nick­el out of a bar­rel of brine, my after­noon snack mor­phed into a stack of cook­ies and a glass of milk. Liv­ing in the sub­urbs, away from my grand­moth­ers, we suc­cumbed to the entice­ments of the main­stream and there we chose to spend our lives, eat­ing sweet and eschew­ing sour, except as an occa­sion­al culi­nary grace note. Weeks and week­ends merged into unremit­ting sweetness.
Now, in my 60s, I've come back to sour with a deep­er appre­ci­a­tion of both its taste and mean­ing. Still, there is one dish, one taste mem­o­ry, that haunts me: my bub­bie's mar­nat – chilled sweet and sour white­fish, sim­mered slow and long with slices of car­rot and onion in a pep­pery-vine­gary-sug­ary mari­nade that con­gealed into an aspic and over­whelmed my taste buds even as the fish dis­solved in my mouth. When­ev­er I went to see her in her Brook­lyn brown­stone, that was the dish I always asked her to make. And to this day, try as I might, I've nev­er come close to dupli­cat­ing it, per­haps because I will nev­er tru­ly know, as all my grand­par­ents knew, the sor­rows and joys of sweet-and sour.

Stan­ley Gins­berg's Inside the Jew­ish Bak­ery: Recipes and Mem­o­ries from the Gold­en Age of Jew­ish Bak­ing is now available.
Stan­ley Gins­berg, a native of Brook­lyn, grew up in a close-knit Jew­ish and Ital­ian neigh­bor­hood, where gen­er­a­tions lived side by side and every­thing was with­in walk­ing dis­tance. He start­ed bak­ing with his grand­moth­ers at age
4
or
5
and has­n't stopped yet. Now retired, Stan­ley made his career in finan­cial writ­ing and mar­ket­ing. He and his wife, Sylvia, live in South­ern Cal­i­for­nia. They have three adult chil­dren, two beau­ti­ful grand­daugh­ters and two stan­dard poodles.