The fol­low­ing is a redact­ed ver­sion of My Father's Gui­tar and Oth­er Imag­i­nary Things: True Sto­ries author Joseph Ski­bell orig­i­nal essay for Jew­ish Book Coun­cil. He is blog­ging here all week as part of the Vis­it­ing Scribe series on The ProsenPeo­ple. You can read the full ver­sion of the essay here.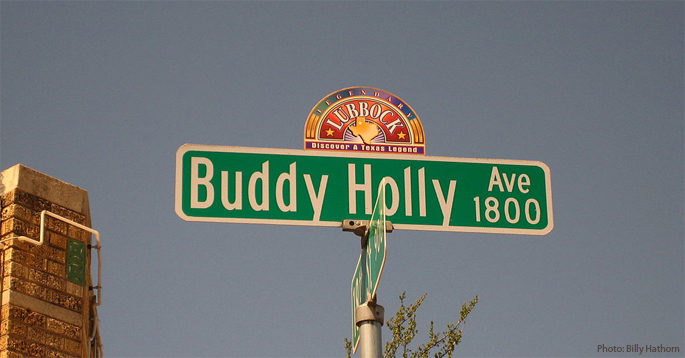 I was liv­ing at home with my par­ents, feel­ing kind of lost. Fresh out of col­lege, I had no idea how to start a lit­er­ary career. There were no want ads in the news­pa­per for Young Aspir­ing Nov­el­ists, of course. Some­how, a friend of our fam­i­ly, Mau­ry Kalisky, a doc­tor who had grown up in Lub­bock, like me, but now lived in glam­orous San Fran­cis­co, got me an assign­ment with Rolling Stone magazine.
Yes, my first job was with Rolling Stone. The rest of my career has been basi­cal­ly down­hill from there.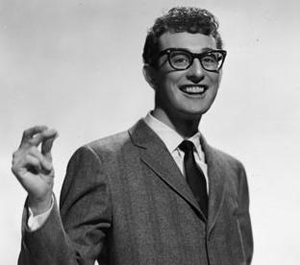 In any case, Rolling Stone want­ed a sto­ry about how Lub­bock remem­bered Bud­dy Hol­ly, its most famous and— at that time, at least — most famous­ly neglect­ed son.
Dur­ing the research phase of my arti­cle, I spoke to Holly's father and to his broth­er Travis, and to Don Cald­well, a local record pro­duc­er, but no inter­view was more mem­o­rable than the one I con­duct­ed with Bill Grig­gs, the founder and (I sup­pose self-appoint­ed) pres­i­dent of the Bud­dy Hol­ly Memo­r­i­al Soci­ety. Want­i­ng to be clos­er to Hol­ly Ground Zero, he had moved to Lub­bock from Hart­ford, Con­necti­cut, only six months before.
Grig­gs wel­comed me gra­cious­ly into his small house. He was, as I recall, in his late 30s, a round-face man with long side­burns and a DA, wear­ing a striped t‑shirt and a leather jack­et. As he snapped his chew­ing gum, he looked like a strand­ed time-trav­el­er from the 1950s, wait­ing for the Flux Capac­i­tor to arrive and car­ry him back home, where he could return to his for­mer life as a juve­nile delin­quent. Though a fam­i­ly man, Grig­gs had turned his life over to a sim­i­lar quest, and at one point, his two small chil­dren, a boy and a girl, charged into the room, demand­ing his attention.
"This is Bud­dy," he said, intro­duc­ing them to me, ​"and my daugh­ter Holly."
Bud­dy and Hol­ly began bounc­ing on the sofa.
"Here, let's go into this room," Grig­gs said, aban­don­ing the kids to their moth­er. ​"It'll be qui­eter in there."
We moved into a room filled with the kind of wood­en bins you'd see back then in a record store. These were stuffed with plas­tic-sheathed albums, each, Grig­gs told me, played only once — played, it seemed to me, reluc­tant­ly once — so the data could be trans­ferred to tape and the vinyl left as pris­tine as pos­si­ble. He played me a few rare things, while we talked about his life and how he'd become so inter­est­ed in Bud­dy Holly.
Lat­er, we sat on the couch in his liv­ing room. He turned on the tele­vi­sion set, and we watched old kinescopes of Hol­ly and the Crick­ets' two per­for­mances on the Ed Sul­li­van Show. Grig­gs point­ed out how Hol­ly, in the sev­en weeks between these two appear­ances, seemed to have trans­formed him­self, Clark Kent-to-Super­man-like, from a gawky West Texas teen into a sexy adult rock­er, his curly hair straight now, his 4‑H Club farm-boy eye­glass­es replaced by the suave Mex­i­can Faiosas. Even his slen­der frame seemed to have filled out, and the music was less sweet, more aggres­sive, loud­er — so loud in fact, Grig­gs told me, that Hol­ly and Sul­li­van had argued over the volume.
Unable to pre­vail upon Hol­ly to turn things down, Sul­li­van ordered his stage­hands to set the sound lev­els low with­out inform­ing Hol­ly. If you lis­ten close­ly, Grig­gs point­ed out, you can hear Sul­li­van intro­duc­ing the act as ​"Bud­dy Holler and the Crick­ets," and if you watch close­ly, he said, you can see Holly's spi­dery fin­gers, between strums, vain­ly try­ing to turn the vol­ume knob of his Stra­to­cast­er up.
The piece-de-resis­tance, though, was a pho­to­graph Grig­gs took from a fold­er and unwrapped from its pro­tec­tive wrap­ping. ​"There are only two copies of this pho­to­graph in the entire world," Grig­gs said, hand­ing it to me. ​"This one, right here in Lub­bock, Texas, and the oth­er one in Lon­don, Eng­land." Grig­gs didn't men­tion the name Paul McCart­ney, but it seemed to hov­er in the air. ​"Take a close look at that," he said. ​"You see what that is?"
I looked at the black-and-white pho­to. Though I saw it only once and more than 30 years ago, I can still con­jure up the image in my mind: at its cen­ter, an unusu­al­ly swarthy Elvis Pres­ley is stand­ing in one-eyed pro­file in a leather sports coat — half trapped quar­ry, half vis­it­ing roy­al­ty, he is the very pic­ture of still­ness — while a flock of teenagers mobs him from all sides. Among this gag­gle of star-struck ado­les­cents, push­ing in from the back, his face bare­ly mak­ing it into the pic­ture frame, is a gan­g­ly teenage Bud­dy Holly.
"That's the only pho­to­graph of Elvis Pres­ley and Bud­dy Hol­ly ever togeth­er tak­en," Grig­gs told me, ​"and it was tak­en right here in Lub­bock, Texas, right out­side the Fair Park Coliseum."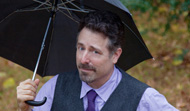 My arti­cle nev­er ran. Though I'd sub­scribed to Rolling Stone my entire ado­les­cence, I was read­ing too much John McPhee at the time, and I wrote the piece as though it were meant not for Rolling Stone but for the New York­er. I received a small ​"kill fee" from my edi­tor and nev­er heard from the mag­a­zine again.
Over the years, I've told this sto­ry many times, but when I sat down recent­ly to put it on paper, I couldn't actu­al­ly remem­ber Bill Griggs's name. I found it eas­i­ly enough, via the Inter­net. Though I spent only a sin­gle after­noon in his com­pa­ny over 30 years ago, Grig­gs, in the pic­ture I found online, looked exact­ly as I remem­bered him, though old­er, of course, and grey. I found a copy of the sup­pos­ed­ly rare-as-the-Holy-Grail pho­to of Bud­dy and Elvis at the Fair Park Col­i­se­um. Grig­gs or maybe the unnamed Eng­lish­man must've relaxed his grip on this trea­sure. Though I'd moved some of the fig­ures around in it, my mem­o­ry of the pho­to­graph was fair­ly accu­rate. My mem­o­ry of the Crick­ets' two per­for­mances on the Ed Sul­li­van Show, which I watched on YouTube, was scar­i­ly accu­rate. At 26 sec­onds in, you can see Bud­dy still fid­dling with his vol­ume knob.
Joseph Ski­bell is the author of three crit­i­cal­ly-acclaimed nov­els, A Bless­ing on the Moon, The Eng­lish Dis­ease, andA Cur­able Roman­tic; a col­lec­tion of true sto­ries, My Father's Gui­tar & Oth­er Imag­i­nary Things; and a forth­com­ing study of the Tal­mu­dic tales, Six Mem­os from the Last Mil­len­ni­um: A Nov­el­ist Reads the Tal­mud.
Relat­ed Content:
Joseph Ski­bell is the crit­i­cal­ly acclaimed author of A Bless­ing on the Moon and A Cur­able Roman­tic, choice award of the Sami Rohr Prize for Jew­ish Lit­er­a­ture. As direc­tor of the Ell­mann Lec­tures at Emory Uni­ver­si­ty, he played gui­tar and sang onstage with Mar­garet Atwood and Paul Simon. A pro­fes­sor at Emory, he is a Senior Fel­low at the Fox Cen­ter for Human­is­tic Inquiry.