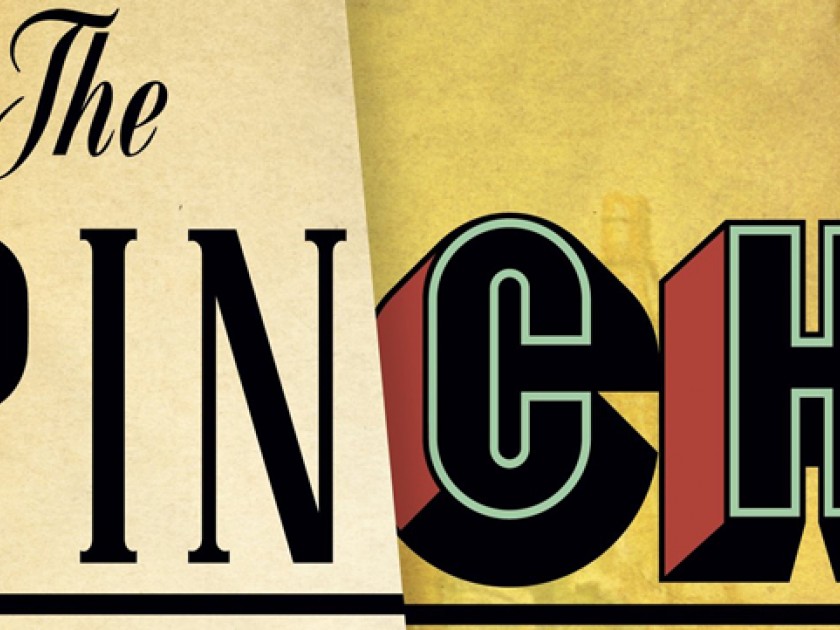 Award-win­ning author Steve Stern's eleventh work of fic­tion, The Pinch: A History/​A Nov­el, was pub­lished in June 2016 by Gray­wolf Press. Jew­ish Book Coun­cil sat down with the pro­lif­ic author to dis­cuss the role of Jew­ish his­to­ry and Yid­dish folk­tales in his writ­ing, race in the South, and the pow­er of com­i­cal writ­ing and its significance.
Beth Kissileff: I love when authors take char­ac­ters and ideas from their oth­er books and con­tin­ue to use them in dif­fer­ent ways in new­er books. The Shpinkers appear in oth­er works of yours, and you have writ­ten about tightrope walk­ers in the past, too. What does it mean to you to write this way?
Steve Stern: You make me sound very eco­log­i­cal, recy­cling char­ac­ters in order to cre­ate a kind of sus­tain­able fic­tion. The truth is, I've been min­ing the old North Mem­phis neigh­bor­hood of the Pinch for sto­ries for about three decades now, and it's only nat­ur­al that some of the nar­ra­tives dove­tail, caus­ing char­ac­ters who appear in one sto­ry to reap­pear in anoth­er. It is, after all, a finite neigh­bor­hood, though the sto­ries are infi­nite; so while I might intro­duce new char­ac­ters to the mix, they're bound to rub shoul­ders with the vet­er­an pop­u­lace, and the fric­tion of their shoul­der-rub­bing can be rad­i­cal­ly trans­for­ma­tive for both old and new res­i­dents of the neighborhood.
BK: Can you talk about the inter­play of his­to­ry and fic­tion in your writing?
SS: The Pinch ends with the Angel of His­to­ry: Wal­ter Benjamin's con­cept inspired by Paul Klee's paint­ing Angelus Novus in which the angel looks toward the past while being dri­ven ever for­ward, per­haps cat­a­stroph­i­cal­ly, in its flight. If you're look­ing back­ward — toward a myth­ic past, toward the par­adise you knew before the Angel of For­get­ful­ness tweaked you under the nose at birth — then his­to­ry is some­thing you blind­ly col­lide with. I sup­pose that's as good a char­ac­ter­i­za­tion of the atti­tude in which I write as any: his­to­ry always man­i­fests itself as an inescapable intru­sion, the night­mare from which Joyce's Stephen Dedalus was try­ing to awake. In their sleep­walk­ing, my char­ac­ters often try to sus­tain them­selves on dreams, and since the dreams are fre­quent­ly nour­ished by ancient mytholo­gies, they may assume their own pal­pa­ble real­i­ty. What hap­pens when that real­i­ty, in which mag­ic is a nat­ur­al com­po­nent, encoun­ters the harsh truths of his­to­ry is a con­stant theme in the sto­ries I imag­ine. Though to be hon­est, the angel at the end of The Pinch evokes not so much Benjamin's Angel of His­to­ry as the one with the flam­ing sword who pro­hibits Adam and Eve from return­ing to the Garden.
BK: One of the many love­ly things in the book is the hon­est appraisal of race rela­tions. Can you say some­thing about the role of race in the nov­el, and the par­tic­u­lar one of Jews and blacks in the South?
SS: In my home­town of Mem­phis, a pre­dom­i­nant­ly black city, there was an inter­est­ing sym­bio­sis between African-Amer­i­cans and Jews. Beale Street, which was the black Main Street of the South for decades, had at one end a clus­ter of Jew­ish pawn­shops and dis­count stores. Where blacks were barred from shop­ping at the white-owned busi­ness­es, they were wel­comed by the Jews. I won't pre­tend this was with­out its mer­ce­nary motive, but still: Schwab's Empo­ri­um fea­tured hoodoo love potions and pomades; Novak's Pawn accept­ed tooth­picks and thim­bles from the gam­blers and high-rollers, con­fi­dent of a con­sid­er­able return on their invest­ment. The black her­itage of Mem­phis, the city's rich­est cul­tur­al her­itage, had from its ear­ly incep­tion a live­ly Jew­ish ele­ment, and it was through an inter­est in that hybrid cir­cum­stance that I, some­what iron­i­cal­ly, came to know some­thing about the local Jew­ish his­to­ry. I guess that, grow­ing up in the South, I always con­ceived par­al­lels between the black and the Jew­ish expe­ri­ence, and I've been drawn back repeat­ed­ly to that per­cep­tion since I began to write. In The Pinch, I want­ed to address the city's piv­otal (even ter­mi­nal?) his­toric moment, the garbage strike that pre­ced­ed the assas­si­na­tion of Mar­tin Luther King. There seemed to me a kind of inevitabil­i­ty in the fact that the so-called urban renew­al that destroyed North Main Street coin­cid­ed with the mur­der of Dr. King. My dream dis­trict evap­o­rat­ed for­ev­er with the death of the cen­tu­ry's great­est dreamer.
BK: Can you talk a bit about your sources — folk­lore, midrash, Yid­dish words? How did you do the research for the many worlds this book contains?
SS: I'm nev­er real­ly aware of research per se, since the place where I spend most of my time is in a lit­er­ary lat­i­tude (my room) defined by the kinds of texts you men­tion. The Book is of course the Torah, whose nar­ra­tive begins in time­less­ness before enter­ing his­to­ry. The vast lit­er­a­ture that Torah has gen­er­at­ed — midrash, aggadah, folk­lore, leg­end, and so much of Yid­dish fic­tion — par­takes of both worlds; these are tales that exist com­fort­ably in both a myth­ic and his­toric dimen­sion. Char­ac­ters, such as the folk per­sona of the prophet Eli­jah, com­mute between these worlds with rel­a­tive ease; crea­tures such as golems and assort­ed mon­sters, the Leviathan and the giant Ziz bird, phe­nom­e­na such as dyb­buks, wan­der­ing souls, hid­den saints, and all the fab­u­lous demon­ic and angel­ic denizens of Kab­bal­ah, can enter the famil­iar world with­out sub­stan­tial­ly alter­ing its fab­ric. Rab­bis and fools can stum­ble into sitra achra, the malev­o­lent Oth­er Side, and return to their study house unscathed. For cen­turies the two worlds cohab­it­ed more or less peace­ful­ly in the Jew­ish uni­verse. But in our epoch there was a rup­ture — i.e. a Holo­caust — which sep­a­rat­ed us from the time­less realm and marooned us here under the unfor­giv­ing domin­ion of his­to­ry. I believe, how­ev­er, that sto­ries can still retain an echo of the orig­i­nal source, and that the echo can some­times toll loud­er than the tale at hand; that the music of that tolling can endow our his­tor­i­cal moment with a mea­sure of eter­ni­ty. I believe a writer, accord­ing to his or her means, ought to aspire to cap­ture that music in his or her stories.
BK: In your book, we watch a char­ac­ter write and con­trol the faces of oth­ers. Can you talk about the pow­er of writ­ing and its effect on your own life?
SS: I gave The Pinch two end­ings — one a spec­u­la­tive con­clu­sion in which the book that the char­ac­ter Muni has writ­ten plays a cru­cial part in the revi­tal­iza­tion of the lost neigh­bor­hood. In the sec­ond end­ing — spoil­er alert — Muni's book is destroyed, and Lenny, my feck­less semi-hero, who's been liv­ing both inside and out­side of Muni's chron­i­cle, is set free, though his eman­ci­pa­tion is an ambigu­ous affair. This is what I love most about fic­tion: that you can have it both ways. You can rec­ti­fy and redeem botched lives, dis­solve the claus­tro­pho­bia of rou­tine with mad inven­tion, real­ize the impos­si­ble despite the hege­mo­ny of the lit­er­al; and you can do it all with­out sub­vert­ing the accept­ed wis­dom. But I'm not entire­ly a fool; I know that there's such a thing as nor­ma­tive real­i­ty and that in most lives it trumps what­ev­er the imag­i­na­tion can con­ceive. There's a Kaf­ka para­ble that says we are free and secure cit­i­zens of the world, for we're fet­tered to a chain long enough to give us the free­dom of all earth­ly space; that we're free and secure cit­i­zens of heav­en as well, since we're also fet­tered by a sim­i­lar­ly long heav­en­ly chain. But if we head for earth, the heav­en­ly col­lar throt­tles us, and like­wise the earth­ly col­lar if we head for heav­en. Yet, says Kaf­ka, all the pos­si­bil­i­ties are ours. Sto­ries are per­haps an effort to break those chains, and if they ulti­mate­ly fail to do so, well, the ener­gy and pas­sion expend­ed in the attempt allows us to feel, if only vic­ar­i­ous­ly, intense­ly alive.
BK: Can you talk about the sense of cre­ation and trans­mis­sion in writ­ing, and what you hope to hand over to readers?
SS: A writer's char­ac­ters embody his obses­sions, and many of mine are pos­sessed by sto­ries, both their own and those of oth­ers, which they're as dri­ven as the Ancient Mariner to exor­cise them­selves of. That's cer­tain­ly the case with my char­ac­ter Muni Pinsker. George Stein­er once said of the Jews that the Book is their home­land, which is a lit­er­al truth for me, though the book in ques­tion — apos­tate that I am — is usu­al­ly the one I'm writ­ing, and home para­dox­i­cal­ly the place I hope the writ­ing will take me to. It's less a straight-ahead voy­age, how­ev­er, than the efforts of a des­per­ate sur­vivor of ship­wreck to reach dry land, my desk the lifebuoy I cling to like Ish­mael (anoth­er mariner) hang­ing onto Queequeg's cas­ket. That's the only way I know to stay afloat. A career sad­sack, I nev­er­the­less like to think that I'm essen­tial­ly a com­ic writer. Sure, I've got my sober and somber themes, which I return to again and again, ham­mer and tongs. But in the end, though review­ers might beg to dif­fer, my inten­tion is to enter­tain. I have a reli­gious faith in the pow­er of laugh­ter to clar­i­fy a spir­i­tu­al vision. The old proverb says that aggadah, the nar­ra­tive imag­i­na­tion, has a laugh­ing face. That's the com­pass by which (strad­dling the cas­ket) I try to nav­i­gate my stories.
Beth Kissileff is in the process of fundrais­ing and writ­ing grants to devel­op a pro­gram to assist rab­bis of all denom­i­na­tions with writ­ing and pub­lish­ing books. Kissileff is a rab­binic spouse and author of the nov­el Ques­tion­ing Return as well as edi­tor of the anthol­o­gy Read­ing Gen­e­sis: Begin­ings.