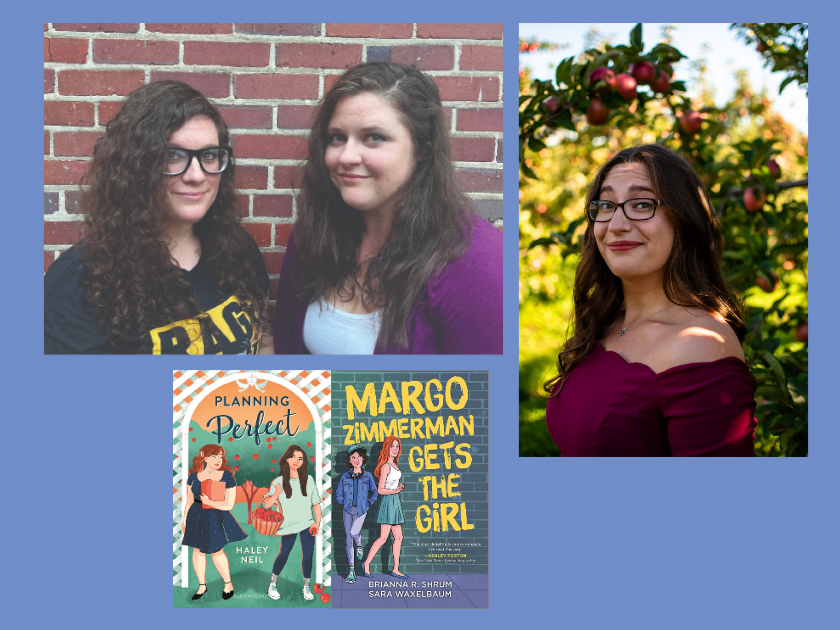 Haley Neil and coau­thors Bri­an­na R. Shrum and Sara Wax­el­baum dis­cuss their recent books, Plan­ning Per­fect and Mar­go Zim­mer­man Gets the Girl respec­tive­ly. They explore Jew­ish and queer rep­re­sen­ta­tion in lit­er­a­ture, craft­ing cap­ti­vat­ing char­ac­ters, and the lega­cy of geno­cide over generations.
Bri­an­na R. Shrum/​Sara Wax­el­baum: First off, we are so glad to get the chance to talk with you about Felicity's sto­ry. Are we now old enough that we couldn't stop talk­ing about how much we relat­ed to the mom in the sto­ry? Yes. DOES THAT EVEN MAT­TER? …also yes. Plan­ning Per­fect is a beau­ti­ful explo­ration of char­ac­ter, fam­i­ly, and what it means to love with accep­tance. As Jew­ish read­ers and writ­ers, we were also, of course, so glad to be able to sink into a Jew­ish sto­ry like this one. How did your own Jew­ish expe­ri­ence influ­ence the devel­op­ment of the Beck­er fam­i­ly and dynamics?
Haley Neil: My first book, Once More with Chutz­pah, actu­al­ly drew pret­ty heav­i­ly on my own Jew­ish expe­ri­ence. I grew up in an inter­faith house­hold, so I long felt like I was Jew-ish. Like I wasn't enough. Like I had to fight to prove that I belonged. As I got old­er and start­ed to con­nect more and more to the Jew­ish side of my fam­i­ly and cul­ture, those doubts and wor­ries stuck with me. So, for my debut, I wrote about a main char­ac­ter who is fig­ur­ing out her place when it comes to her own back­ground. She even­tu­al­ly real­izes that she is more than enough.
I want­ed to do some­thing dif­fer­ent with Plan­ning Per­fect. In this book, Felic­i­ty is Jew­ish. It's a fact. There is no doubt about it. If my first book is the ques­tion ​"who am I?" then Plan­ning Per­fect is the fol­low-up: ​"Cool, but what does that mean in practice?"
BS/SW: I loved the Beck­ers' Shab­bat tra­di­tions, and how their non-reli­gious prac­tices were treat­ed with the same impor­tance as reli­gious prac­tices. With­out den­i­grat­ing the reli­gious ele­ments many par­tic­i­pate in on Shab­bat, you real­ly man­aged to cap­ture the Beck­ers set­ting it apart in their own, beau­ti­ful way. How did you approach form­ing these tra­di­tions and work­ing in the nuance of those elements?
HN: Am I about to ref­er­ence the Net­flix show Jew­ish Match­mak­ing? It cer­tain­ly appears so! In the show, the match­mak­er, Aleeza Ben Shalom, makes a com­ment about how there are fif­teen mil­lion Jews in the world…and about fif­teen mil­lion ways to be Jew­ish! I've seen it with my own fam­i­ly, I've seen it with friends. There are so many beau­ti­ful, won­der­ful, unique ways to con­nect to Jew­ish tra­di­tions. Dur­ing the pan­dem­ic, my mom and I start­ed doing Shab­bat din­ner togeth­er. We lit the can­dles, took out my child­hood tzedakah box, debat­ed over where to find the best chal­lah, played the prayers on Youtube: just the two of us. I want­ed to take some of that into the story.
I've been call­ing this book Gilmore Girls but make it Jew­ish. I real­ly want­ed to show the moth­er-daugh­ter-grand­moth­er dynam­ic. They each con­nect to their Jew­ish­ness in dif­fer­ent ways. I want­ed to show that con­crete­ly through their tra­di­tions. Those con­nec­tions are dif­fer­ent, sure, but all of them are valid!
BS/SW: Over the course of the book, Felic­i­ty learns how to let go and let peo­ple be their own authen­tic selves, instead of what she thinks they should be – includ­ing her­self! How did you find the bal­ance between the con­crete rep­re­sen­ta­tion of the character's growth (Felic­i­ty plan­ning her mother's wed­ding) and the qui­eter arc of the evo­lu­tion of her rela­tion­ship with Nancy?
HN: I think this one might come down to a bit of a tech­ni­cal­i­ty! I had a dead­line for the plot about the wed­ding. I knew I want­ed it to take place over the sum­mer, so I was able to set firm dates from there. But, with the rela­tion­ship arc… I actu­al­ly changed the entire time­line for that one dur­ing revi­sions! I found that I was writ­ing to typ­i­cal romance beats, instead of con­sid­er­ing what might look dif­fer­ent for a char­ac­ter on the asex­u­al spec­trum. To me, it was real­ly impor­tant to tell an authen­tic sto­ry. Felic­i­ty and Nan­cy fall in love over time. They have this foun­da­tion of friend­ship. And the whole time, Felic­i­ty feels that roman­tic con­nec­tion, but wor­ries that, because she's ace-spec­trum, Nan­cy won't be inter­est­ed in her that way.
I'm a firm believ­er in bridg­ing humor and heart, high emo­tions and qui­eter feel­ings, to tell a full and com­plete sto­ry. All of those moments – the wed­ding plan­ning, the rela­tion­ship – ulti­mate­ly come togeth­er to help Felic­i­ty learn and grow.
BS/SW: The strained moth­er-daugh­ter rela­tion­ships in your book add a real lay­er of com­plex­i­ty to the sto­ry – and, I'm sure, relata­bil­i­ty to so many read­ers. Can you expand a lit­tle on the role of inter­gen­er­a­tional expec­ta­tions, espe­cial­ly with­in Jew­ish culture?
HN: I was talk­ing about this with my fam­i­ly over Passover! It is fas­ci­nat­ing to look from a gen­er­a­tional per­spec­tive and see the way that trau­ma influ­ences expec­ta­tions. The ways in which we learn how to behave, how to stay safe, and how that is then passed on and changed based on new envi­ron­ments. Some of this comes back to pogroms, dias­po­ra, the Holo­caust. That trau­ma stays in fam­i­lies, some­times in ways you wouldn't expect.
When it comes to the moth­er-daugh­ter-bubbe con­nec­tion in the book, we have three very dif­fer­ent women. Bubbe is more tra­di­tion­al in her Jew­ish­ness. She is con­cerned about doing the right things in the right ways. There is a lot of pres­sure there. Because of this, Felicity's mom is untra­di­tion­al to a fault. And then there is Felic­i­ty, almost caught in the mid­dle. There's a scene lat­er in the book that I referred to as the gen­er­a­tional trau­ma scene. Bubbe tries to open up to Felic­i­ty. She's not entire­ly able to explain her­self. What she does say is that her expec­ta­tions are solid­ly root­ed in a place of pro­tec­tion. She wants her fam­i­ly to be safe. Does she do it in the best way… not at all. But for me, that was impor­tant to show because it felt very real.
Just like how there is no one way to be Jew­ish, there is no sin­gle way to be queer.
BS/SW: There are few things that are more impor­tant in lit­er­a­ture than true inter­sec­tion­al por­tray­als, as no one is just one thing. We'd love to get your ideas on the impor­tance of rep­re­sen­ta­tion in queer romance lit­er­a­ture and how your book con­tributes to pro­vid­ing diverse and authen­tic por­tray­als of Jew­ish queer characters.
HN: No per­son is one sin­gle thing! Iden­ti­ties and back­grounds are always so com­plex. Just like how there is no one way to be Jew­ish, there is no sin­gle way to be queer (some­thing you both show so beau­ti­ful­ly in Mar­go Zim­mer­man Gets the Girl!). I am deeply hon­ored that I get to write queer Jew­ish rep­re­sen­ta­tion. I am over­whelmed in the best way to see lists — plur­al! — of queer Jew­ish books. I hope my writ­ing can be an exam­ple, one among many, that maybe in some small way helps a read­er feel seen.
BS/SW: What is the one thing you want read­ers to walk away with when they fin­ish your book?
HN: There is no such thing as a per­fect plan for your future. Some­times the best parts of life are entire­ly unexpected.
HN: And now it is time to turn the tables! I am so thrilled to talk to you both about Mar­go Zim­mer­man Gets the Girl! I embar­rassed myself in pub­lic when I decid­ed to read this on a train (and end­ed up laugh­ing so many times I con­cerned the per­son sit­ting next me). So now I have to embar­rass you two by show­er­ing you both with praise. What a book! From humor to hug-the-book emo­tion­al scenes, you had me hooked.
I have to start off by ask­ing a very themed ques­tion. For read­ers who haven't picked up this delight­ful book yet, the sto­ry cen­ters on a girl who has recent­ly real­ized that she's gay and turns to one of her peers for Queer 101 lessons. If you were run­ning Queer 101, what would be the first lesson?
SW: I think Mar­go Zim­mer­man is the first les­son of Queer 101: there's no right way – or wrong way – to be gay.
BS: And along­side that, Abbie takes les­son one to define a mil­lion terms that almost seem insult­ing (and know­ing Abbie, that's not one hun­dred per­cent untrue), but I'd want to get across that queer­ness means more than one thing; there are a mil­lion ways to be queer.
HN: What books would be on your Queer 101 syl­labus? Would they be the same as the ones Abbie put on her syllabus?
SW: Stephen Fry's auto­bi­og­ra­phy Moab Is My Wash­pot–he's queer and Jew­ish, so bonus points there. Oscar Wilde's The Pic­ture of Dori­an Gray, which is about as queer as a book could have been when being queer was a cap­i­tal offense. (My 11th grade Eng­lish lit teacher assigned it – can you imag­ine – and that was the sec­ond time I read it. I'm very cool.) My con­tro­ver­sial rec­om­men­da­tion is going to be James Joyce's Por­trait of the Artist as a Young Man. I was six­teen when I read it, and it deeply affect­ed me. If learn­ing ​"bisex­u­al" was a word was the gasp, Por­trait was the relieved exhale. And, well, it's not a book, but Our Flag Means Death. It has some of the best and wide­ly var­ied queer rep­re­sen­ta­tion I've seen in fic­tion media, I mean. Ever.
BS: WELL SUSSED. Tru­ly, we've watched that so many times that we've lost count, and a huge rea­son is its joy­ful queer­ness, and its queer joy. In the non-fic­tion realm, so many of the titles we would put on a syl­labus for this class are the ones we…well…had Abbie put on her own syl­labus. Out­side of those, my Queer 101 class would be as unhinged as the SAT prep class I once taught (where­in I taught about semi-colons by mak­ing kids cor­rect sen­tences about bisex­u­al icon Julie D'Aubigny and polyamorous queer pirates Anne Bon­ny, Jack Rack­ham, and Mary Read). Because if I'm talk­ing queer lit? I'm talk­ing about Mira Grant's Into the Drown­ing Deep and Tes­sa Gratton's Strange Grace and Lev Rosen's Jack of Hearts (And Oth­er Parts). And prob­a­bly get­ting the admin­is­tra­tion called on me for it, but hey, what else is new?
HN: One of the things I noticed in both of our books was the mat­ter-of-fact way in which Jew­ish­ness is treat­ed. The char­ac­ters are Jew­ish. It's a fact; just anoth­er part of the sto­ry. Did you both always know that you want­ed to write mat­ter-of-fact Jew­ish char­ac­ters in this book?
SW: I did. I basi­cal­ly write all my char­ac­ters Jew­ish unless there's a rea­son they shouldn't be. I grew up in the 90s and the Jew­ish char­ac­ters that were avail­able in the library were all trag­ic. (I latched on to Let­ters from Riv­ka because at least this sad his­tor­i­cal wasn't about the Holo­caust.) It's impor­tant to me to see liv­ing, breath­ing, hap­py, thriv­ing, nor­mal Jew­ish peo­ple being Jew­ish today, because I didn't get to see that as a kid. I grew up in Flori­da and South Car­oli­na, so not only did I not get to see it in books, I bare­ly got to see it out­side of synagogue.
One of the damnedest things about geno­cide is how it rever­ber­ates through gen­er­a­tions. Com­mu­ni­ties who weren't sub­ject­ed often aren't aware of sur­vivors. (Hon­est­ly, it's a huge issue for Indige­nous peo­ple.) Peo­ple get fix­at­ed on the tragedy, the sen­sa­tion­al­ism of it, and sud­den­ly your iden­ti­ty and cul­ture and her­itage and every­thing has been reduced to Num­ber the Stars. And, not for noth­ing, when exis­tence is resis­tance, pub­lish­ing two big mid­dle fin­gers is pret­ty satisfying.
BS: This was also impor­tant to me, as I didn't grow up Jew­ish; I con­vert­ed as an adult. Jew­ish­ness was some­thing I chose to belong to, and chose to belong to me. And fre­quent­ly, because I grew up evan­gel­i­cal, that choice is met with…resistance. Dur­ing that process, I would bring lit­tle copies of things likes ​"biogra­phies of Hil­lel" to places I knew they might not be well-received, and now, I bring Jew­ish char­ac­ters along with me into my sto­ries. Because Jew­ish peo­ple are, and Jew­ish char­ac­ters are, and writ­ing Jews exist­ing and lov­ing and fac­ing chal­lenge and strug­gle and love and life is a way of embrac­ing my own iden­ti­ty, and doing it with gusto.
HN: What was the co-writ­ing process like?
SW: Either com­plete­ly silent or nei­ther of us can shut up.
BS: It's a lot eas­i­er to co-write, it turns out, when you share a brain.
SW: My hus­band spends a lot of time expe­ri­enc­ing the world in stereo.
BS: And if her mom is around, sud­den­ly the room is set up in Dol­by sur­round sound.
SW: All the books we've cowrit­ten have been dual points of view. Every­thing is in a shared Google doc so we both have access to the most up-to-date ver­sion of the sto­ry and out­line. We each cre­ate the char­ac­ter we're going to write, but we do it joint­ly so the moti­va­tions and all that match up. The chap­ters and scenes that are only one char­ac­ter we do on our own time, but any­thing where they inter­act we sit down and write their dia­logue back and forth in real time.
BS: That's basi­cal­ly it! Hon­est­ly, I always thought co-writ­ing would be impos­si­bly dif­fi­cult – until Sara and I tried it. We joke about shar­ing a brain, but we tru­ly do both think sim­i­lar­ly and more impor­tant­ly, respect each other's writ­ing deeply, which makes writ­ing togeth­er stun­ning­ly smooth. We've only ever dis­agreed the one time. When we got into a HUGE, MAS­SIVE FIGHT–
SW: It was not a huge, mas­sive fight. It was Bri being unrea­son­able. Un-bri-sonable.
BS: It was tech­ni­cal­ly me hav­ing for­got­ten to eat or drink any water at all for like nine hours and then think­ing that hav­ing a half a glass of wine was a good idea, which led to me think­ing, for about twen­ty min­utes, that hav­ing our main char­ac­ter com­mit felony arson was a real­ly good idea, also.
SW: The char­ac­ter did not com­mit felony arson.
HN: Do either of you have any sil­ly or untra­di­tion­al writ­ing habits? (I'm not say­ing I bought a few swing style dress­es so I could look like Felic­i­ty while I wrote but…)
BS: First off – please link me to those dress­es? Some­times my gen­der is ​"can wear dress­es today," and on those days, it's impor­tant to be stocked up on swing dress­es. Sec­ond­ly, hon­est­ly, I don't think I have any­thing too off-kil­ter here! The odd­est thing I'll do is rather than lis­ten­ing to music, I often lis­ten to sound effects that my char­ac­ters are expe­ri­enc­ing. If they're in a cof­fee shop, it's cof­fee shop sounds. At a camp­fire, I'll find ambi­ent camp­fire noise. I want to be where they are, and that's the clos­est way I can think of to do it, until tele­por­ta­tion becomes mainstream.
SW: I'm pret­ty bor­ing: I main­line caf­feine and lis­ten to music. Once I draft­ed an entire eighty-thou­sand word book to only the orig­i­nal Hunger Games sound­track. The book was garbage but that sound­track still slaps.
HN: What is your main Queer 101 learn­ing objec­tive? I real­ize this is the same as ask­ing about the main take­away from your book, but I'm stick­ing to the theme!
BS: I guess a lot of this goes back to our first answer, and that is – babe, if you're queer, you're queer. Not only do you get to define your own queer­ness, but queer­ness as a whole is being defined by you. By your pres­ence in it. How cool and pow­er­ful is that?
SW: No mat­ter what any­one tells you, from any posi­tion of pow­er, real or imag­ined: SAY GAY.
Haley Neil is the author of Once More With Chutz­pah and Plan­ning Per­fect, and a recent MFA grad from The New School, where she spe­cial­ized in Writ­ing for Chil­dren and Young Adults. She pre­vi­ous­ly obtained her Mas­ters in Edu­ca­tion while work­ing full time as a preschool teacher. She loves school, teach­ing, and going to school to learn about teach­ing (as well as walk­ing her res­cue pup through her Mass­a­chu­setts town and work­ing at her local library).
Bri­an­na R. Shrum is the author of six nov­els for young adults, includ­ing Nev­er, Nev­er; How to Make Out; The Art of French Kiss­ing; Kiss­ing Ezra Holtz — And Oth­er Things I Did For Sci­ence; The Liar's Guide to the Night Sky; and Rebel Boys and Res­cue Dogs – or – Things That Kiss With Teeth. Her work has been trans­lat­ed into mul­ti­ple lan­guages across two con­ti­nents. She is queer and Jew­ish and rebel­lious­ly lives in the Bible Belt (South Car­oli­na) with her favorite peo­ple, when she's not writ­ing, you can usu­al­ly find her climb­ing rocks or read­ing with a chai.
Sara Wax­el­baum is the author of con­tem­po­rary YA nov­els. Under the name Sara Tay­lor Woods, she is the author of erot­ic romance, includ­ing Hold Me Down, a HOLT Medal­lion final­ist in two categories.