Dani Shapiro is the author of the mem­oir Devo­tion. She will be blog­ging all week for the Jew­ish Book Coun­cil and MyJew­ish­Learn­ing.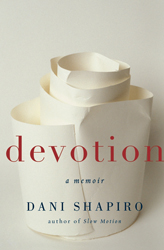 Eight years ago, I moved with my hus­band and young son from a brown­stone in Brook­lyn to a house on ten acres in rur­al Con­necti­cut. I had a lot on my mind at the time. I wor­ried that we were mak­ing a huge mis­take leav­ing the city for coun­try life. What did I know from nature? I was a city crea­ture, accus­tomed to sirens, pret­zel ven­dors, door­men, Chi­nese take-out.
Three-year-old Jacob refused to set his bare feet on grass that whole first sum­mer, and when he did, he screeched in bewil­der­ment, as if the very tex­ture of the grass itself was an affront to his already ingrained city sensibilities.
I wor­ried that we'd be lone­ly, or that our days would be too qui­et, or that there would be no place to buy broc­coli rabe with­in a fifty mile radius. But the one thing about our move that most took me by sur­prise was that in this new rur­al life, my Jew­ish­ness assert­ed itself pow­er­ful­ly, with a sense of urgency.
I had nev­er had to think about being Jew­ish before! It was sim­ply what I was — as much a part of my iden­ti­ty as being female, or a daugh­ter, a moth­er, a wife. In New York, it seemed the very air I breathed was Jew­ish air.
When I was grow­ing up, my grand­par­ents lived on the Upper West Side. My grand­fa­ther was among the founders of Lin­coln Square Syn­a­gogue. I was raised in an Ortho­dox home, went to a yeshi­va until sev­enth grade. Now, here I was liv­ing in a small New Eng­land town with three church­es and no tem­ple. What's more, my son had devel­oped a fas­ci­na­tion with these church­es. They com­bined his three obses­sions: bells, tow­ers, and clocks. He'd gaze up at the pris­tine white church on our vil­lage green, and we'd have the fol­low­ing conversation:
"We're a lit­tle bit Chris­t­ian and a lit­tle bit Jew­ish, right?"
"No, hon­ey. We're entire­ly Jewish."
"A lit­tle bit Chris­t­ian," he would nod emphat­i­cal­ly, as if the mat­ter was set­tled for once and for all.
Dani Shapiro's new mem­oir Devo­tion is now avail­able. Come back all week to read her posts for the Jew­ish Book Coun­cil and MyJew­ish­Learn­ing​'s author blog­ging series. She'll be read­ing at Franklin Park in Brook­lyn next Mon­day night.
Dani Shapiro is a best-sell­ing nov­el­ist and mem­oirist and host of the pod­cast Fam­i­ly Secrets (now in its sev­enth sea­son). Her work has been fea­tured in The New York Times, The New York­er, Vogue, and Time. She has taught at Colum­bia and New York Uni­ver­si­ty and is the co-founder of the Siren­land Writ­ers Con­fer­ence. She lives in Litch­field Coun­ty, Connecticut.