John Kessel and James Patrick Kel­ly are the edi­tors of Kafkaesque: Sto­ries Inspired by Franz Kaf­ka. They will be blog­ging here all week for Jew­ish Book Coun­cil and MyJew­ish­Learn­ing. On Mon­day, James Patrick Kel­ly
writes about a man as puz­zling as his sto­ries and today, John Kessel looks at Kaf­ka and the para­ble.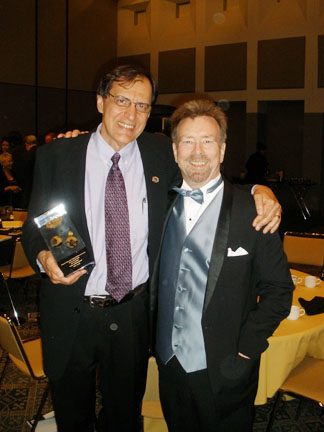 Since my first encounter with Kaf­ka​'s writ­ing, I've been inter­est­ed in a qual­i­ty that, while he was alive, stood in the way of his achiev­ing a large rep­u­ta­tion: his alle­go­ry. Kafka's inevitable tro­pism for the alle­gor­i­cal puts him in marked oppo­si­tion to the real­ism that dom­i­nat­ed the lit­er­ary world of the first half of the twen­ti­eth century.
Though a real­ist writer might acknowl­edge that his sto­ry set in the mun­dane world might have alle­gor­i­cal read­ings, the trend in the first half of the twen­ti­eth cen­tu­ry was to flee alle­go­ry for either the doc­u­men­ta­tion of the exter­nal world, or of indi­vid­ual psy­chol­o­gy. Even exper­i­men­tal­ists like James Joyce and Vir­ginia Woolf, despite streams of con­scious­ness or wild flights of imagery, assume that fic­tion is about what is, the sur­face of events and things and peo­ple. Tol­stoy and Dos­toyevsky, de Mau­pas­sant and Flaubert, Hardy and Dick­ens before him, Anton Chekhov and Joseph Con­rad while he was alive and writ­ing, Thomas Mann, Ernest Hem­ing­way and William Faulkn­er after him, no mat­ter how elab­o­rate their rhetoric or sym­bol­isms, insist upon the real­i­ty of their worlds.
Kaf­ka is not inter­est­ed in doc­u­ment­ing the man­ners and mores of any par­tic­u­lar place; he is not inter­est­ed in prob­ing the psy­che of indi­vid­ual char­ac­ters. Joyce spent his life after leav­ing Ire­land cre­at­ing Dublin and its inhab­i­tants in their speci­fici­ty and indi­vid­u­al­i­ty, their lan­guage, places, habits, strengths, and weak­ness­es. A per­son may pre­cise­ly fol­low the path that Leopold Bloom walked in the course of a day in Ulysses, and every June 16th, numer­ous peo­ple do.
In con­trast, Kafka's peo­ple and set­tings are gener­ic. For the most part Kafka's char­ac­ters don't even have names, and the worlds they inhab­it are icon­ic rather than doc­u­men­tary. Though he spent most of his life in Prague, there is for instance lit­tle sense of Prague, or any oth­er spe­cif­ic place, in his work.
We are not inter­est­ed in the hunger artist's biog­ra­phy. To ask this ques­tion is to reveal its absur­di­ty. Nei­ther do we ask the biog­ra­phy of Melville's Bartle­by or Jesus's Good Samar­i­tan or the char­ac­ters in the numer­ous para­bles of the Tal­mud and Midrash. We don't won­der about the hunger artist's child­hood, his eth­nic back­ground, the place where he lives, the names of the towns and cities where he per­forms, the polit­i­cal cli­mate, his inter­per­son­al rela­tion­ships, his sex life, what year it is, and what lan­guage is being spo­ken. Kaf­ka spends lit­tle time evok­ing per­sons or places, does not give us indi­vid­ual ges­tures or idio­syn­crasies, does not appeal to our sens­es, does not make us feel and live in the worlds he cre­ates. Though he may give us objects and actions that appear in the real world, he is not doc­u­ment­ing real­i­ty. A cage, an impre­sario, some straw, a cir­cus. Or an apart­ment, a trav­el­ing sales­man, a sis­ter Grete, an unnamed moth­er and father, a nar­row bed, the pic­ture of a woman wear­ing a muff, an apple. Or a penal colony, an explor­er, a pris­on­er, an offi­cer, a bizarre exe­cu­tion machine.
This is not a crit­i­cism. The sto­ries are not divorced from the world — in fact they are cogent­ly rel­e­vant, even polit­i­cal, as rad­i­cal­ly polit­i­cal in their uni­ver­sal­i­ty as Jesus's para­bles. A pow­er­ful intel­lect works behind every sen­tence. One is chal­lenged to inter­pret every image, every action, to read through the sur­face of a Kaf­ka sto­ry to the mean­ings behind. There are lay­ers upon lay­ers, pris­mat­ic reflec­tions of abstract meanings.
How­ev­er, it would be a mis­take to say that the mean­ings of Kafka's para­bles are clear. As the crit­ic Wal­ter Ben­jamin wrote: ​"Kaf­ka had a rare abil­i­ty for cre­at­ing para­bles for him­self. Yet his para­bles are nev­er exhaust­ed by what is explain­able; on the con­trary, he took all con­ceiv­able pre­cau­tions against the inter­pre­ta­tion of his writ­ings. One has to find one's way in them cir­cum­spect­ly, cau­tious­ly and war­i­ly."

Check back all week for more posts from John Kessel and James Patrick Kelly.