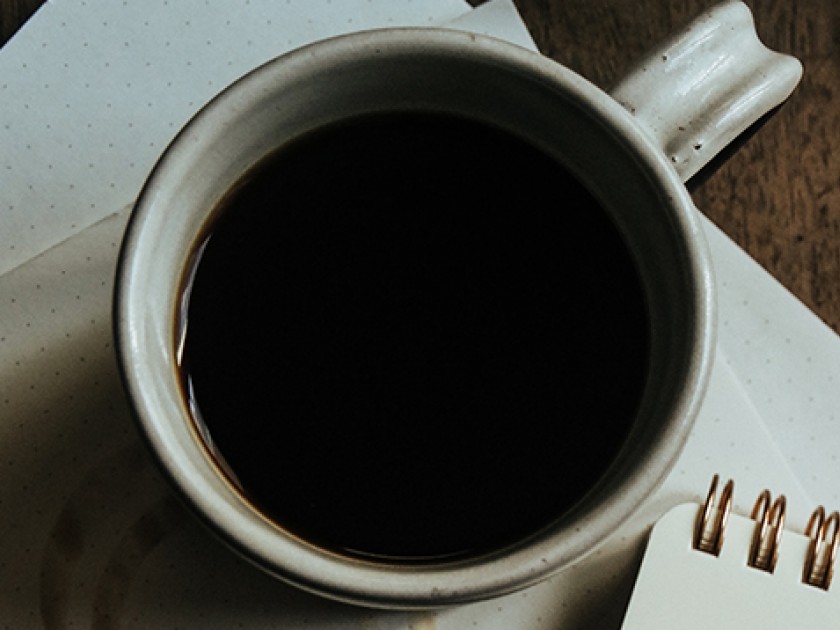 Ear­li­er this week, Min­na Zall­man Proc­tor wrote about Vir­ginia Woolf's short sto­ries and the blog post as lit­er­ary form. Today, tak­ing inspi­ra­tion from the nar­ra­tor in Woolf's ​"Street Haunt­ing" who attempts to inhab­it the minds of the peo­ple she pass­es on Lon­don's streets, Min­na imag­ines the inte­ri­or lives of a cou­ple in a cof­fee shop. She will be blog­ging here all week for Jew­ish Book Coun­cil's Vis­it­ing Scribe series.
But, after all, we are only glid­ing smooth­ly on the sur­face. The eye is not a min­er, not a div­er, not a seek­er after buried trea­sure. It floats us smooth­ly down a stream; rest­ing, paus­ing, the brain sleeps per­haps as it looks.
—Vir­ginia Woolf, ​"Street Haunting"
There is a cou­ple in the cof­fee shop where I'm work­ing today who are talk­ing about run­ning away togeth­er. I'm try­ing hard not to eaves­drop, forc­ing their per­fect­ly audi­ble con­ver­sa­tion to mud­dle itself in my ears, the way you can make your vision blur by relax­ing your eyes. But the mut­ter and rhythms of their con­ver­sa­tion is just as reveal­ing as spe­cif­ic words would be. Some­times they stop talk­ing entire­ly, reach across the small table to hold hands and stare deeply at each oth­er, at a length that only belongs to the besot­ted. The pro­longed gaze that would make a friend look away or bore a spouse. Between these two, the look­ing feels like a hun­gry tat­too, imprint­ing this stolen time. Because nei­ther one has actu­al­ly aban­doned their real lives. This is stolen time in a crude and absurd cof­fee shop — forged bohemi­an in a neigh­bor­hood of immi­grants, pen­sion­ers, taxi dri­vers, and sub­sti­tute pub­lic school teach­ers — with amber light bulbs, put­ty col­ored walls, a series of sev­en­teen pro­vi­sion­al­ly framed sketch­es by a local artist hung in a dis­tress­ing­ly uneven hor­i­zon­tal line…
He's old­er than she is by some years. Bald and white grey, in a short sleeve cham­bray but­ton-down that fits loose­ly, time­less casu­al, over khakis. He's wear­ing socks under his san­dals. She's in jeans and an expen­sive, form fit­ting fleece. Clogs. Her curly hair is pulled back into a pony­tail and held off her face with a bright­ly col­ored head­band. She has her back to me but I can see from this angle that she has beau­ti­ful cheek­bones and prac­ti­cal glass­es. Her ear­rings are from a muse­um gift shop.
It's pour­ing out and still ear­ly morn­ing. Even though I'm only catch­ing snatch­es of con­ver­sa­tion, I know they are talk­ing about how to make big deci­sions. Talk­ing about the way peo­ple in their lives, a son maybe or sis­ter, are resilient. Antic­i­pat­ing con­se­quence. At one point, he tells her the sto­ry of a great betray­al. I don't mean to lis­ten — but up look up acci­den­tal­ly from my book and catch him wip­ing tears when he says, ​"He was the best friend I've ever had."
Tall, grown men cry­ing breaks my heart. Noth­ing else makes me want to solve every­thing in the world that can't be solved more than a cry­ing man, not even when my own chil­dren weep (chil­dren always weep). ​"I either want to come back to Brook­lyn," she says sud­den­ly, ​"or Boston." I under­stand, I think. ​"But do you have anoth­er offer in Boston?" he answers and there's more silence before she answers with a long dis­course on fail­ings that I can't hear but think would sound too famil­iar if I did. Bor­ing to hear one's own end­less neu­roses rehearsed once that first shock of recog­ni­tion has evaporated.
They stand to leave. They embrace with great affec­tion and sad­ness, for let­ting each oth­er go, for hav­ing to let each oth­er go. Affec­tion so chaste and endur­ing. The phys­i­cal con­tact of a life­time. I see now as he turns from her and walks out the door, upright and brave­ly inclined as tall peo­ple are, before he even hits the street, against the rain. Leav­ing her stand­ing behind, phone already in hand, prepar­ing for the next moment of her day. I see now what's been grotesque­ly evi­dent all along, they are not lovers, they are father and daughter.
Min­na Zall­man Proc­tor is a writer, crit­ic, and trans­la­tor who cur­rent­ly teach­es cre­ative writ­ing at Fair­leigh Dick­in­son Uni­ver­si­ty, where she is also edi­tor in chief of The Lit­er­ary Review. Her most recent book is Land­slide: True Sto­ries. She is also the author of Do You Hear What I Hear? An Unre­li­gious Writer Inves­ti­gates Reli­gious Call­ing and has trans­lat­ed eight books from Ital­ian, includ­ing Fleur Jaeggy's These Pos­si­ble Lives. She lives in Brooklyn.