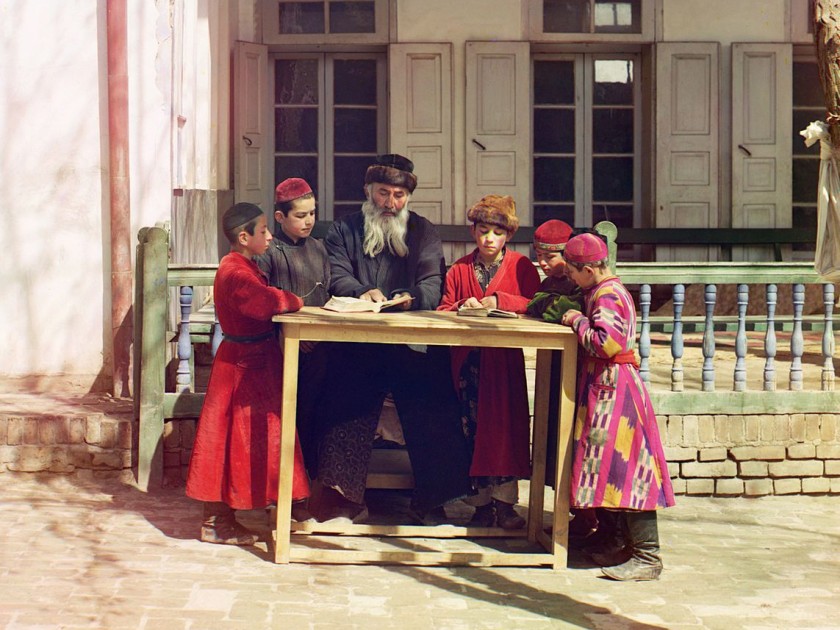 That Jews are ​"peo­ple of the book" is well known. What is less acknowl­edged, how­ev­er, is that we are also the ​"peo­ple of the book club."
Read­ing and study­ing are ingrained into our reli­gious and cul­tur­al fab­ric. Many Jews — whether obser­vant, sec­u­lar, or some­where in the infi­nite­ly gra­dat­ed spaces between — cling to books as sources of strength and wis­dom. In the most recent Pew Study of Amer­i­can Jews, over half of US Jews say that being intel­lec­tu­al­ly curi­ous is an essen­tial part of what being Jew­ish means to them. Many Jews look to the writ­ten word for guid­ance from Torah, the week­end edi­tion of the New York Times, to Twitter.
Jews often read in con­ver­sa­tion with oth­ers, wher­ev­er they're seek­ing out the writ­ten word. The week­ly Torah por­tion or a recent, con­tro­ver­sial edi­to­r­i­al are not sim­ply fod­der to be absorbed by the indi­vid­ual read­er, but con­tent to spark a dia­logue. Read­ing might be an indi­vid­ual activ­i­ty, but for Jews, it takes on a com­mu­nal dynamic.
The idea of read­ing in a social con­text has a long­stand­ing form: book clubs.
Book clubs help address two con­verg­ing chal­lenges of our times: how do we focus in a world of fast-paced media? How do we find com­mon­al­i­ty when the cul­tur­al offer­ings are so diffuse?
The pan­dem­ic brought both to the fore. With our iso­la­tion, we lost our tra­di­tion­al modes of gath­er­ing and con­nect­ing, some­times becom­ing iso­lat­ed and lone­ly. With increased time at home for the priv­i­leged among us, we also con­front­ed the chal­lenge of choos­ing how to fill our time — often it was eas­i­est to head to Twit­ter and swim in its infi­nite sea of 280 char­ac­ter thoughts.
Book clubs are a tool to solve these chal­lenges; they allow for a group of peo­ple to come togeth­er and con­nect over a shared read­ing expe­ri­ence. These meet­ings often lead to in-depth and mean­ing­ful engage­ment, and a step away from the dig­i­tal world. Book clubs have seen a rise in pop­u­lar­i­ty dur­ing these unprece­dent­ed times, and they seem to pos­sess a unique prop­er­ty that more and more of us cling to. For some, the social aspect is pri­ma­ry and the text is secondary.
It is not sim­ply that we as a peo­ple love books, but rather that through books we build a rhythm into life's chaos and bind our­selves to one another.
Jew­ish tra­di­tion has long rec­og­nized the pow­er of com­ing togeth­er over a text. We come togeth­er to dis­cuss the themes, lessons, val­ues, and sto­ries that emerge and give our lives mean­ing — every week with the Torah por­tion, every day with Daf Yomi (the sev­en-year cycle of read­ing a page of Tal­mud every day), and dur­ing the time between Passover and Shavuot when many Jews read Pirkei Avot.
We do not always read it in the same way. Num­bers Rab­bah tells us there are sev­en­ty faces of Torah, empha­siz­ing the elas­tic­i­ty of this text. But through it all, we are col­lec­tive­ly in the longest run­ning, inter­na­tion­al book club. And we do it together.
Rab­bi Meir Shapiro, the Pol­ish rab­bi who cre­at­ed Daf Yomi,cap­tured this mag­ic when he said:
What a great thing! A Jew trav­els by boat… from Eretz Yis­rael to Amer­i­ca, and each day he learns the daf. When he arrives in Amer­i­ca, he enters a beis medrash [a study hall] in New York and finds Jews learn­ing the very same daf that he stud­ied on that day, and he glad­ly joins them. Anoth­er Jew leaves the States and trav­els to Brazil or Japan, and he first goes to the beis medrash, where he finds every­one learn­ing the same daf that he him­self learned that day. Could there be greater uni­ty of hearts than this?
It is not sim­ply that we as a peo­ple love books, but rather that through books we build a rhythm into life's chaos and bind our­selves to one another.
Book clubs do the same: they allow peo­ple to come togeth­er and build con­nec­tions across geo­graph­i­cal and ide­o­log­i­cal divides. Even when we can­not find much to agree on or space to gath­er, we can read together.
Rab­bi Joshua Mikutis is JDC Entwine's Direc­tor of Design and Jew­ish Learn­ing and the Rab­binic Direc­tor of the Weitz­man-JDC Fel­low­ship in Glob­al Jew­ish Lead­er­ship at HUC-JIR.