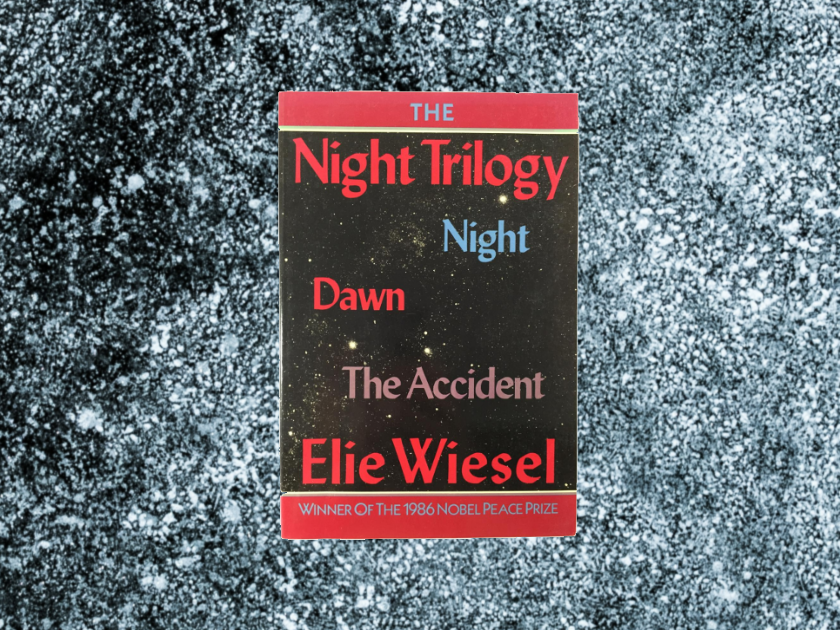 With my debut book, In Oth­er Life­times All I've Lost Comes Back to Me, com­ing out this month, I've been receiv­ing a lot of ques­tions about the sub­jects of my sto­ries: con­tem­po­rary women expe­ri­enc­ing long­ing and lone­li­ness, and Jew­ish ghosts from the con­cen­tra­tion camps. Some might won­der, is it a sac­ri­lege to put these two together?
In response, I find myself think­ing more and more about Day, by Elie Wiesel.
I dis­cov­ered the book just before the pan­dem­ic, when I was liv­ing in New Hamp­shire as the writer-in-res­i­dence at Phillips Exeter Acad­e­my. I was walk­ing through the library when I dis­cov­ered some­thing I could­n't believe I did­n't already know: Elie Wiesel's famous Night is part of a tril­o­gy. Its coun­ter­parts of Dawn and Day, each slim books of about one-hun­dred pages.
I took them out imme­di­ate­ly and was enthralled by Day, a work of immense power .
Day asks: how does the sur­vivor of the camps ever view his body as a sex­u­al site there­after? Can the body be a source of plea­sure after it was a source of so much pain?
Most notably, Day is all about lost women. The nar­ra­tor is haunt­ed by mem­o­ries of his moth­er, his grand­moth­er, women sex­u­al­ly exploit­ed both in the camps and after. The nar­ra­tor won­ders if his own suf­fer­ing can vic­ar­i­ous­ly harm his cur­rent girl­friend, even once the camps are past. Night is about the boy and his father, but Day is about the women lost and in the narrator's present.
Imme­di­ate­ly upon read­ing Day, I felt that these were themes I could write into. There was a mod­ern female per­spec­tive to be drawn out here. I won­dered: What about the grand­daugh­ter of the survivor?
For me, this brought up the ques­tion of scale. How unequal in scale they were, the prob­lems of dat­ing in the mod­ern age and the prob­lems of the camps.
The ques­tion of scale is, in many ways, the under­gird­ing dri­ve of fic­tion. Fic­tion uses the per­son­al to stand in for the uni­ver­sal. George Saun­ders posits that great lit­er­a­ture is based in ​"per­haps the most rad­i­cal idea of all: that every human being is wor­thy of atten­tion and that the ori­gins of every good and evil capa­bil­i­ty of the uni­verse may be found by observ­ing a sin­gle, even very hum­ble, per­son and the turn­ings of his or her mind."
Of course, the small prob­lem of con­tem­po­rary dat­ing and the large prob­lem of the camps are unequal. And they also coex­ist. Ques­tions of alone­ness, safe­ty, and repro­duc­tion tan­gle the two together.
In Day, Wiesel presents the girl­friend char­ac­ter, Kath­leen, as the narrator's oppo­site. She thinks the uni­verse is ulti­mate­ly about love, and their love in par­tic­u­lar. ​"For Kath­leen, even God was not so much a sub­ject for dis­cus­sion as a way to bring the con­ver­sa­tion back to us." But the nar­ra­tor knows that the uni­verse has been tak­en away to heav­en by train, and all that's left is smoke. He tells him­self that, in the after­math, he will ​"have to learn…to love. You can learn anything."
But the clear feel­ing in the nar­ra­tion is that, after the camps, such an edu­ca­tion is impos­si­ble. ​"She want­ed to make me hap­py no mat­ter what," he says. ​"To make me taste the plea­sures of life." But "[s]he liked life and love; I only thought of life and love with a strong feel­ing of shame."
Thus, from the start of the nov­el, the pauci­ty of roman­tic love in the face of suf­fer­ing from the Holo­caust is the­ma­tized. The entire book takes this as its cen­tral prob­lem. A prob­lem of scale, ultimately .
The nar­ra­tor of Day strug­gles with the oblig­a­tion of the liv­ing, who are walk­ing around this earth after the trau­ma of the camps. Are the liv­ing oblig­at­ed to the dead and to their mem­o­ries, as the nar­ra­tor seems to think? ​"I think if I were able to for­get I would hate myself," he says.
Or are we oblig­at­ed to the liv­ing, as his friend and foil Gyu­la says, in this stun­ning pas­sage at the book's end: ​"Suf­fer­ing is giv­en to the liv­ing, not the dead.[…] If your suf­fer­ing splash­es those around you, […] then you must kill it, choke it. If the dead are its source, kill them again, as often as you must to cut out their tongues."
Night was about the boy and his father, but Day is about the women lost and in the narrator's present.
In this debate between the char­ac­ters, I rec­og­nized a ten­sion in my own work: what is the rela­tion­ship between the liv­ing and the dead? Does that rela­tion­ship per­tain not only in our moments of reflec­tion and soli­tude, our moments of remem­brance at a ceme­tery — but also dur­ing our moments of roman­tic intimacy?
In my book, this ten­sion has form in the ghosts that live over the shoul­der and between the legs of a con­tem­po­rary woman who is try­ing to date.
When Day was first pub­lished in Amer­i­ca in 1962, the title was not trans­lat­ed lit­er­al­ly from the French Le Jour. The Eng­lish-lan­guage title was The Acci­dent, a ref­er­ence to the car crash that is the major incit­ing and philo­soph­i­cal inci­dent of the book.
Per­haps ​"The Acci­dent" is a stronger title for a stand­alone book. But per­haps too there was some­thing fright­en­ing to the pub­lish­er about link­ing the book so obvi­ous­ly with Night, as its com­pan­ion. Night is about the inhu­man­i­ty of the camps inside the camps; Day is about the inhu­man­i­ty of the camps that lives on in the taboo are­na of sex in their aftermath.
I am remind­ed of the pub­li­ca­tion his­to­ry of one of my favorite Pri­mo Levi sto­ries, ​"Quaes­tio de Cen­tau­ris," trans­lat­ed into Eng­lish for the first time only eight years ago. The New York­er fic­tion edi­tor Deb Treis­man spec­u­lat­ed that it wasn't trans­lat­ed ear­li­er because ​"Levi's edi­tor, Ita­lo Calvi­no, felt that it wouldn't be appro­pri­ate for the author of an impor­tant Holo­caust mem­oir to pub­lish this type of ​"bio­log­i­cal fic­tion," or sci-fi, in his own name."
And yet I read that sto­ry as a direct response to the Holo­caust, very sim­i­lar to Day in its themes; it is about repro­duc­tion every­where, a new fecund Gar­den of Eden that is quick­ly despoiled.
There is obvi­ous­ly a dis­com­fort with imag­in­ing the Holo­caust sur­vivor in the realm of sex.
Yet world-renowned sex ther­a­pist Esther Per­el says that her par­ents sur­vived the camps, and that they ​"came out of that expe­ri­ence want­i­ng to[…]embrace vibran­cy and vital­i­ty — in the mys­ti­cal sense of the word, the erotic."
These exam­ples inspire me to think that my over­whelm­ing ques­tion is not so sac­ri­le­gious, that it was always being asked. The ques­tion is: What about the body? What about sex and desire?
It is, I believe, a ques­tion that deserves a lit­er­ary response.
Court­ney Sender's writ­ing has appeared in the New York Times' Mod­ern Love, the Atlantic, the Keny­on Review, Amer­i­can Short Fic­tion, and Tin House, among oth­ers. A Mac­Dow­ell and Yad­do fel­low, she holds an MFA from the Johns Hop­kins Writ­ing Sem­i­nars and an MTS from Har­vard Divin­i­ty School. She cur­rent­ly lives in the Boston area.