Adam D. Mendel­sohn is Direc­tor of the Pearlstine/​Lipov Cen­ter for South­ern Jew­ish Cul­ture and Asso­ciate Pro­fes­sor of Jew­ish Stud­ies at the Col­lege of Charleston. His most recent book, The Rag Race: How Jews Sewed Their Way to Suc­cess in Amer­i­ca and the British Empire, is now avail­able. He will be blog­ging here all week for Jew­ish Book Coun­cil's Vis­it­ing Scribe series.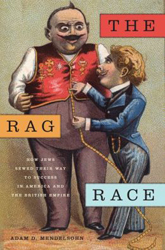 When his­to­ri­ans describe their pro­fes­sion they often liken them­selves to detec­tives. Although the com­par­i­son is flat­ter­ing to his­to­ri­ans – the mys­ter­ies we solve are rarely mat­ters of life and death – our meth­ods of evi­dence-gath­er­ing and deduc­tion are clos­er to real life crime squads than the sleuthing done by most tele­vi­sion gumshoes. We track down leads, cor­rob­o­rate and cross-ref­er­ence, and sift end­less quan­ti­ties of evi­dence. We dream of the source that vol­un­tar­i­ly con­fess­es all of its secrets, but more often pry the truth loose by build­ing a painstak­ing case.
And yet there are rare moments amidst the many, many hours spent in archives when we too expe­ri­ence the thrill of the chase, that exhil­a­rat­ing sense of excite­ment when the mys­te­ri­ous and unex­pect­ed is sud­den­ly with­in reach.
For me, one such moment of serendip­i­ty came when inves­ti­gat­ing the roots of Jew­ish involve­ment in the mod­ern gar­ment indus­try. After months of focus­ing on the role of Jew­ish sup­pli­ers to the Union Army – many of the uni­forms worn by sol­diers in the first year of the Civ­il War were man­u­fac­tured by Jew­ish firms – I switched my atten­tion to the Con­fed­er­a­cy. Some south­ern Jews fea­tured among Con­fed­er­ate con­trac­tors, but these were most­ly small bore. Since the Con­fed­er­ate States of Amer­i­ca had lit­tle of the indus­tri­al capac­i­ty of the Union, it relied heav­i­ly on materiel import­ed from Europe. And cur­so­ry inves­ti­ga­tion revealed lit­tle evi­dence that any of the major Euro­pean exporters had any­thing to do with Jews. I dis­count­ed one such firm, Isaac Camp­bell & Com­pa­ny, on the strength of its name. The firm, based in Lon­don, was one of the lead­ing buy­ers of muni­tions for the Con­fed­er­a­cy, and a major block­ade run­ner to boot. It was much writ­ten-about by his­to­ri­ans, in part because it almost cer­tain­ly defraud­ed the CSA on a mas­sive scale.
But for a serendip­i­tous lead, I would have pur­sued my inves­ti­ga­tion into Isaac Camp­bell & Com­pa­ny no fur­ther. That is, until I dis­cov­ered that the name atop the firm was per­haps inten­tion­al­ly cho­sen to mis­lead. One of the ser­vices sup­plied Dugald Forbes Camp­bell, a Scot­tish attor­ney who rep­re­sent­ed the firm, was to sup­ply a name for the mast­head that may have obscured the fact that Samuel and Saul Isaac, two Jew­ish broth­ers who had start­ed in the boot-mak­ing busi­ness, were its own­ers and prime movers.
Sud­den­ly the game was on! So many new leads to chase down. And a new quar­ry was in my sights. This is what his­to­ri­ans live for.
Check back on Thurs­day to read more from Adam D. Mendelsohn.
Relat­ed Content:
Adam D. Mendel­sohn is Asso­ciate Pro­fes­sor of His­to­ry and Direc­tor of the Kaplan Cen­tre for Jew­ish Stud­ies at the Uni­ver­si­ty of Cape Town. He is the author of The Rag Race: How Jews Sewed Their Way to Suc­cess in Amer­i­ca and the British Empire and co-edi­tor of Jews and the Civ­il War: A Read­er and Transna­tion­al Tra­di­tions: New Per­spec­tives on Amer­i­can Jew­ish His­to­ry.