Excerpt­ed from The Pawn­bro­ker: A Nov­el by Edward Lewis Wallant.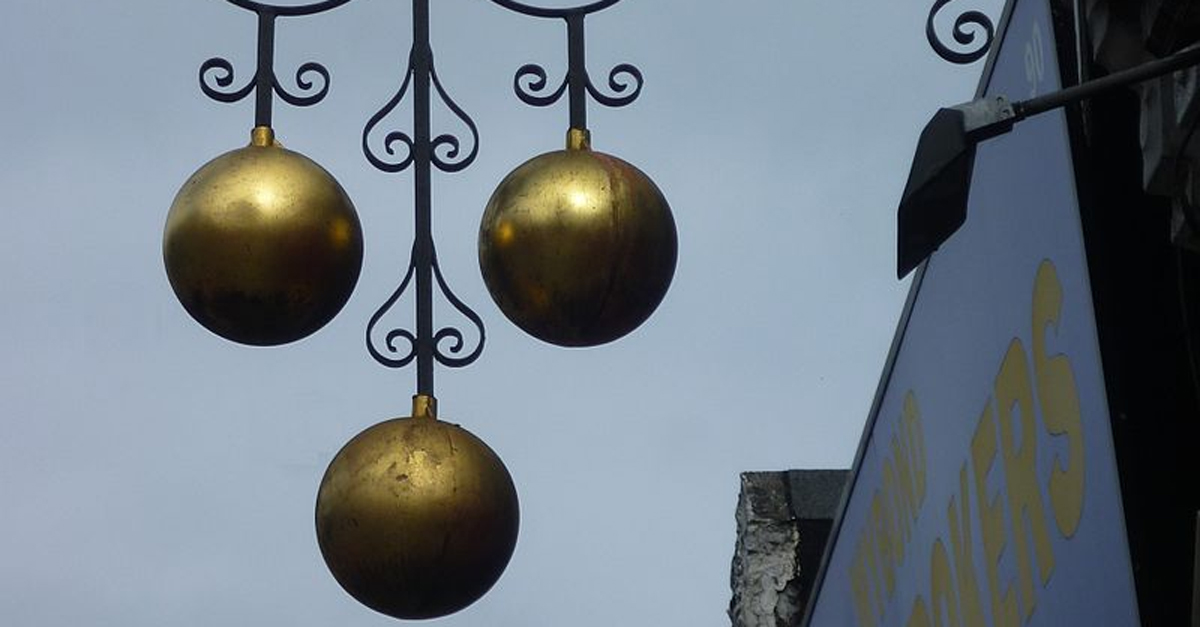 His feet crunched on the hard-packed sand. On his left was the Harlem Riv­er, across the street to the right was the Com­mu­ni­ty Cen­ter, and beyond was the vast, packed city. At sev­en thir­ty in the morn­ing it was qui­et for New York. In that rel­a­tive silence, his foot­steps made pon­der­ous, drag­ging sounds that were loud­er and more imme­di­ate in his own ears than the chug­ging of the var­i­ous riv­er boats or the wak­en­ing noise of traf­fic a few blocks away on 125th Street.
Crunch, crunch, crunch.
It could almost have been the pleas­ant sound of some­one walk­ing over clean white snow. But the sight of the great, bulky fig­ure, with its puffy face, its heed­less dark eyes dis­tort­ed behind the thick lens­es of strange­ly old-fash­ioned glass­es, dis­pelled any thought of pleasure.
Cecil Mapp, a small, skin­ny Negro, sat nurs­ing a mon­u­men­tal hang­over on the wood­en curb­ing that edged the riv­er. He gazed bleari­ly at Sol Naz­er­man the Pawn­bro­ker and thought the heavy, trudg­ing man resem­bled some kind of met­al con­veyance. Look like a tank or like that, he thought. The sight of the big white man lift­ed Cecil's spir­it per­cep­ti­bly; the awk­ward cau­tion of his walk indi­cat­ed mis­ery on a dif­fer­ent scale from his own. For a few min­utes he for­got about his furi­ous wife, whom he would have to face that night, for­got even the antic­i­pat­ed mis­ery of a whole day's work plas­ter­ing walls with shaky, unwill­ing hands. He was actu­al­ly moved to smile as Sol Naz­er­man approached, and he thought gai­ly, That man suf­fer!
He waved his hand and raised his eye­brows like some­one greet­ing a friend at a party.
"Hiya there, Mr. Naz­er­man. Look like it goin' to be a real nice day, don't it?"
"It is a day," Sol allowed indif­fer­ent­ly, with a slight, side-wise move­ment of his head.
As he plod­ded along, Sol watched the qui­et flow of the water. Iron­i­cal­ly, he not­ed the river's decep­tive beau­ty. Despite its oil-green opac­i­ty and the inde­ci­pher­able things float­ing on its filthy sur­face, some­how its insis­tent direc­tion made it impressive.
He nar­rowed his eyes at the August morn­ing: the tar­nished gold light on reced­ing bridges, the mul­ti-shaped indus­tri­al build­ings, and all the ran­dom gleams that bor­dered the riv­er and made the view some­how rem­i­nis­cent of a great and ancient Euro­pean city.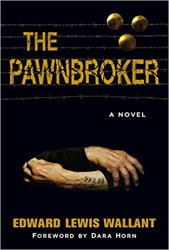 Oh yes, yes, a nice, peace­ful sum­mer day; qui­et, safe, full of peo­ple going about their busi­ness in the rich, promis­ing heat. A doz­ing morn­ing in a gNo fear that he could be tak­en in by it; he had the bat­tered memen­to of his body and his brain to pro­tect him from illusion.
Sud­den­ly he had the sen­sa­tion of being clubbed. An image was stamped behind his eyes like a bolt of pain. For an instant he moved blind­ly in the rosy morn­ing, see­ing a flood­lit night filled with scream­ing. A groan escaped him, and he stretched his eyes wide. There was only the massed detail of a thou­sand build­ings in qui­et sun­light. In a minute he hard­ly remem­bered the hell­ish vision and sighed at just the rec­ol­lec­tion of a brief ache, his glass-cov­ered eyes as bland and aloof as before. Anoth­er minute and he was allow­ing him­self the usu­al shal­low spec­u­la­tion on his surroundings.
From The Pawn­bro­ker: A Nov­el by Edward Lewis Wal­lant. Reprint­ed with per­mis­sion from Fig Tree Books, LLC.
Relat­ed Content: