Ear­li­er this week, Alan Lelchuk wrote about research­ing Raoul Wal­len­berg across the world and meet­ing Daniel Paglian­sky, Wal­len­berg's KGB inter­roga­tor. Lelchuk is the author of the acclaimed nov­els, Amer­i­can Mis­chief, Miri­am at Thir­ty-Four, Shrink­ing, Miri­am in Her For­ties,Play­ing the Game, Brook­lyn Boy, Ziff: a Life?, and On Home Ground. His most recent book is Search­ing for Wal­len­berg, and he has been blog­ging here all week for Jew­ish Book Coun­cil's Vis­it­ing Scribe series.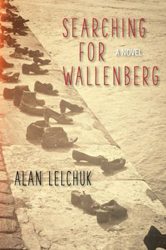 In 1956 Mey­er Levin wrote Com­pul­sion, a nov­el about two young thrill killers in Chica­go, based on the real life mur­der­ers Leopold and Loeb. Levin knew the local sto­ry well of the two young men, and observed the tri­al as a jour­nal­ist. A pop­u­lar movie was made from the nov­el, and Com­pul­sion became the first of what we have named ​"docu-nov­els." This was fol­lowed in 1966 by the even more pop­u­lar In Cold Blood, by Tru­man Capote, which the author con­sid­ered a non-fic­tion nov­el. (Again anoth­er Hol­ly­wood movie was made from the very real­is­tic book.) This con­cerned a quadru­ple mur­der in Kansas by two killers, and Capote went out to Kansas (with Harp­er Lee) where they con­duct­ed long research, and pro­duced a true crime sto­ry that was emphat­i­cal­ly fact-based. Next, in 1979, came Nor­man Mailer's The Executioner's Song about Gary Gilmore, a mur­der­er in Utah, a work of some 900 pages based on a some 15,000 inter­views done with Gilmore in the last 9 months of his stay on Death Row. Here, very often Mail­er employed Gilmore's actu­al words from those inter­views for his nov­el. In those books, the facts ruled the day.
Search­ing for Wal­len­berg has some of the docu in the nov­el, but I would pre­fer to call it a hybrid work. Yes, there is actu­al doc­u­men­ta­tion it, and also some of Wallenberg's own words from his writ­ings. The sev­er­al known his­tor­i­cal facts here are doc­u­ment­ed clear­ly, based on the real­i­ty, as we know it, of chaot­ic Budapest 1944 – 45, and Lybian­ka Prison, Moscow 1945 – 47. And yes, too, I researched much of the era, espe­cial­ly the cli­mate sur­round­ing the fig­ure of Wal­len­berg. But what remained, always at the cen­ter, was mys­tery — as in the gaps of his­to­ry, the gaps in Raoul the man. Hence much of my nov­el­is­tic jour­ney was con­sumed by fill­ing in those gaps with a cred­i­ble, imag­ined real­i­ty. With scenes that were con­struct­ed from a known basis, a con­text of empir­i­cal real­i­ty — such as, Wal­len­berg com­ing from a very rich Swedish fam­i­ly, Wal­len­berg sav­ing approx­i­mate­ly 17,000 thou­sands Jews direct­ly in Budapest in 1944 – 45, Wal­len­berg the Russ­ian pris­on­er for two whole years in Moscow's Lybian­ka prison, Wal­len­berg the man hav­ing no record of any real girl­friends in Michi­gan or Budapest, or Stock­holm for that mat­ter. So there­fore my task was to invent scenes that revealed the pos­si­ble truths behind the facts that we did have, and to cre­ate and dra­ma­tize the his­to­ry that we didn't have. From the empir­i­cal to the imag­ined. Where­as in the docu-nov­els cit­ed above, the task was to fic­tion­al­ize those facts in order to bring out the known facts more emphat­i­cal­ly, mine was a bit more risky, I'd say, but for dif­fer­ent and nec­es­sary rea­sons. And let me add to the hybrid nature by point­ing to the mak­ing of his­to­ry itself by my see­ing the inter­roga­tor Paglian­sky and record­ing that scene in the novel.
So what we have here is lay­er upon lay­er of mate­r­i­al, both real and imag­ined, in the ser­vice of …one mys­tery on top of anoth­er. No need for me to tidy it all up for the read­er, but rather only present the lay­ers for him or her to judge, inter­pret, val­ue. In the end, I hoped for an inter­nal organ­ic mys­tery, entic­ing and reward­ing, which the read­er might inves­ti­gate along­side me, and my fic­tion­al coun­ter­part Emmanuel Geller­man, a part­ner detec­tive, you might say, in the long and unfin­ished and unfold­ing journey.
Alan Lelchuk's short fic­tion has appeared in such pub­li­ca­tions as Transat­lantic, The Atlantic, Mod­ern Occa­sions,The Boston Globe Mag­a­zine, and Par­ti­san Review. He is an edi­tor at Steer­forth Press and teach­es at Dart­mouth Col­lege in New Hamp­shire. Read more about him here.
Search­ing for Wal­len­berg: A Novel
Relat­ed Content:
Alan Lelchuk is a nov­el­ist and pro­fes­sor who was born and grew up in Brook­lyn, NY. He received his BA in World Lit­er­a­ture from Brook­lyn Col­lege in 1960 and stud­ied at Uni­ver­si­ty Col­lege, Lon­don in 1962 – 63, receiv­ing his MA in 1963 and PhD in 1965, both in Eng­lish from Stan­ford Uni­ver­si­ty. He is a co-founder of Steer­forth Press, has taught at Bran­deis Uni­ver­si­ty and Amherst Col­lege, and since 1985 has been on the fac­ul­ty of Dart­mouth College.