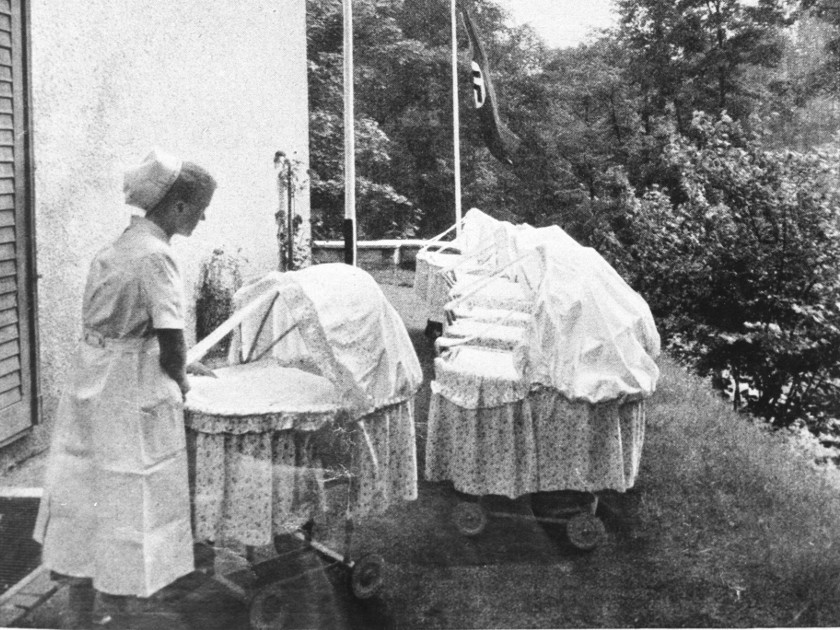 Grow­ing up in New York City in the 1970s, I lis­tened to my father tell me how his fam­i­ly pre­pared for the loom­ing threat of Adolf Hitler's inva­sion of the Unit­ed States. From their apart­ment in Brook­lyn in the 1930s, my father's fam­i­ly lis­tened to radio news reports of the per­se­cu­tion of Jews over­seas. They under­stood that the Nazis would nev­er set­tle for con­trol of Europe, that Hitler planned to come for our peo­ple in the Unit­ed States.
The Kihls, my father's family's Chris­t­ian Ger­man neigh­bors, offered to adopt my father, who was a tod­dler at the time. My aunt Ber­nice, a young teen, could pass as a non-Jew, so a Catholic church offered her a spot at a con­vent upstate where they planned to hide nine Jew­ish girls. Sad­ly, my aunt Rita, the mid­dle child, had polio and walked with a limp, so even if right­eous non-Jews want­ed to help, there was no hope for her if Hitler invad­ed the Unit­ed States.
From a young age, I under­stood that Hitler's plan to cre­ate a so-called mas­ter race meant the geno­cide of the Jew­ish peo­ple. Only much lat­er in life, I learned that the Nazis also had a secret breed­ing pro­gram to cre­ate two mil­lion chil­dren to pop­u­late the expand­ing Reich.
Hein­rich Himm­ler launched the Lebens­born Soci­ety, which aimed to pro­duce Ger­man chil­dren in three ways. The pro­gram began as a mater­ni­ty home for unwed, Ger­man young women who met the Nazi cri­te­ria – no Jew­ish or Unter­menchen (sub­hu­man) blood for three gen­er­a­tions, good men­tal and phys­i­cal health, and cer­tain facial struc­tures and col­or­ing. This pro­gressed to the Nazis recruit­ing ​"racial­ly valu­able" women to have sex with SS offi­cers. And final­ly, Nazi sol­diers kid­napped blond-haired, blue-eyed infants and tod­dlers from coun­tries Ger­many invad­ed, and brought them to the Father­land for ​"Ger­man­iza­tion." In each case, the goal was for ​"good" Ger­man fam­i­lies to adopt these chil­dren. In the end, the Lebens­born Soci­ety bred 20,000 babies and stole 200,000, half from Poland alone.
I won­dered why I hadn't heard of the Lebens­born Soci­ety in any of my read­ings about the Shoah.
I won­dered why I hadn't heard of the Lebens­born Soci­ety in any of my read­ings about the Shoah. Although it involved non-Jew­ish women, the pro­gram was part of a larg­er eugen­ics move­ment that viewed the Jew­ish peo­ple as a prob­lem that need­ed to be eradicated.
The Lebens­born Soci­ety was a puz­zle piece miss­ing from my over­all under­stand­ing of a trag­ic peri­od. I felt com­pelled to dig in and study the pro­gram, but I also grap­pled with some guilt about it. With so many com­pelling and impor­tant sto­ries about vic­tims and sur­vivors, shouldn't I explore mate­r­i­al that cen­ters them? Why study Nazis?
If I hadn't asked myself these ques­tions, I could always count on my moth­er to do so. ​"You're research­ing Nazis?" she cried over the phone. ​"Why should we care about them?"
My moth­er was right, but I also believe that part of nev­er for­get­ting about the Holo­caust is exam­in­ing anti­semitism, so we can rec­og­nize its ear­ly warn­ing signs. I spent the next cou­ple of years research­ing the Lebens­born Soci­ety, a pro­gram that pro­mot­ed Aryan supe­ri­or­i­ty by weaponiz­ing fer­til­i­ty and childbirth.
The breed­ing aspect of the pro­gram was vol­un­tary, so the ques­tion I strug­gled with was why young women eager­ly for­feit­ed con­trol of their own bod­ies. To bet­ter under­stand that, I need­ed to zoom out and take a look at the broad­er Nazi cul­ture. Most of us know that Hitler rose to pow­er by promis­ing a return to Ger­man strength after its humil­i­at­ing loss in World War I. One of the ways to achieve this, accord­ing to the Nazis, was through con­for­mi­ty and homoge­ny. And there was the call to demon­strate patri­o­tism through blind obe­di­ence to the Führer.
What I hadn't known before research­ing the Lebens­born Soci­ety was that the Ger­man birth rate had been declin­ing. Addi­tion­al­ly, the Reich was ​"reclaim­ing" ter­ri­to­ry it lost in World War I, so it need­ed more peo­ple to pop­u­late these regions.
One of the first steps in con­vinc­ing young women to have a ​"child for Hitler," as they called it, was to make large fam­i­lies the soci­etal norm. Out­side the pro­gram, mar­ried women with four or more healthy chil­dren were depict­ed as ​"child-rich" and award­ed the Mut­terkreuz (the Moth­er Cross) ser­vice medal. Women who birthed or adopt­ed four or five healthy chil­dren received a bronze medal; moth­ers of six and sev­en received sil­ver; eight or more chil­dren earned a gold Mut­terkreuz.
Though fas­ci­nat­ed, I wres­tled with more guilt. Why even think about Nazis and their plan to pro­duce babies? As a Jew­ish per­son, shouldn't I focus on sur­vivors like Dr. Edith Eger, who sur­vived Auschwitz by danc­ing for Dr. Men­gele? Why not research heroes like Witold Pilec­ki, who infil­trat­ed Auschwitz to orga­nize a resis­tance move­ment? I have read Dr. Eger's mov­ing mem­oir The Choice and Jack Fairweather's inspir­ing account of Pilecki's work in The Vol­un­teer. We should – and indeed, must – read about Jew­ish sur­vival and liberation.
In read­ing Martha Hall Kelly's The Lilac Girls and Louise Fein's Daugh­ters of the Reich, though, I real­ized that there is also great insight to be gained from delv­ing into the warped psy­che of char­ac­ters who were seduced by Hitler. To under­stand one's ene­my is to be bet­ter equipped to defend against him.
Sto­ries about the sur­vivors, heroes, and vic­tims of the Shoah must remain at the cen­ter of the dis­cus­sion about this dark peri­od of Jew­ish his­to­ry. There is also some­thing to learn through Jew­ish lit­er­a­ture that exam­ines the vil­lains and bystanders of the Holocaust.
Jen­nifer Coburn is the author of Cra­dles of the Reich, We'll Always Have Paris and six con­tem­po­rary wom­en's nov­els. Addi­tion­al­ly, Jen­nifer has con­tributed to five lit­er­ary antholo­gies, includ­ing A Paris All Your Own. Jen­nifer lives in San Diego. When she is not going down his­tor­i­cal research rab­bit holes, she vol­un­teers with So Say We All and Real­i­ty Changers.