This week, David Schmah­mann, the author of
The Dou­ble Life of Alfred Buber
, Empire Set­tings
, and
Ivory From Par­adise
,
blogs for The Post­script on the risk of being mis­tak­en for one's char­ac­ters.
The Post­script
series is a spe­cial peek ​

"

behind the scenes" of a book. It's a juicy lit­tle extra some­thing to add to a
book club
​

'

s dis­cus­sion and a read­er's under­stand­ing of how the book came togeth­er. To ​

"

host" David at your next book club meet­ing, request him through

JBC

Live Chat.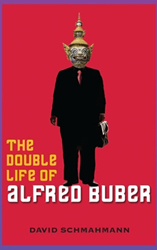 There are risks, I have come to learn, when a Boston lawyer writes a nov­el about a des­per­ate­ly lone­ly, roman­ti­cal­ly awk­ward, Boston lawyer who seeks last­ing love. In an Asian broth­el. Who can say, after all, what the con­tours of anyone's inner life may be? It wasn't cura­tive, I learned, when my wife would insist at every instance that The Dou­ble Life of Alfred Buber was a nov­el, not a diary.
I wasn't lone­ly when I was writ­ing this nov­el, or even, I hope, roman­ti­cal­ly awk­ward, but I was bored prac­tic­ing law in Boston. I linked up with an old friend who'd been indulging his wan­der­lust for years and was in Ran­goon try­ing to set up a law prac­tice. I end­ed up doing sev­er­al spells in his office, and there in Ran­goon — at the Amer­i­can Club and else­where — and in Bangkok where we'd go on week­ends, I saw up close the legions of Occi­den­tal Adams and their young Ori­en­tal Eves, and I began to won­der at it. There is sex involved, for sure, and mon­ey too, but there's often far more to it than that: There are illu­sions, dreams, some hap­pi­ness that isn't entire­ly tran­sient. We called mar­ry­ing and mak­ing per­ma­nent the liaisons we saw around us ​"mak­ing the ulti­mate Mistake."
Buber was born in my study late at night, my wife and kids asleep upstairs, out of that nov­el­ist ques­tion: ​"What if?" What if, indeed, your per­son­al short­com­ings meant that your life was devoid of beau­ty and love, and illu­sion? What if you aban­doned your deep­est scru­ples intent on find­ing those things, and then, regard­less of how base the ori­gins of the quest, cleans­ing them, cleans­ing your­self, and trans­form­ing them into some­thing whole­some. Not sav­ing the poor lit­tle pros­ti­tute. Sav­ing your­self. Aren't we all fun­da­men­tal­ly the same, in the end, men and women, old and young, rich and poor, in what we want and need? Is it so laugh­able a whim to believe it? My Buber with his bul­bous face, occa­sion­al yid­dishisms, Vic­to­ri­an sen­si­bil­i­ties, is no satyr, and yet his com­pul­sions draw him into the caul­dron; and if his illu­sions are Hen­ry Hig­gins, he isn't the first to delude him­self. He won't be the last.
And then, per­haps, he does, against all the odds, stum­ble upon a chance at hap­pi­ness. Even as he mar­vels at his pluck, he exco­ri­ates him­self for his fool­ish­ness, for the sheer ick­i­ness of it all, and then floun­ders. He los­es his sense of what is real and what is not, and almost inex­orably his two lives col­lide in a way that leaves no room for illusion.
Buber's obses­sion has been com­pared to Hum­bert Humbert's – the com­par­i­son is affirmed by some, reject­ed by oth­ers: it was nev­er mine – and it's won awards too. Either way, in the end I don't much care any more about the risks of being seen as my character.
He's as decent a heart­bro­ken man as you'll find.