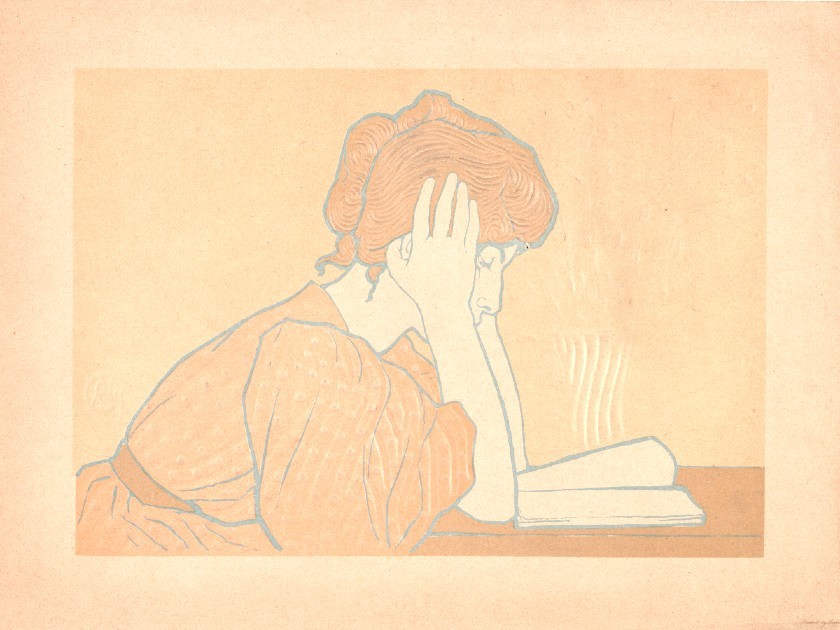 In an arti­cle for The Paris Review enti­tled ​"Writ­ing the Lives of For­got­ten Women," Rachel Kadish notes: ​"What the his­tor­i­cal record has ren­dered invis­i­ble will remain so unless we avail our­selves of the pow­er to fic­tion­al­ize, to blend the real and the imag­ined with rig­or and trans­paren­cy." As more con­tem­po­rary female nov­el­ists por­tray silenced women of the past, they add a new dimen­sion to our under­stand­ing of pre­vi­ous eras.
Through­out his­to­ry, women were often denied the time and space to cre­ate — except when cre­at­ing chil­dren. Vir­ginia Woolf famous­ly explored this top­ic in her 1925 work A Room of One's Own, but the issue was cer­tain­ly not lim­it­ed to her time. More than half a cen­tu­ry lat­er, the Amer­i­can Jew­ish author Het­tie Jones wrote an account of the dis­par­i­ty between male and female lit­er­ary pro­duc­tion in her 1990 mem­oir, How I Became Het­tie Jones, illu­mi­nat­ing how dif­fi­cult it was for her, as a new moth­er, to find oppor­tu­ni­ties to write, and how such oppor­tu­ni­ties were nev­er denied her writer and activist hus­band, Amiri Bara­ka (pre­vi­ous­ly known as LeRoi Jones):
"At the north­ern tip of East Riv­er Park there's an over­grown quar­ter acre with some bench­es fac­ing the water and a neglect­ed, sink­ing mon­u­ment.… I was there one day, sit­ting apart from the chil­dren in order to pay atten­tion to myself, impos­si­ble in their imme­di­ate pres­ence: if they demand­ed they also seduced, like the TV that cap­tures because it's on. We'd left Roi at home, typ­ing in his win­dow­less box of a room. When I'd looked in to say good­bye he was grin­ning [about a book he was going to write]. Yes­ter­day evening while I was bathing Kel­lie, he'd come dash­ing into the bath­room with a poem. ​'Look at this! Read this!' he cried." It took Jones ten years to write her first book, where­as her hus­band pub­lished at a clip through­out their mar­riage and the birth of their two children.
Anoth­er Jew­ish author, Tillie Olsen, wrote the arti­cle ​"Silences: When Writ­ers Don't Write" in Harper's mag­a­zine (1965), which she lat­er expand­ed into a book of the same name. ​"More than in any human rela tion­ship, over­whelm­ing­ly more," she states, ​"moth­er­hood means being instant­ly inter­rupt­ible, respon­sive, respon­si­ble.… Work inter­rupt­ed, deferred, post­poned, makes block­age — at best, less­er accom­plish­ment" (as quot­ed in The Portable Six­ties Read­er edit­ed by Anne Charters).
Have Jew­ish female writ­ers strug­gled dif­fer­ent­ly, or more, com­pared to female writ­ers in gen­er­al? While it was his­tor­i­cal­ly rare for any woman to be pub­lished, non-Jew­ish female writ­ers (such as Edith Whar­ton, or the Brontë sis­ters) suc­ceed­ed more often than Jew­ish ones. Jew­ish cul­ture val­ues schol­ar­ship — an atti­tude embod­ied in study of the Tal­mud — but this pur­suit was tra­di­tion­al­ly reserved for men. In America's Jew­ish Women: A His­to­ry from Colo­nial Times to Today, Pamela S. Nadell explains that accord­ing to bib­li­cal law, ancient Israelites were com­mand­ed: ​"Thou shalt teach them dili­gent­ly unto thy chil­dren" but she reminds us that ​"across the ages, that meant edu­cat­ing males, not females. Boys grow­ing into men spent life­times in study. Girls learned to read and write enough to run a home and a busi­ness.… If they yearned for more, there were few­er oppor­tu­ni­ties." While the men stud­ied, wrote, and dreamed, the women toiled to keep the fam­i­ly afloat, finan­cial­ly as well as domes­ti­cal­ly. In her auto­bi­og­ra­phy, The Promised Land (pub­lished in 1910), Mary Antin writes: ​"There was noth­ing in what the boys did in hed­er that I could not have done — if I had not been a girl.… A girl's real school­room was her mother's kitchen … And while her hands were busy, her moth­er instruct­ed her in the laws reg­u­lat­ing a pious Jew­ish house­hold and in the con­duct prop­er for a Jew­ish wife.… A girl was born for no oth­er purpose."
Iron­i­cal­ly, the first impe­tus to edu­cate Jew­ish girls in East­ern Europe, aside from the influ­ence of Enlight­en­ment ideals, was so that when they became moth­ers, they could bet­ter instruct their male chil­dren. In an arti­cle pub­lished in the Russ­ian-lan­guage peri­od­i­cal Rassvet in 1860, edu­cat­ing Jew­ish girls is clear­ly pre­sent­ed as a means to an end: ​"In Jew­ish soci­ety the moth­er of the fam­i­ly has an even big­ger influ­ence on the chil­dren than in Chris­t­ian fam­i­lies. The head of the fam­i­ly, giv­en all his con­cerns, spends almost all of his time out­side of the house, leav­ing the chil­dren and their instruc­tion to the moth­er; and there­fore, so that this instruc­tion will go cor­rect­ly, it is nec­es­sary to think seri­ous­ly about the edu­ca­tion of Jew­ish women" (as quot­ed in Jew­ish Women in East­ern Europe edit­ed by ChaeR­an Freeze, Paula Hyman, and Antho­ny Polonsky).
As more women write their sto­ries and the sto­ries of oth­ers, thank­less labor is being replaced by pro­duc­tive, cre­ative work.
This atti­tude toward Jew­ish women was car­ried over from the East­ern Euro­pean shtetl to Amer­i­ca. In Sara Berman's Clos­et, Maira Kalman and her son, Alex Kalman, com­mem­o­rate the life of their mother/​grandmother, who was born in Rus­sia, immi­grat­ed to Israel, and even­tu­al­ly made a home for her­self in New York. In an inter­view on NPR, Maira Kalman describes Jew­ish women's work in her mother's child­hood Russ­ian vil­lage as ​"silent toil;" they were so busy churn­ing, cook­ing, and clean­ing that they didn't have time for con­ver­sa­tion. At some point, a woman might sit down and enjoy a glass of tea, and then per­haps one could have a chat, but to attempt to cre­ate, to write — that was entire­ly out of the ques­tion. Nadell demon­strates that a woman's aspi­ra­tions were lim­it­ed in much the same way in the Unit­ed States. Pro­fes­sion­al­ly, it ​"was fine for girls to work as book­keep­ers, stenog­ra­phers, and sec­re­taries before mar­riage, and smart ones were expect­ed to play dumb to catch a hus­band.… A Jew­ish woman might work after she wed, espe­cial­ly if she was putting her hus­band through pro­fes­sion­al school. But those days end­ed when she became a mother."
The prospect of a Jew­ish woman enter­ing into a pro­fes­sion­al or cre­ative field was bleak — par­tic­u­lar­ly if the woman want­ed to write. But as Jews assim­i­lat­ed into Amer­i­can cul­ture, and left behind some of the more rigid cul­tur­al tra­di­tions from the Old Coun­try, a few Jew­ish women began to ven­ture into the lit­er­ary sphere, such as Mary Antin, Anna Mar­golin, and Anzia Yezier­s­ka. The scope of these writ­ers was rel­a­tive­ly nar­row and based most­ly on per­son­al expe­ri­ence, per­haps because they lacked the time or resources to research beyond that expe­ri­ence, or per­haps because they did not feel enti­tled to write about what they did not know — to assume author­i­ty and own­er­ship over voic­es oth­er than their own. By con­trast, male writ­ers have always exert­ed this kind of autho­r­i­al con­trol and pow­er. In the begin­ning of the twen­ti­eth cen­tu­ry, while Antin and Mar­golin wrote about their fam­i­lies who immi­grat­ed to Amer­i­ca from East­ern Europe, and the chal­lenges of assim­i­la­tion that they faced in the new world, Sher­wood Ander­son, for exam­ple, encom­passed the broad can­vas of a rur­al com­mu­ni­ty in Wines­burg, Ohio (1919).
Today — per­haps due in part to finan­cial progress and increased time for one's own pur­suits, as well as changed atti­tudes toward Jews and women in pub­lish­ing — female Jew­ish authors are con­struct­ing multi­gen­er­a­tional, mul­ti­per­spec­tive nov­els of ambi­tious length and geo­graph­ic sweep, recre­at­ing var­i­ous places and eras with his­tor­i­cal accu­ra­cy and vivid­ness. These authors bring to life the expe­ri­ences of ​"silent toil­ers," who, until now, were erased from our con­scious­ness. In Rachel Kadish's 2017 nov­el, The Weight of Ink, a sev­en­teenth-cen­tu­ry Jew­ish woman, Ester Velasquez, secret­ly chron­i­cles the dis­per­sal of Jews from Inqui­si­tion-era Spain to Ams­ter­dam and Lon­don. When a trove of Ester's papers is dis­cov­ered in the present day, schol­ars are stunned that they were writ­ten by a woman. In ​"Writ­ing the Lives of For­got­ten Women," Kadish explains that in part what moti­vat­ed her to write this nov­el was that, aside from the female writ­ers we already know about who masked their iden­ti­ties with male pen names in order to be pub­lished, there must have been count­less ​"oth­er artists of era­sure: women scat­tered here and there across cul­tures and cen­turies who expunged them­selves from the record so the work of their hands and minds and hearts could be vis­i­ble. And if they were good at it — if they suc­ceed­ed — we've nev­er heard of them."
Sana Krasikov's The Patri­ots is also a sprawl­ing, multi­gen­er­a­tional nov­el, and it is writ­ten in part from the point of view of Flo­rence Fein, anoth­er unlike­ly pro­tag­o­nist who embod­ies an untold sto­ry of past Jew­ish women. It's the clas­sic immi­grant nar­ra­tive told in reverse, con­trast­ing with ear­li­er works that ide­al­ize the Amer­i­can Dream (such as Antin's The Promised Land, in which even hard­ship and suf­fer­ing acquire a gold­en sheen). Krasikov reveals a lit­tle-known aspect of his­to­ry: the migra­tion of Amer­i­can Jews back to Rus­sia in the 1930s. She also defies nar­ra­tional and his­tor­i­cal expec­ta­tions of how Jew­ish women, par­tic­u­lar­ly Jew­ish moth­ers, are por­trayed in fic­tion. Flo­rence bold­ly rejects the idea that fam­i­ly must come first. When she decides to go to Rus­sia, leav­ing her par­ents and broth­ers behind in Brook­lyn, her father cries out: ​"What kind of mad­ness is this, for a girl to want to leave her fam­i­ly, her home, all the peo­ple who love her? To the oth­er end of the world!" Lat­er in the nov­el, Flo­rence aban­dons her son in a Russ­ian orphan­age when he is six and does not retrieve him until he is thir­teen. Krasikov cap­tures the pain of this expe­ri­ence from the son's point of view: ​"We were hit for any­thing — for throw­ing up the rot­ten food we were fed, for whistling indoors, for for­get­ting our­selves and suck­ing our thumbs — for dis­play­ing any child­like frailty or need." For Flo­rence, polit­i­cal action is more impor­tant than her young son's welfare.
Styl­is­ti­cal­ly, Krasikov employs tra­di­tion­al real­ism and an omni­scient nar­ra­tor, dis­play­ing a type of max­i­mal­ism that recalls the work of male writ­ers of pre­vi­ous eras, such as Joseph Roth's The Radet­zky March (1932) or Isaac Bashe­vis Singer's The Fam­i­ly Moskat (1950). But the sto­ry she tells is quite dif­fer­ent. Krasikov flu­id­ly moves from Florence's point of view to that of Florence's first love inter­est, Sergey; to Florence's son and to her grand­son; before cir­cling back to Florence's most inti­mate thoughts. Sergey's point of view opens up anoth­er pock­et of unfa­mil­iar his­to­ry: the posi­tion in which upper-mid­dle-class Rus­sians found them­selves after the Rev­o­lu­tion — not pro­le­tar­i­an enough but not tru­ly aris­to­crat­ic, either. Sergey's expe­ri­ence of post-rev­o­lu­tion­ary Rus­sia diverges great­ly from Florence's ide­al­ized ver­sion of the coun­try; the omni­scient nar­ra­tor allows the read­er to per­ceive the dis­con­nect inher­ent in the arcs of these two char­ac­ters' sto­ries. This trend might seem to run counter to oth­er cur­rent lit­er­ary move­ments, such as #Own­Voic­es, which val­ue authors writ­ing from their own lived expe­ri­ences. But in fact, it springs from the same impulse: to reclaim nar­ra­tive pow­er and author­i­ty. As Cyn­thia Ozick argues in The Paris Review​'s ​"The Art of Fic­tion," No. 95, the essence of fic­tion is imag­in­ing and cre­at­ing oth­er sub­jec­tiv­i­ties, oth­er lives and worlds. ​"The self is lim­it­ing.… When you write about what you don't know, this means you begin to think about the world at large. You begin to think beyond the home-thoughts. You enter dream and imagination."
The heart of the cre­ative process is about reach­ing across gen­er­a­tions, cul­tures, and gen­ders to con­vey an emo­tion­al truth, whether lived or imagined.
Rosellen Brown's The Lake on Fire is anoth­er recent nov­el that reclaims the past both nar­ra­tive­ly and lin­guis­ti­cal­ly. The book cen­ters around the World's Columbian Expo­si­tion, held in Chica­go in 1893, and Brown com­ments in a Jew­ish Book Coun­cil inter­view that its prose reflects that of the Gild­ed Age: "[The Lake on Fire] has long, intri­cate sen­tences, unlike my oth­er books.… I real­ly tried to write the book in a style com­pat­i­ble with the time I was writ­ing about." Like The Patri­ots, the book relates a piece of Jew­ish his­to­ry unfa­mil­iar to most mod­ern-day read­ers: the lives of Jews in the nine­teenth-cen­tu­ry Mid­west. Brown's pro­tag­o­nist, Chaya, leaves the fam­i­ly farm in rur­al Wis­con­sin, the Fields of Zion, for anoth­er kind of life. On the novel's first page, Brown depicts the life Chaya will ulti­mate­ly reject, in a detailed descrip­tion of her moth­er: ​"The children's moth­er was brusque to them all, so busy they remem­bered her main­ly in motion — sewing, darn­ing, cook­ing, plant­i­ng, sweep­ing — all the -ing words, her hands flash­ing faster than barn swal­lows. There wasn't much left of her for lov­ing, although they knew that the motion was some­how meant for them." Just as Krasikov's Flo­rence refus­es to con­cede to tra­di­tion­al expec­ta­tions, so too does Chaya aban­don the silent toil she has been raised to do. Her final push for inde­pen­dence comes when she real­izes she's about to be mar­ried off to the nephew of a fam­i­ly friend: ​"And then he winked at her. One of those pale rep­til­ian eyes creased in a coy flick­er of greet­ing, as if she had agreed to some­thing, and she could feel her hands becom­ing fists in her lap. Sud­den­ly, then — it made so much sense that she gasped out loud — final­ly, final­ly, she under­stood that she had been wait­ing for this: She was going to leave the Fields of Zion."
But when Chaya starts over in Chica­go to make her for­tune, with her lit­tle broth­er in tow, she ends up labor­ing tire­less­ly at a cig­ar fac­to­ry and liv­ing in pover­ty. Brown reveals the truth behind the Amer­i­can Dream — that hard work and pulling one­self up by one's boot­straps are rarely enough to sur­vive, let alone cre­ate social mobil­i­ty. This is also fore­shad­owed ear­li­er, when Chaya is still with her fam­i­ly on the farm and she reflects on their life: ​"They tilled and plant­ed and har­vest­ed after hours and how could they not have bro­ken under the bur­den of their dou­ble work lives? So much opti­mism undone. So much ener­gy wast­ed." Nei­ther the city nor the coun­try car­ries any promise for the poor. Just as Krasikov's Flo­rence is unable to ful­fill her com­mu­nist ideals in Rus­sia, so too the Amer­i­can Dream remains for­ev­er out of the reach of Brown's protagonist.
These nov­els give us a sec­ond chance to imag­ine the lives of silent toil­ers — from the young scribe, to the rebel­lious immi­grant, to the farm girl who tries to out­run her fate. They break the grand nar­ra­tive of his­to­ry into var­i­ous over­lap­ping and con­tra­dic­to­ry nar­ra­tives that embrace all the messi­ness and vari­ety of the human expe­ri­ence. As more women write their sto­ries and the sto­ries of oth­ers, thank­less labor is being replaced by pro­duc­tive, cre­ative work.
The trou­bling ques­tion per­sists as to why nov­els by women set in anoth­er time peri­od are often cat­e­go­rized as ​"his­tor­i­cal fic­tion," when nov­els by men in the same style and his­tor­i­cal vein — such as McEwan's Atone­ment— are per­ceived by crit­ics and pub­lish­ers as ​"lit­er­ary fic­tion"? This dif­fer­ence in recep­tion still threat­ens to under­mine the per­ceived seri­ous­ness of women's con­tri­bu­tions to lit­er­a­ture. The heart of the cre­ative process tran­scends mar­ket­ing cam­paigns and genre clas­si­fi­ca­tions — it's about reach­ing across gen­er­a­tions, cul­tures, and gen­ders to con­vey an emo­tion­al truth, whether lived or imag­ined. Rec­og­niz­ing this may be our next challenge.
Alex­is Lan­dau is a grad­u­ate of Vas­sar Col­lege and received an MFA from Emer­son Col­lege and a PhD in Eng­lish Lit­er­a­ture and Cre­ative Writ­ing from the Uni­ver­si­ty of South­ern Cal­i­for­nia. She is the author of The Empire of the Sens­es and lives with her hus­band and two chil­dren in Los Angeles.