In her last posts, Ellen Frankel looked at how to make the Bible PG and looked at ​"What is Jew­ish Lit­er­a­ture?". She has been guest-blog­ging all week for MyJew­ish­Learn­ing and JBC.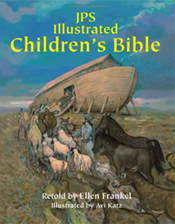 In this week's par­shah, Noah, we read about the Tow­er of Babel, con­struct­ed at a time when ​"every­one on earth had the same lan­guage and the same words" (Gen. 11:1). But because the Tower's builders thought that they could storm the gates of heav­en, their speech was ​"confounded…[so that they could] not under­stand one another's speech" (Gen 11:7). The Bible puns on the Hebrew words, bav­el, refer­ring to ancient Baby­lo­nia, and bal­al, to mix up. And so the peo­ple had to stop build­ing the tow­er and were ​"scat­tered over the face of the earth" (Gen 11:9). And so we remain to this day — dis­persed, speak­ing a bab­ble of lan­guages, not under­stand­ing one another.
As I pre­pare to step down at The Jew­ish Pub­li­ca­tion Soci­ety after eigh­teen years, I am struck by how much of my work has been devot­ed to trans­la­tion, not only from for­eign lan­guages, ancient and mod­ern, into Eng­lish, but also from for­eign con­texts into an idiom acces­si­ble to con­tem­po­rary Amer­i­cans. Whether it's the Mekhil­ta, a sec­ond cen­tu­ry rab­binic Midrash on Exo­dus, or the teach­ings of the Sefat Emet, a late 19th cen­tu­ry Hasidic mas­ter, most of today's Jews need inter­preters to guide them through the unfa­mil­iar ter­rain of Jew­ish texts, writ­ten is so many exot­ic dialects: phi­los­o­phy, ethics, halakha, the­ol­o­gy, fem­i­nist crit­i­cism, folk­lore, his­to­ry, poet­ry, and prayer. With­out trans­la­tion, these lan­guages remain opaque.
Of course, nei­ther my work nor that of my illus­tri­ous JPS pre­de­ces­sors, begin­ning with Hen­ri­et­ta Szold (who her­self trans­lat­ed Graetz's His­to­ry of the Jews
and much of Ginzberg's The Leg­ends of the Jews
from Ger­man into Eng­lish), has suc­ceed­ed in restor­ing the pri­mal har­mo­ny described in Gen­e­sis. Nor has the world resumed build­ing the tow­er that was orig­i­nal­ly designed to uni­fy human­i­ty — espe­cial­ly after the twin tow­ers built by our own hutz­padik gen­er­a­tion came tum­bling down eight years ago.
Yet I believe that the mod­est work of trans­lat­ing Jew­ish texts into words that we mod­erns can under­stand is nonethe­less essen­tial to heal­ing our people's dis­uni­ty, if not the rest of human­i­ty. For how can we build any­thing togeth­er if our speech is con­found­ed into a noisy dis­cord, so that we can­not under­stand one another's speech? Now more than ever, we need all the wis­dom that we can find, and we need to make sure that we share it in words that bring us clos­er together.
Ellen Frankel has been blog­ging all week for MyJew­ish­Learn­ing and Jew­ish Book Coun­cil. Check out her new book, JPS Illus­trat­ed Children's Bible.
Ellen Frankel served for 18 years as Edi­tor in Chief of JPS. She received a Ph.D. in Com­par­a­tive Lit­er­a­ture from Prince­ton She has pub­lished eleven books, most notably The Five Books of Miri­am. She has also writ­ten libret­tos for cham­ber pieces and two operas. She has trav­eled wide­ly as a Jew­ish sto­ry­teller. The Dead­ly Scrolls is her first mystery.