Ear­li­er this week, Michelle Haimoff dis­cussed hav­ing immi­grant par­ents, baby boomers, and parental expec­ta­tions. She will be blog­ging here all week for Jew­ish Book Coun­cil and MyJew­ish­Learn­ing.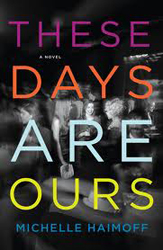 The hard­est thing about break­ing up with the Jew­ish guy I dat­ed six years ago was break­ing up with his par­ents. I loved his par­ents. His par­ents loved me. I knew that the guy and I would nev­er be hap­py togeth­er, but I also knew that I would nev­er find anoth­er set of par­ents who I con­nect­ed with as much as his.
That fact hit me even hard­er the first time I met my future in-laws. Self-pro­claimed ​"dyed in the wool Catholics," they told me that they had nev­er met a sin­gle Jew until their son (my now hus­band) went to col­lege in the North­east. They're from Nebras­ka. A tiny lit­tle town called Bro­ken Bow. It's smack in the mid­dle of the coun­try, about three hours from the clos­est synagogue.
When I first real­ized that Ben was the man I was going to mar­ry, I found myself mourn­ing the loss of the in-laws I had always want­ed. His par­ents didn't effort­less­ly under­stand me. They didn't appre­ci­ate that I could speak Hebrew and a few words of Yid­dish. That I had gone to a yeshi­va for ele­men­tary school and to Israel on my semes­ter abroad. They had always fan­ta­sized about a Mid­west­ern Catholic daugh­ter-in-law. And I got it. I want­ed my in-laws to be kvetch­ing Upper West Siders.
But now, on the oth­er side of the wed­ding, I find myself on the phone with Ben's mom, lying on the quilt she hand­made for us, hap­py to hear her laugh. Some­times we make small talk (what we did that week, the joke she for­ward­ed me, the weath­er), but just as often we'll con­fide in each oth­er about our bad days or trade fam­i­ly gos­sip. Like my con­nec­tion to Ben, what we have in com­mon goes beyond background.
It's fun­ny how peo­ple influ­ence you in ways you don't even real­ize. When we go shop­ping, Ben's mom looks at the label of any item of cloth­ing she likes to make sure it's made out of nat­ur­al fiber. This means no poly­ester, ray­on or acrylic. I do this now, com­pul­sive­ly. Ben's dad often starts sen­tences with the word ​"yes." Like, ​"Yes, I told him I'd be hap­py to help him out." And yes, it seems I picked that one up too.
I'd like to think I've also rubbed off on them. Ben's mom often ends emails with ​"xo," which Ben says she picked up from me, and dur­ing meals they order ​"for the table," which is some­thing my fam­i­ly always does but nev­er thought was fun­ny until Ben's par­ents laughed at the expres­sion and start­ed using it themselves.
Falling in love is the eas­i­est way to make the world small­er. Nebras­ka used to be a mean­ing­less square on the map, as for­eign to me as a vil­lage in Africa. But I've been there a num­ber of times now and think of myself as some­one with Nebraskan roots. I've also learned about the quilt­ing process, how to make an alco­holic bev­er­age called Gilligan's Island, and how to be trust­ing with­out being naive. These weren't the in-laws I had visu­al­ized, but I can't imag­ine a more won­der­ful pair of machatanim.
Michelle Haimoff
​
'
s
debut nov­el,
These Days Are Ours
, is now avail­able. She is is a writer and blog­ger whose writ­ing has appeared in
The New York Times
,
The Los Ange­les Times
, Psy​chol​o​gy​To​day​.com and The Huff­in­g­ton Post. She is a found­ing mem­ber of

NOW

New York State's Young Fem­i­nist Task Force and blogs about fem­i­nist issues at
gen​fem​.com
.
Michelle Haimoff's work has appeared in
The New York Times
,
The Los Ange­les Times
,
The Huff­in­g­ton Post
and
NPR​
.com. She has appeared on
Good Day New York
,
Deep­ak Chopra Well­ness Radio
and The New York­er Fes­ti­val. She is the grand­daugh­ter of Holo­caust sur­vivors and a for­mer stu­dent at The Hebrew Uni­ver­si­ty of Jerusalem. She is also a found­ing mem­ber of NOW's Young Fem­i­nist Task Force and blogs about fem­i­nist issues at
gen​fem​.com